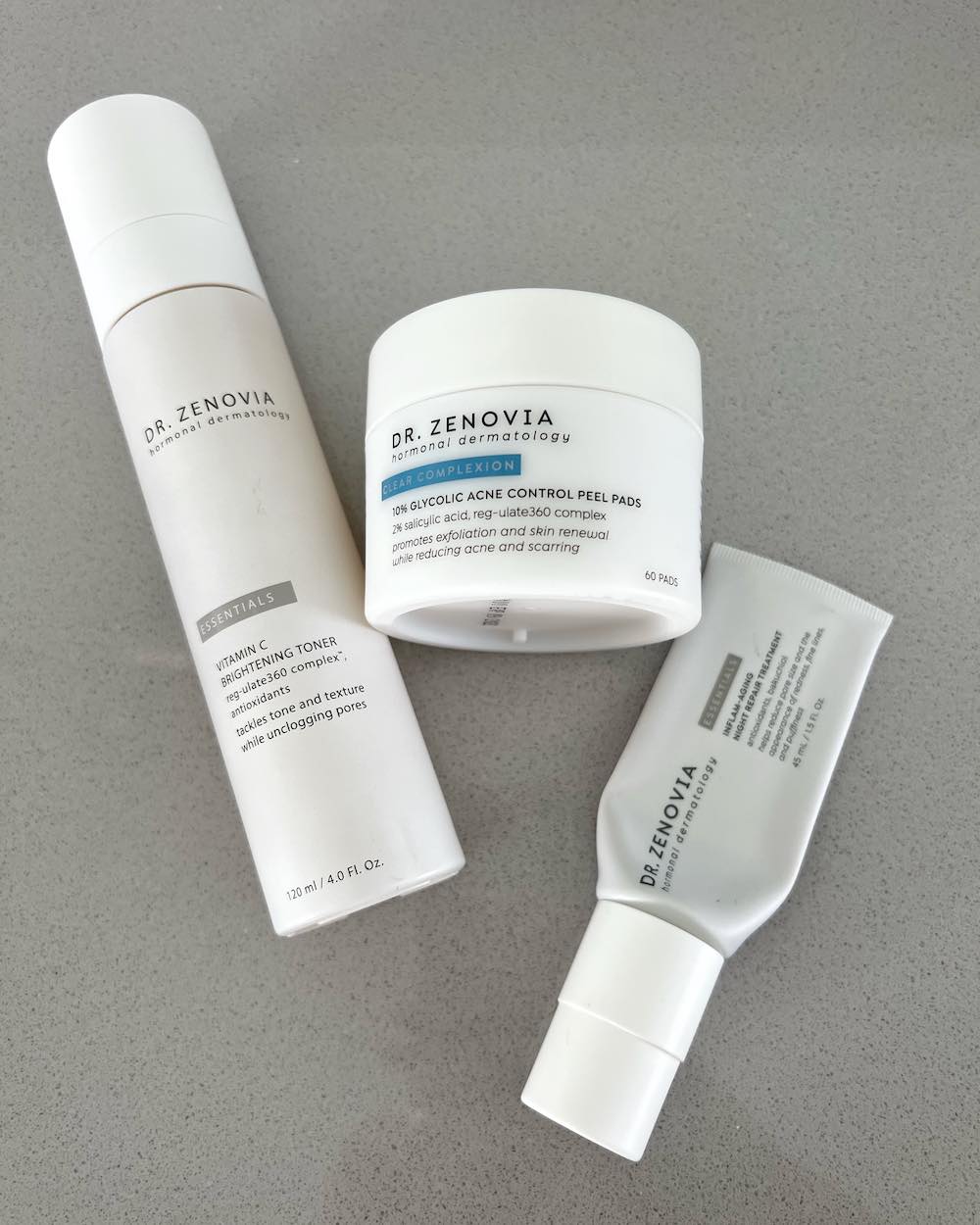 Sample products provided c/o Dr. Zenovia. Post contains affiliate links.
Dr. Zenovia is a dermatology-based skin care line that sort of cropped up out of nowhere! All of a sudden the products started showing up at my PO box, so I started slowly trying them over the past year in my skin care routine. Spoiler alert, there are a lot I've really liked! The philosophy of the skin care range is combating skin conditions from a holistic approach with hormonal balance in mind. There are two main lines: acne and anti-aging. All of the products are based on the proprietary REG-ulate360 Complex formula containing bakuchiol, resveratrol, green tea polyphenols, aloe leaf juice, among other carefully selected ingredients. The brand is also cruelty-free.
Here are all of my favorites from Dr. Zenovia skin care!
Shop Dr. Zenovia on Sephora
10% Glycolic Acne Control Peel Pads
I use these lightly exfoliating 10% Glycolic Acne Control Peel Pads almost every night, alternating with other actives during the week. These peel pads tingle just a little bit while buffing away dead skin cells and exfoliating on the chemical level. They contain both 10% glycolic and 2% salicylic acid for that one-two punch.
Vitamin C Brightening Toner
This invigorating Vitamin C Brightening Toner feels amazing after the peel pads and is so refreshing to use. While I always prefer a vitamin C serum for a more potent effect, I still love to reach for this toner. It's surprisingly soothing!
Hyaluronic Acid + Peptide Serum
Probably my absolute favorite product in the range, this gel based Hyaluronic Acid + Peptide Serum almost liquifies on the skin to deliver immediate juicy moisture that you can seal in. I use it while my skin is slightly damp to get the maximum hydration. I spread it all down my neck too, and then always follow it up with a moisturizer. This serum also now comes in a travel size!
Inflam-Aging Night Repair Treatment
I was really surprised how much I enjoyed this! Inflam-Aging Night Repair Treatment is a night serum that helps keep my gently resurface and keep my skin clear, without any burning or tingling sensation. I will either use this or the peel pads at night, but never both at the same time.
Peptide + Ceramide Repairing Moisturizer
The Peptide + Ceramide Repairing Moisturizer is one of the first products from Dr. Zenovia that I fell for. I really like how richly hydrating this moisturizer is, while still being an easily spreadable gel cream consistency. It's ideal for normal, dry, and sensitive skin.
Bakuchiol Hydrating Cleanser
The Bakuchiol Hydrating Cleanser is a luxurious feeling cleanser that is both lightly exfoliating and hydrating. I don't think it's the best for removing makeup at the end of the day, so I would recommend it for day or for using after a heavy duty cleansing balm first in the evening.
So who is Dr. Zenovia exactly? Dr. Zenovia Gabriel MD (AKA Dr. Zena) is a board certified dermatologist with a highly acclaimed practice ZENA Medical in Newport Beach, CA. I really love seeing her quick skin care tips and myth busting advice she posts on TikTok! Dr. Zenovia skin care officially launched in Sephora in October 2020.
Do you have any skin care favorites from Dr. Zenovia? Do let us know in the comment section below!
Like this post? Don't forget to flip through some more of my best of beauty brand series. I've shared my high end favorites of IT Cosmetics, Urban Decay, Juice Beauty, Paula's Choice, 100% Pure, Fresh, Colleen Rothschild, and Rituals. If drugstore beauty is more of your thing, check out my guides to the best of La Roche-Posay, Derma E, Pacifica Beauty, and Pixi.