Lip gloss can make or break a makeup look. Hear me out. They either enhance the natural shape and volume of your lips, or they can become so messy they pull attention away from your other features, and not in a good way. There were a cool few years in my 20s where I strayed away from lip gloss entirely. I tried so many bad ones as a teenager and in college, I took a break from all the sticky gooey lip gloss mess. As much as I loved those adorable original Lancôme Juicy Tubes, we all have to admit they were so sticky! Nowadays, lip gloss formulas have come a long way and there are so many that can even appeal to those who have sworn off revisiting it again. Trust me, I feel the same way. If I'm going to wear a lip gloss, it has to be super comfortable and not at all sticky. If there's a chance the lip gloss separates in strings when I talk, get it away from me. I can only tolerate formulas that feel smooth, slick, and look shiny.
Here are the best lip glosses for people who hate lip gloss. All of these lip gloss picks are cruelty free!
Lip Glosses For People Who Hate Lip Gloss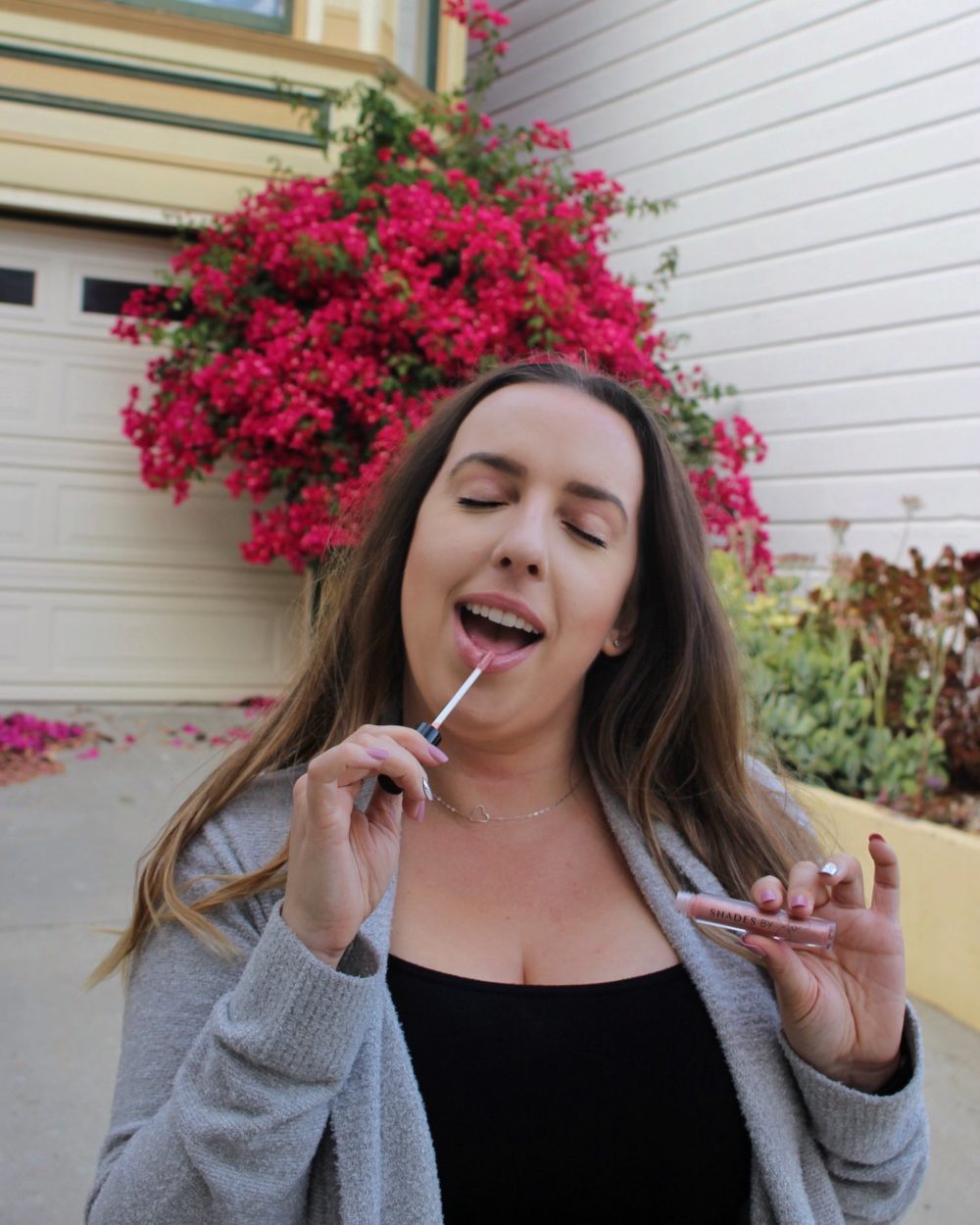 Shades By Shan Lip Gloss
Shades By Shan is a Bay Area indie beauty brand that nails the lip category when it comes to lip liners, liquid lipsticks, and also lip glosses. Their formula is moisturizing, shiny, and longwearing. Shanpagne, Erika, and Viki are my favorite colors.
$16.00, buy on Shades By Shan Cosmetics
NYX Butter Gloss
NYX came up with the perfect name for this lip gloss. Butter Gloss is silky, plush, and not at all sticky. Glides on with ease and feels like it's conditioning your lips. This gloss comes in a gazillion different colors. And you just can't beat that $5 price point!
$5.00, buy on ULTA
Pixi Lip Icing
Pixi is yet another drugstore brand with great lip glosses to choose from. Their Lip Icing formula is like a lip oil blended with a shimmery lip gloss, to give both high impact shine and a comfortable feel. The shimmer gives your lips a gorgeous 3D sheen. Smells like lemon cake. And it's not at all gritty!
$14.00, buy on Pixi
Pixi Lip Lift Max
Pixi also makes Lip Lift Max which is a subtly plumping lip gloss with a minty sensation. I really love this one in the sheer coral shade Sweet Nectar. The formula feels like it's actually nourishing your skin. It's thin and I often wear it alone even if I'm not going anywhere. Also looks beautiful layered over a nude lip liner.
$14.00, buy on Target
Buxom Plumping Lip Cream
This cream formula lip gloss is uniquely minty and plumping. Everyone seems to know the iconic White Russian shade, the shades Peach Daiquiri and Pink Champagne are actually my personal favorites. Definitely delivers more of an intense tingle than Pixi Lip Lift Max, yet isn't as intense as other lip plumpers on the market. I love how full and kissable this gloss makes my lips look. Of the glosses in this list, I think this one also stays on the longest.
$21.00, buy on ULTA
With many of these lip glosses, my lips feel better with them on than without. That's how I can really tell they're good! Just say no to those horrible dated lip gloss formulas that were annoying to wear.
Since going cruelty free with my makeup, I will admit I miss my Dior Lip Maximizer Plumping Gloss. Dior is sadly not cruelty free. However, the Buxom Plumping Lip Cream formula has a pretty darn similar lip gloss formula.
How do you feel about lip gloss? Tell me your thoughts in a comment below! This is a judgement-free zone and we would love to hear your lip gloss recommendations as well.