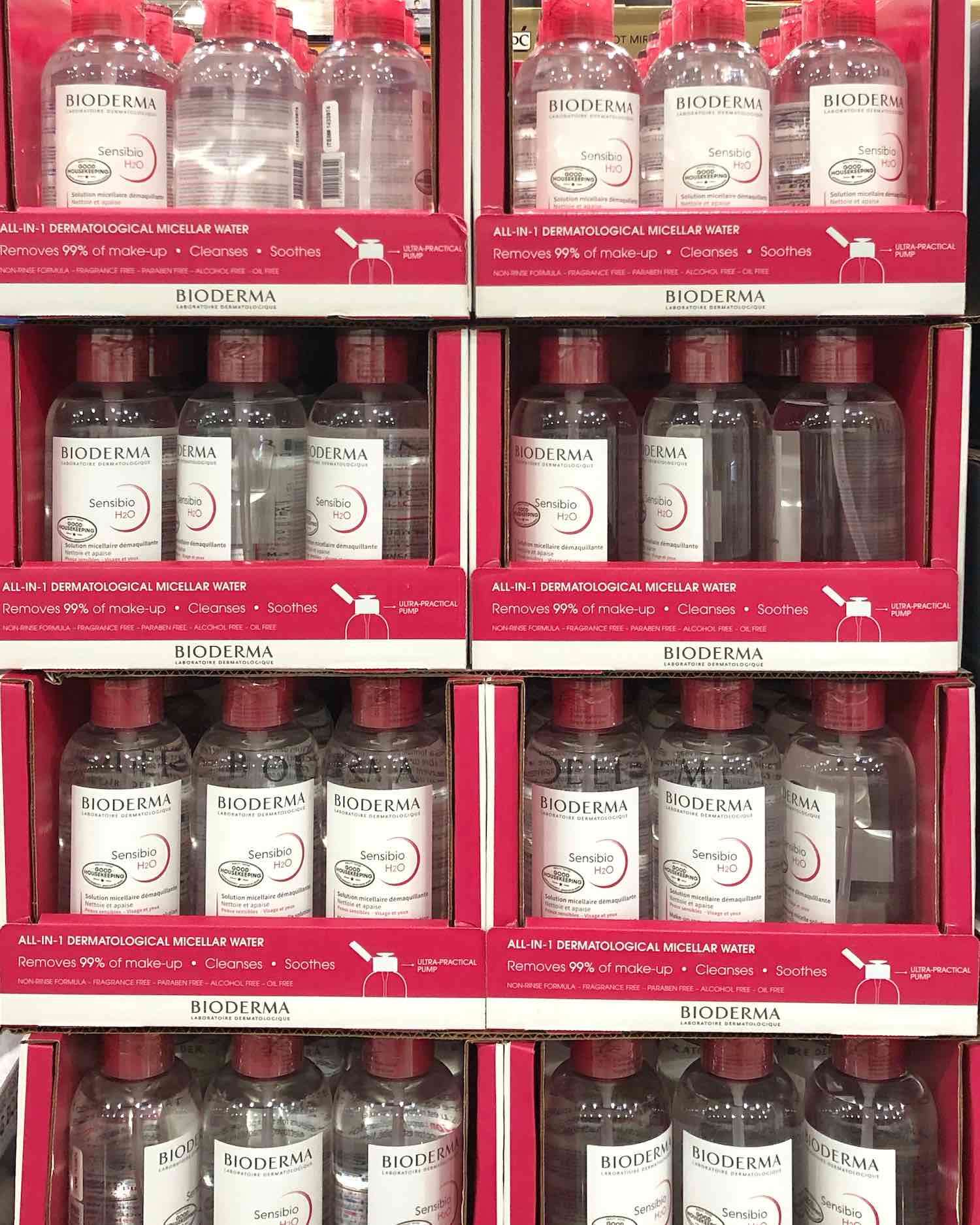 It's no secret, Costco is one of my favorite places to shop. There's an amazing 60 Minutes episode on Costco which reveals so much about how they do what they do, definitely watch that if you get a chance. I wanted to share some of my favorite beauty finds from Costco, and things I regularly buy there. Here are the very best beauty buys at Costco.
Bioderma Sensibio Micellar Water
This is an old favorite product, and new discovery at Costco. This is one of the OG micellar waters and gentle fragrance-free makeup removers. If you've never tried a French pharmacy skin care brand before, start with this. The jumbo bottle also has a convenient pump top lid for easy everyday use. My local store had the 28.7 fl oz bottles for $16.49.
Dr. Teal's Epsom Salt
Costco offers a two 7-lb bag pack of this cult favorite epsom salt bath. While essentially every drugstore sells this product, Costco has the best price I've found. Look for it in a compact blue and white box in the personal care and medicine department. Usually it's on the bottom shelf so it's easy to miss. I love to use epsom salt liberally, so buying the Costco pack makes the most sense.
L'Oréal Lash Paradise Mascara
This is one of my favorite drugstore mascaras, and I've seen it often at Costco in a 3-pack for $17.49. It has a glamorous volumizing formula and it looks great straight out of the tube. Mascaras should be tossed out every 3 months for hygienic reasons so a 3-pack should last you about 9 months.
La Roche-Posay Anthelios Sunscreen
La Roche-Posay consistently makes my favorite sunscreens, and the great news is that I've seen them recently at Costco. The 2-pack I saw had Anthelios SPF 60 Melt-In Sunscreen Milk and Anthelios SPF 60 Clear Skin for $37.99
T3 Hair Tools
I've seen both the T3 hair dryers and curling irons at Costco, promoted on prominent displays particularly around the holiday season. I've seen the T3 Twirl 1.25″ curling iron for $44.99 and the T3 Featherweight hair dryer for $69.99.
SK-II Facial Treatment Essence
This product is insanely expensive, but it truly does something special to your skin. If you want to try a luxury skin care product, get this at Costco. While the 11 fl oz size retails for $299 at places like Sephora, the exact same size product can be found at Costco for $189.99
Are you a Costco shopper? What have you seen at your store lately? I've seen a ton of Laura Mercier, NARS, and even BECCA at my local Costco. Be sure to follow me @chelseapearl on Instagram because I'm constantly sharing my Costco beauty finds which I've created a dedicated story highlight for. Happy shopping!