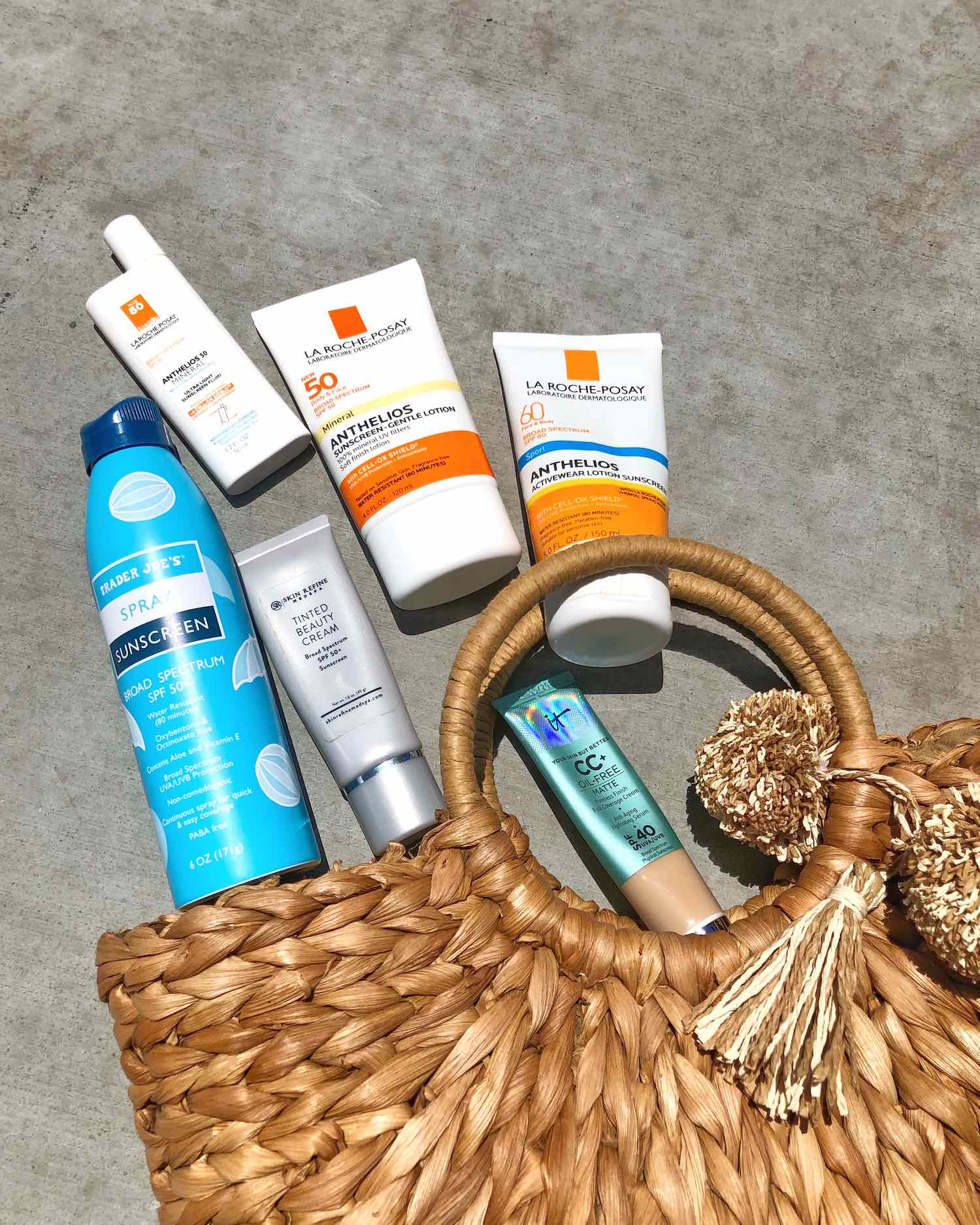 Summer is here, are you ready? Sunscreen is actually essential all year long, but now's a good time to stock up on a few new bottles so you have no excuse not to be protected. I wanted to round up my all time favorite broad spectrum sunscreens in one place. There are lots of different sunscreen formulas to choose from, so pick one that works best for you. These are the best broad spectrum sunscreens I've tried, thus far!

The easiest way to integrate SPF into your everyday self care routine is with a daily moisturizer that doesn't feel sunscreen-y. This moisturizer is perfect for all skin types. It's also fragrance-free!

If you wear makeup, finding a good sunscreen that doesn't interfere with it is key. These silky sunscreen drops are excellent as a makeup primer, or even worn alone.

I've been a fan of this tinted suncreen powder for 4+ years and it's just the best of the best. While the shade range is expanding, I find the powder pretty forgiving on the skin even if you aren't a perfect shade match. I love applying this around my hairline, across my nose, forehead, and chin which are prone to sunburns first.

Sunscreen fluids will change the way you think about sunscreen overall. The formula is thin, easily spreadable, and doesn't feel chalky or heavy on your skin. I use this almost every day for my face, but it can also be used for the body. This mineral formula is titanium dioxide (6%) and zinc oxide (5%) based. This formula is also fragrance-free.

This is the most spreadable, easily absorbed, and moisturizing sunscreens I've tried. It really feels like water! I use this mostly on my body, but it can also be used on the face. Again with La Roche-Posay, this product is fragrance-free. While I enjoy their mineral and sport sunscreens too, this formula is the most user-friendly.

While I love the spray sunscreens by COOLA, Hint, and a handful of other brands, the winner is from Trader Joe's. It's affordable, easily accessible, and gives your skin both broad spectrum protection and a glow. It also sprays pretty well upside down if you need to cover your own back. If you must, buy it online, but it's going to be the best price in-store. Lastly, this product is oxybenzone and octinoxate free.

Sunburn lips are the absolute worst. Lip balm with SPF is essential and I love this one by COOLA. But don't get the tinted version, I actually think it's very chalky and disappointing. The classic Liplux is where it's at! You can also layer other lip colors easily on top of this clear lip balm.

I wanted to give a few final honorable mentions to my Skin Refine Medspa Tinted Beauty Cream SPF 50 with zinc oxide (16.2%) and IT Cosmetics CC Cream Oil-Free Matte SPF 40 with titanium dioxide (7.4%) and zinc oxide (6.3%). I wear one or the other just about every day to even out my skin tone and provide protection. Additionally, I  like to pack these with me on the go so I can reapply.
Do you have a favorite broad spectrum sunscreen to recommend? I would love to hear about it and potentially test it out.
Like this post? Be sure to flip through some of my other skin care, body care, and summer content before you go.