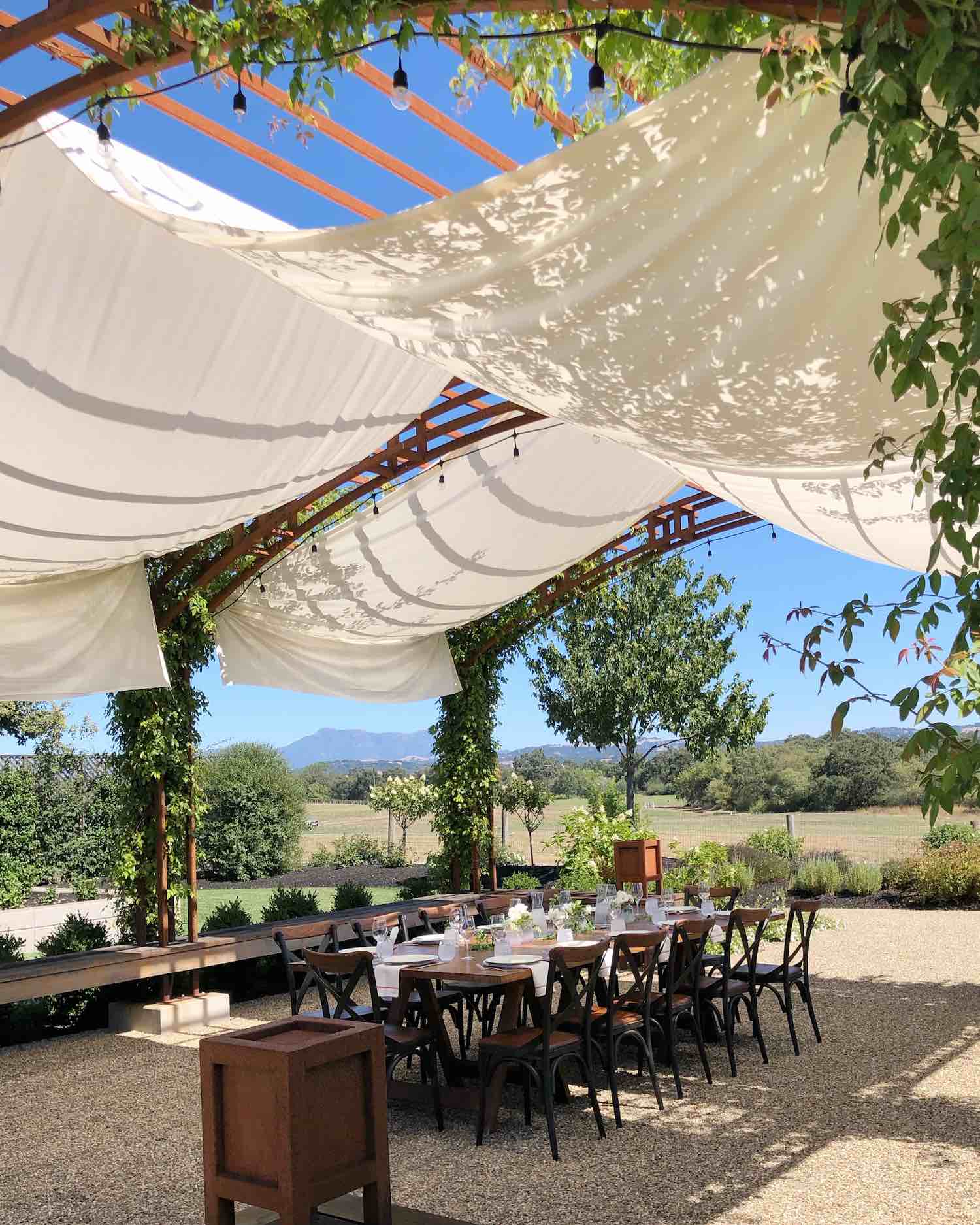 So you're coming to Sonoma, and you want to find some Instagram worthy wineries and vineyards. Let me help you out! Here are 8+ seriously beautiful wineries you can visit in Sonoma County wine country that have breathtaking views, gorgeous tasting rooms, and unforgettable wines. Be sure to call to make a reservation at all of these gorgeous estates because they are popular and incredibly busy during the warmer months.
Most Instagram Worthy Wineries in Sonoma County
Even though I've been to this winery probably close to 50 times, Benziger in Glen Ellen still takes my breath away driving in. This is a biodynamic winery that uses sustainable farming practices. Ride the tractor tour, see the animals, and visit the cave if you have the chance!
1883 London Ranch Rd, Glen Ellen, CA 95442
This stunning winery is just minutes from Healdsburg Plaza and features wines grown from the highest elevation in all of Sonoma County, which is actually on the coast. There are dreamy cabanas where you can enjoy a tasting and bites flight with their high end chardonnays and pinot noirs. Cabanas are usually reserved for wine club members first, but you can always make a request when booking,
4035 Westside Rd, Healdsburg, CA 95448
Just down the road from Flowers is MacRostie. The main winery building is to die for with its sleek modern architecture, but the view is equally as gorgeous! Enjoy a tasting on the deck while looking out on the Russian River vineyard.
4605 Westside Rd, Healdsburg, CA 95448
Gary Farrell is nested deep in the Russian River Valley and the tasting room has the most unforgettable view I've seen. Instead of rows of vineyards, you'll see an endless forest skyline view while you taste incredible wines.
10701 Westside Rd, Healdsburg, CA 95448
A little further south in the Russian River Valley AVA is La Crema and their Saralee Vineyard estate. Their historic barn building has many stories each with their own deck with space for guests and the tasting options they select.
3575 Slusser Rd, Windsor, CA 95492
Bricoleur is a relatively newer winery in Windsor, but the grounds are breathtaking and vast with elegance and delight around every corner. They also host outdoor yoga with mini tastings regularly! Their rosés are some of my favorites I've tried out of Sonoma County.
7394 Starr Rd, Windsor, CA 95492
An ideal introduction to the beautiful Bennett Valley! Matanzas Creek is situated just above a huge lavender field and endless rows of vineyards. A perfect place to visit and is just a few minutes from central Santa Rosa.
6097 Bennett Valley Rd, Santa Rosa, CA 95404
Scribe Winery is a popular choice among San Franciscans since it's not only stunning, it's also one of the closest wineries to get to from the city or Sonoma Square. The winery sits on a hilltop that looks out on the valley below. Definitely has more of a hipster vibe!
2100 Denmark St, Sonoma, CA 95476
Obviously there's more to a great winery than how Instagram-worthy it is. But if you're looking to capture some amazing photos of your memories made at these gorgeous wineries, these are all spots I would recommend. Life is short, take those photos!
Have you visited any of these wineries before? Did I miss your favorite Sonoma County spot? Let me know in a comment below. Cheers!