Naturium is a brand that exploded into the beauty space recently, thanks to their effective and affordable skincare products. Backed by one of my favorite OG digital beauty creators, Susan Yara, this line debuted in Target of all retailers, with accessibility and affordability at the forefront of their brand. The brand is dedicated to making high-quality skincare products accessible to everyone and at affordable prices. With a focus on natural ingredients and innovative formulations, Naturium has quickly become a go-to especially for folks like me with sensitive skin.
The brand seriously has quite the product lineup, with new releases launching all the time. Let me take you through my favorite Naturium products, thus far. From cleansers to serums and moisturizers, there's something for everyone and especially those with sensitive skin. Here are some of the best Naturium skin care and body care products I've tested so far!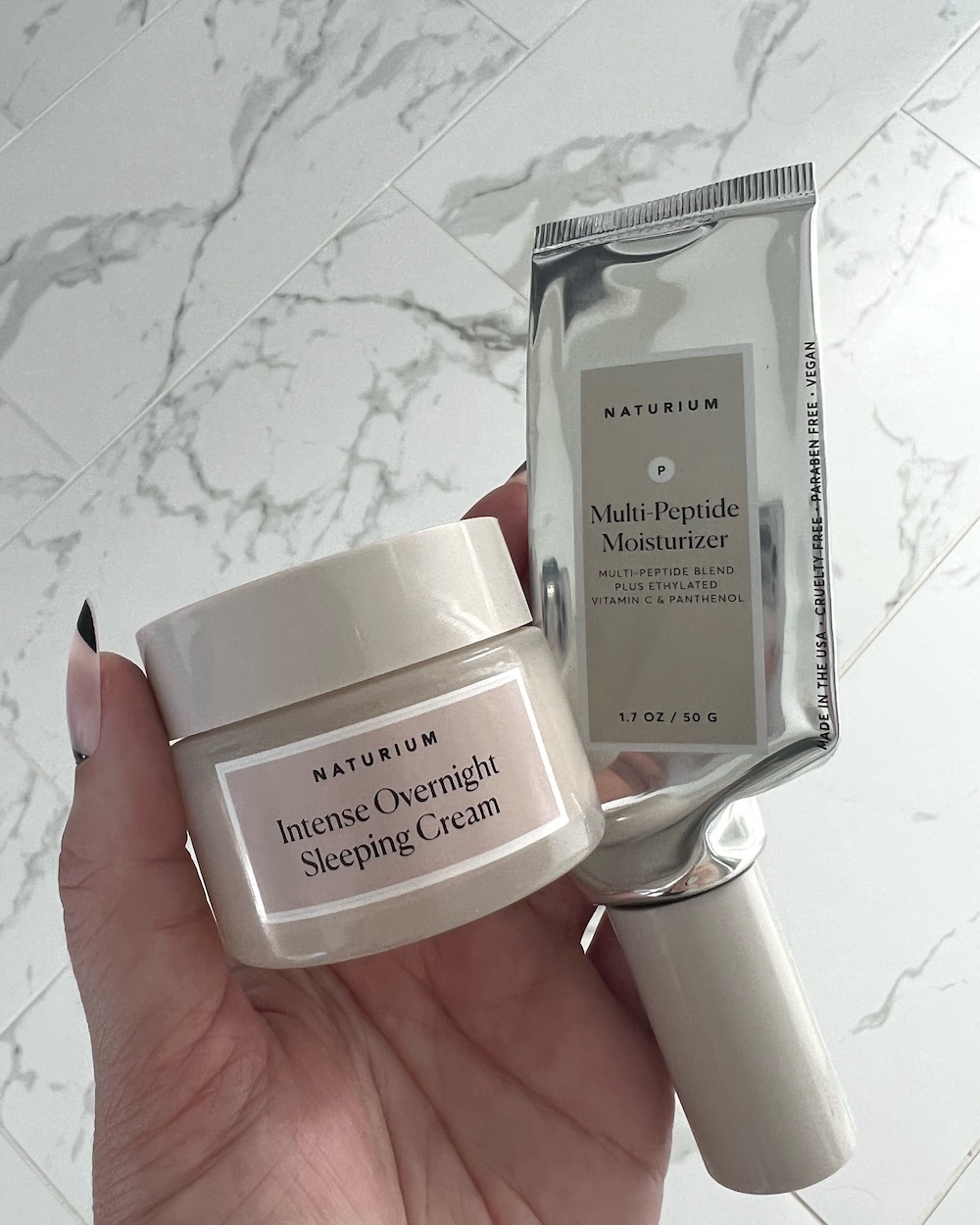 Best of Naturium Skin Care & Body Care

Phyto-Glow Lip Balm
These plush glossy lip balms remind me so much of squeezable retro Lancôme Juicy Tubes, but they're better! They're sheer, glossy, and actually moisturizing on your lips. The shade Jam is a close dupe to Clinique's Black Honey, only it's cruelty free and much better! Throughout the week I wear all three shades: clear, petal, & jam.

Multi-Peptide Moisturizer
This lightweight moisturizer instantly sinks into your skin leaving behind a really soft and plumped feeling on your face, without being heavy or greasy. I love this light moisturizer for day. It's fragrance free too, so it's perfect for sensitive skin. Of all the products in this list, this is the one I use up the quickest and repurchase over and over again. This daily moisturizer is my #1 recommendation from the brand, followed by the Phyto-Glow lip balms.

Vitamin C Complex Serum
This everyday serum contains a powerful blend of vitamin C, vitamin E, and hyaluronic acid to help brighten and even out the complexion, while helping protect from environmental stressors. It's a light liquidy gel formula that blends quickly into the skin and layers well with other products like eye cream, moisturizer, and sunscreen. In a world of expensive vitamin C serums, this is a great affordable option you won't feel too precious about using on a daily basis.

Intense Overnight Sleeping Cream
This is a rich moisture cream for night and it has the most unique texture. At first I wasn't sure about it, but after using an entire jar I was hooked. It's a marshmallow-like thick cream that's essentially like a sleeping mask. It leaves me plump and hydrated when I wake up in the morning, it's great! It's also fragrance free, where a lot of sleeping masks are not. Since it's so thick, I think this one is best suited for dry and sensitive skin.

Purple Ginseng Cleansing Balm
This is an incredibly buttery soft cleansing balm that is easy to spread on and melt off your makeup with. It doesn't have much of a scent and it doesn't cling to the skin like other cleansing balms tend to do.

The Glow Getter Multi-Oil Body Wash
This luxurious oil-based body wash drapes over your skin in the bath or shower, enveloping you in a sweet nutty natural scent and softening lather. It feels so luxurious and hydrating. I always follow it with the body lotion after to lock in that moisture.

Bio-Lipid Restoring Body Lotion
This incredibly plush nourishing body moisturizer is one I use at night and my skin immediately drinks it up. It spreads easily and blends in well, without leaving a heavy or waxy residue behind. It's also fragrance free, so it never triggers my eczema.

Overall, Naturium reminds me of like a drugstore version of Paula's Choice skincare. They have a no-frills approach to ingredients and use science-backed formulas that aren't loaded with potentially irritating fragrance.
In conclusion, Naturium is a brand definitely worth checking out. Through their innovative and effective products, it has earned a reputation for being one of the best new and no-nonsense brands out there. The range includes potent ingredients that work together to provide a multitude of benefits for all skin types. Whether you're looking for hydration, brightening, anti-aging, or sun protection, Naturium has you covered. It's no wonder that this brand continues to gain popularity among skincare enthusiasts and casual shoppers alike. So if you're on the hunt for high-quality and affordable skincare products that aren't laden with fragrance or unnecessary ingredients, look no further than Naturium!
Like this post? Don't forget to flip through some more of my best of beauty brand series. I've shared my high end favorites of IT Cosmetics, Urban Decay, Juice Beauty, 100% Pure, Fresh, Colleen Rothschild, Dr. Zenovia, and Rituals. If drugstore beauty is more of your thing, check out my guides to the best of La Roche-Posay, Derma E, Pacifica Beauty, and Pixi.