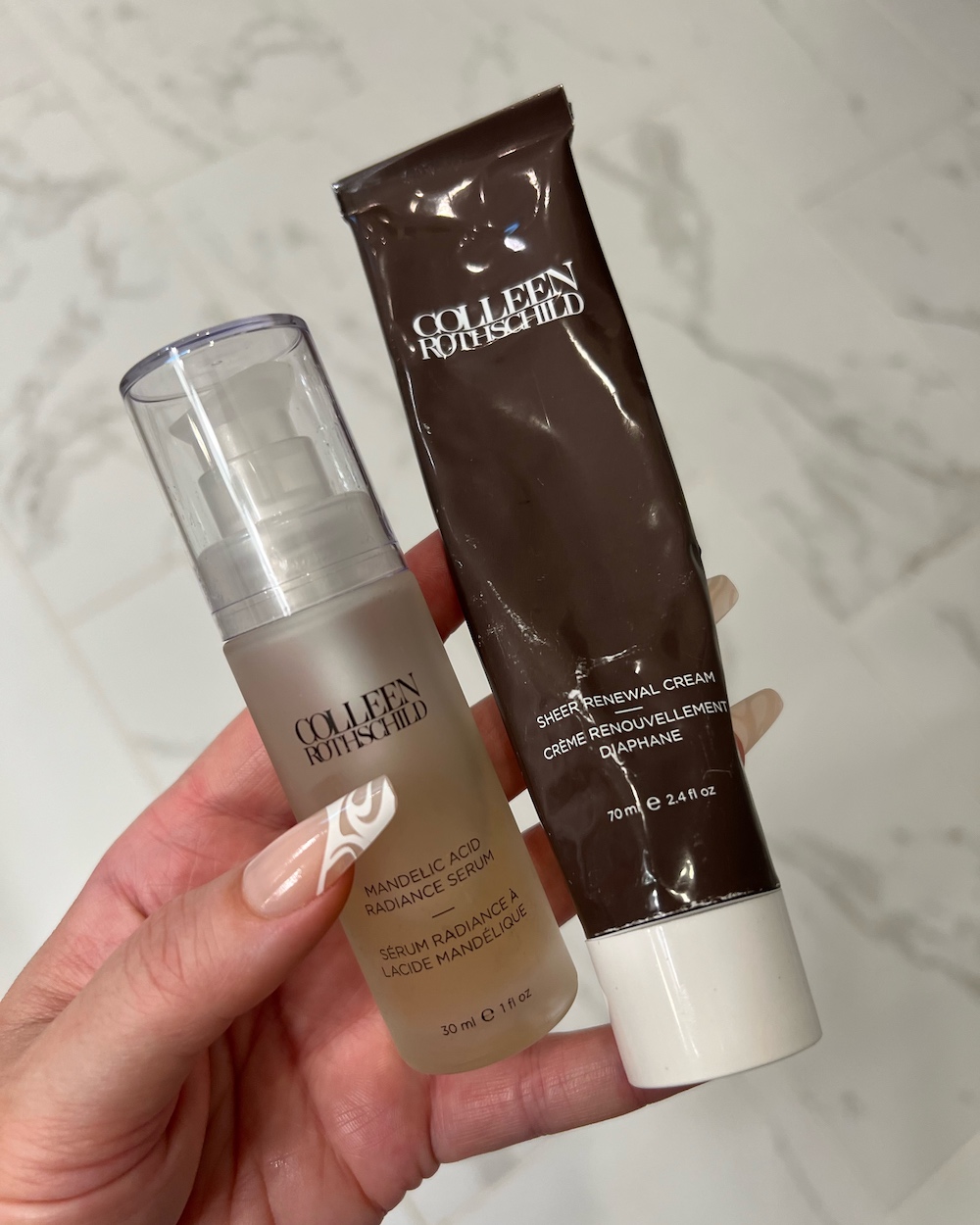 I'm often asked what products are best for exfoliating. But as someone with sensitive skin and eczema prone skin, it's always a loaded question. Exfoliating sensitive skin can easily be overdone and I'm careful when recommending how to do it. Instead of the usual scrubs and harsh exfoliants, I often use products that don't give you that physical scrubbing sensation. These products work on a chemical level to resurface your skin. Sometimes you feel them tingling, other times you don't. When used properly and consistently, these gentle exfoliators can improve your skin texture, remove dead skin, unclog pores, and brighten your overall skin tone.
There are a few key ingredients to look for in these chemical exfoliants. Things like lactic acid, glycolic acid, mandelic acid, and tartaric acid (all alpha hydroxy acids, also known as AHAs) and salicylic acid (type of beta hydroxy acid, also known as BHAs) are useful starting places. I always recommend a chemical exfoliant for sensitive skin, over a physical exfoliant. Long gone are the days of using St. Ives Apricot Scrub on our faces! When it comes to sensitive skin exfoliation, the key is to never overdo it. I recommend using one active per skin care routine, so one of the following in the AM routine and maybe another during the PM routine.
Here are the best exfoliating products for sensitive skin that I recommend. These products cover toners, serums, and masks. There are brands and options here from both the drugstore and high end price point.
Best Exfoliating Products for Sensitive Skin

Best Exfoliating Toners for Sensitive Skin

Best Exfoliating Peel Pads for Sensitive Skin

Best Exfoliating Serums for Sensitive Skin

Best Exfoliating Cleansers for Sensitive Skin

Best Exfoliating Masks for Sensitive Skin
Exfoliation is vital to maintaining a healthy skin glow, and when used consistently it can remove dead skin, reduce fine lines, promote skin cell turnover, fade acne scars, and reduce the appearance of pores.
It's worth noting, I always skip out on exfoliation when having any signs of eczema. It is just not a smart time to exfoliate since the skin barrier is compromised and inflamed. Instead I strip back my skin care routine to the bare essentials, like a fragrance free cleanser, moisturizer, and occlusive to seal it all in. And of course, any topical treatments that may be in the mix.
When any of these exfoliating treatments start to feel a little weak, I might upgrade the frequency of use. For instance, if it's a mask I might do it once a week versus once a month. Or I might cycle in some stronger exfoliating treatments like Kate Somerville ExfoliKate Intensive Pore Exfoliating Treatment. If your skin is just slightly sensitive and you're looking for something a little more intense, Kate Somerville ExfoliKate comes in a 0.5 oz travel size at Sephora I'd recommend testing out. It blasts away dead skin cells and leaves your skin immediately more smooth to the touch. Though my skin is extremely sensitive, I'm also oily so I rely on active chemical exfoliants to keep my skin clear.
And always as an important reminder, always remember to wear sunscreen daily in your skin care routine. Especially if you are using any types of AHA or BHA products, but also retinoids. All skin types and skin tones need adequate sun protection daily.
What are some of your favorite face exfoliators? How do you exfoliate sensitive skin? What type of active ingredients does your skin respond best to? Feel free to share your best skin care tips with us all in a comment below.