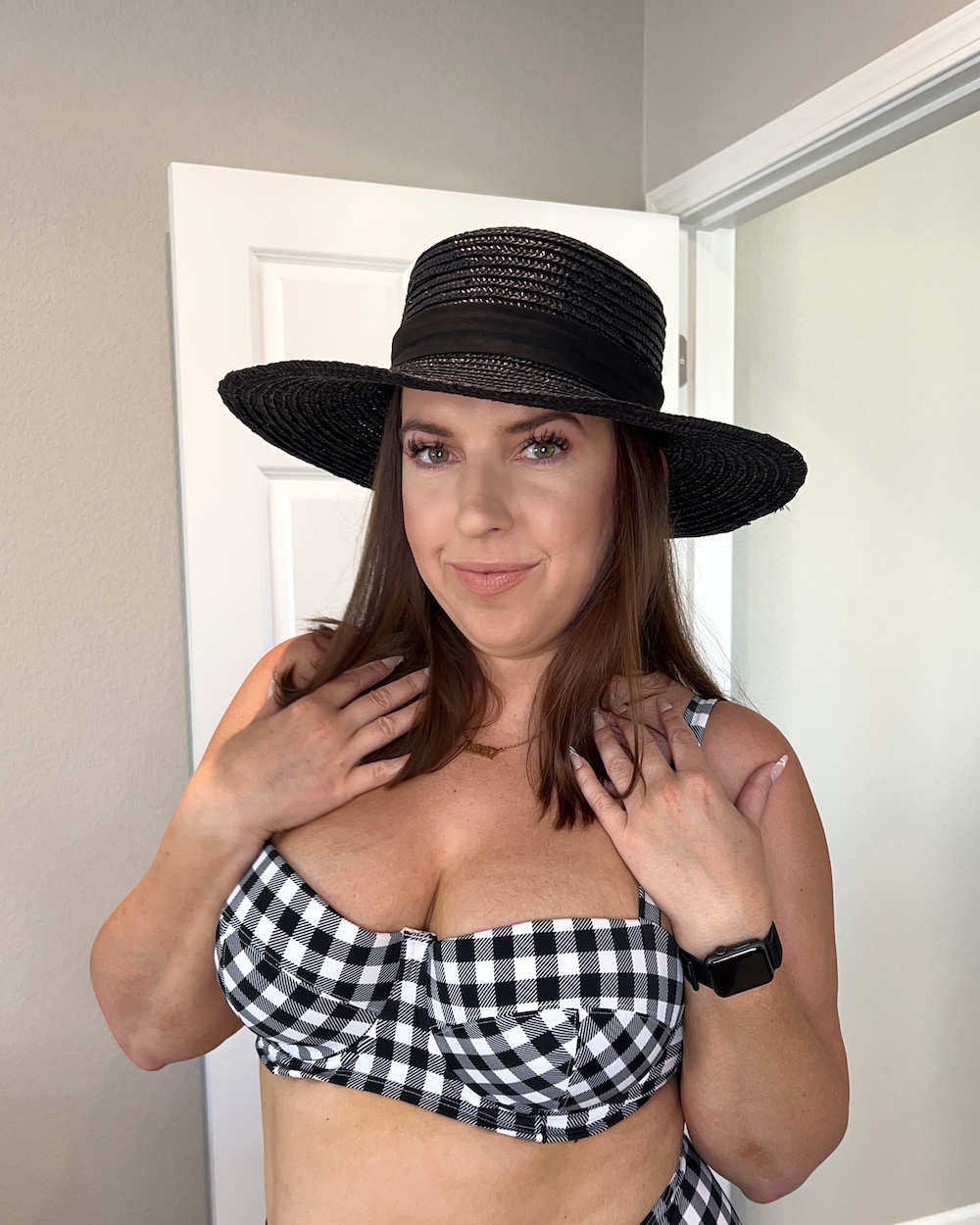 Products gifted by Adore Me, post contains affiliate links
Summer is here and so is new swimwear! I recently hauled some Adore Me swimwear and I wanted to share a closer look at everything I got. My last Adore Me try on haul was a few weeks ago, but that was mostly pajamas, loungewear, and activewear. In this haul I have 5 new Adore Me items to share, including two piece bikinis and a satin slip dress, with pretty much everything being available in standard and plus sizes. Size and style inclusivity is one of the many things I really appreciate about Adore Me.
Watch the try on video below which shares 4 bikinis and 1 dress from my recent Adore Me order. I'm midsize, typically wearing a dress size 12/14 or size XL. Additionally, I tried to include a few styling ideas for beach and pool accessories you might want to wear with your bikinis. Things like straw hats, straw bags, and sunglasses.
Is Adore Me worth it? Does Adore Me have good quality? Read on to see if Adore Me swimwear is worth it and if the pieces fit true to size.
Adore Me Swimwear Try On Haul

Vivien Contour
If you want to try one Adore Me swimsuit, let it be this one. The Vivien Contour is a retro lovers dream swimsuit. Something about the timeless black and white gingham print and balconette bra style top is so classic. This swimsuit uses bra based sizes for the tops. I wear size 36DDD on top and size XL int the high waist bikini bottoms. There is also the option to get this suit with bikini cut bottoms. This was the first suit I tried on and I was immediately blown away by the quality. It really feels like a high end bikini.

Tatiana Contour
The Tatiana Contour is usually strappier than I ever go, but I'm really loving this style at the moment! This iconic summer green palm leaf print is so fun, this print is also available in a one piece swimsuit. I wear this strappy bikini in size XL top and size XL bikini bottoms.

Elle Contour
Every year I have to get one black swimsuit. It's just what I honestly wear the most. This year I picked out the Elle Contour, a sporty modern one shoulder bikini with strappy cutouts. This bikini is so easy to just pull on and go. For that reason, I already see this as a bikini I'll pack for every upcoming trip. I wear size XL in the top and size XL in the bikini bottoms.

Brinlee Contour
This leopard print one piece bathing suit is so cute. I first saw the Brinlee Contour on the site a few months ago, then I saw pop star Bebe Rexha wearing it on TikTok! While it fits, I would suggest sizing up in this swimsuit if you have a long torso. I got size XL but would be a little more comfortable with more length through the torso so that the halter doesn't pull so much on my neck.

Angela Dress
While they may be best known for their bra sets and lingerie, don't sleep on Adore Me's clothing selection! This long satin leopard print slip dress is so swishy and fun to wear. I've worn the Angela Dress so many times now, pairing it with white sneakers or slide sandals and a moto jacket for easy day to night styling. I wear size XL and it fits perfectly. I can't wait to try it in another color or print!
Shop Swimwear

Well it's safe to say I can't wait to try more Adore Me bathing suits! I just love the fabrics, colors, and cuts. And with size options usually going up to 4X, I am happy to recommend it. I'm curious to try some of the floral printed fabrics and bandeau styles next.
Have you shopped Adore Me before? What are some of your favorite Adore Me swimwear, lingerie, activewear, and sleepwear finds? Let us all know your experience shopping the brand in a comment below!