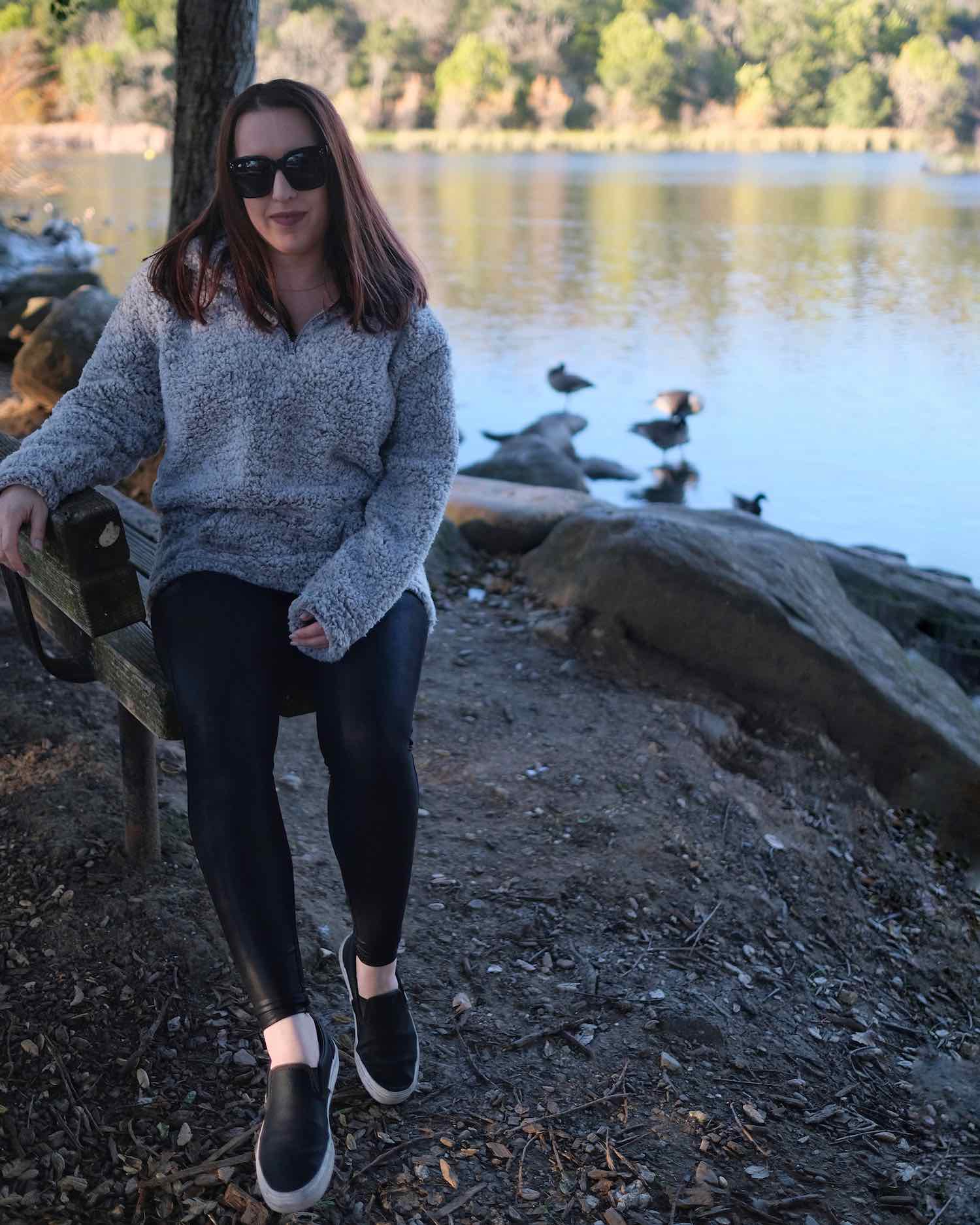 We are in the final stretch of the year and I thought it'd be a fun chance to look back on the 2020 best sellers as determined by YOU. Taking a look at my insights for the year, these have been the top selling products among my blog readers and social media followers. It's not surprising that they're also some of my most worn, used, and loved items as well! Let's quickly recap the fashion, beauty, and home best sellers.
Fashion Best Sellers

While I love designer sunnies, you can absolutely nail the look for less. These oversized square sunglasses are my go-to pair for any outfit or occasion. Something about the square shape is also universally flattering on every face. I want to grab them in tortoiseshell as well.

These continue to be a hit with you and me alike. They just go with everything in my closet in the fall and winter. If you don't already have a pair, try to grab them next time they go on sale. My pair has lasted so well through the years. I wear size L.

A plushy dreamy cardigan as cozy as the blankets. I have this in the light gray silver color and it's so snuggly. Comes in so many wearable neutral colors, perfect for your capsule wardrobe.

2020 has not only been the year of loungewear, it's also been the year of free bleed. It's not for everyone, but you can wear these absorbent undies with tampons or cups if that's more your thing. Read my THINX underwear review if you want to learn more. Size up for a more comfortable fit and buy a few pairs to last you through your cycle.

My blog post on the best bras for large cup and small band sizes continues to be a top viewed article from a few years back. I loved this underwire bra so much at my old size since it was thin, perfectly shaped, and extremely supportive. It was my everyday bra and I had about 5 I would rotate between. I'm so glad it's been a hit with you as well! Now 9 months post op from breast reduction I need to buy this in my new size.

2020 was the year I launched my collection on Redbubble, and you all really pulled up for me! Since launching, there are new mask sizes and styles. Face masks were a top seller, but I also sold aprons, socks, stickers, phone cases, and more. I can't wait to share new designs and what's next for 2021!
Beauty Best Sellers

Hand cream is everyone's best friend in 2020. If you're washing your hands a lot, which I hope you are, hand creams help protect that moisture barrier and this one is just the best. Even if you don't have eczema. The formula is very buttery and smooth.

Got mascne? Make sure you're properly removing your makeup at the end of the day, and using some kind of active or chemical exfoliant. Colleen Rothschild makes so many amazing products, but this AHA based serum is one of my top recommendations. It's so easy to layer in before your night time moisturizer. Get 20% off this powerhouse serum right now with code BYE2020

The perfect complexion product for everyday. I love both the classic formula and the oil free matte. Delivers impressive coverage and is very forgiving on both textured and mature skin. It's more like a foundation than a tinted moisturizer, but it can be sheered out with a beauty sponge which is my preferred application method.

This is a cult favorite among beauty bloggers and beauty consumers alike. It's gentle on sensitive skin and gives relief to parched dry skin without unnecessary fragrance. Works well on both face and body!

One of the best products Paula's Choice makes! This super juicy serum helps improve elasticity and hydration in the skin. You can apply it like a serum or as a booster additive mixed into your favorite skin care products. My skin just looks healthier and radiates when I use this product. I'm so thrilled to learn you're loving it too!

This purse-sized brush is perfect for anyone on the go, and the many Hello Kitty prints they release just makes it that much more fun. It's no secret I'm a life-long Sanrio lover and pieces like these just give daily life that little extra bit of kawaii cheer.

I can't live without this stuff, and I'm so glad I could help spread the word. This fragrance free thick body butter is my daily body moisturizer and it feels so good on my sensitive skin. My legs can be so itchy with eczema rashes and sores, so I rarely use any lotions with fragrance.

I don't do pedicures without this stuff! I've tried lots of nail polish over the years and this is one that consistently stays within my collection of nail care essentials. It's so shiny and glossy, plus so affordable!
Home Best Sellers

This set is faux but emulates the real thing! This trio of pampas grass stems comes in 2 different colors. I recently shared several different ways to style pampas grass if you need more ideas.

About 25% of my day is spent wrapped up in this blanket. The fabric is unbelievably plush and cushy, making it the dreamiest throw to burrito yourself in. The reversible print and numerous colorways make it a fun pop of print on any couch or bedding. Grab it in one of six colorways on sale right now for 25% off!

This thing air fries, bakes, broils, warms, and toasts. I love having all these different functions in one countertop appliance. I don't know how my Thanksgiving and Christmas feasts could have been done without it. It also matches the rest of the stainless steel going on in the kitchen. It's also 45% off right now! I've been sharing all the adventures in air frying over on my food Instagram @omgfeedmethis.

Looking for a versatile and minimal console table? This is it! I love the hidden shelf that's perfect for stashing away bulky and odd shaped everyday items like keys, face masks, lint rollers, and so on.

I use this tray for my coffee bar and it's so easy to clean. It's nice and thin, not too bulky. Works so many different ways for decor and is that perfect minimal organizational touch.

This item sold out but was the #1 thing that got me through a socially distant summer at home. I loved seeing all of your photos and IG stories where you tagged me while enjoying this purchase! This adult sized kiddie pool fits 2 adults and is so much fun. It was $45 retail but I found it on Amazon through a reseller. Keep an eye on this brand to see what type of designs they release for 2021!

That's it! Did you buy any of the 2020 best sellers? What did you think? Be sure to follow me on Instagram, LIKEtoKNOW.it, and join my newsletter, for even more fashion, beauty, travel, and lifestyle inspiration. If I don't catch you before the 31st, have a happy and healthy New Years celebration!