One of my favorite Bay Area beauty brands is going in retail nationwide, and I'm so excited to give you the scoop. Shades By Shan has officially launched at JCPenney Beauty! SBS Cosmetics is one of my favorite beauty brands and I love using their products and sharing their amazing story. I use at least one of their products in my daily makeup routine. Shades By Shan is a San Francisco-based and Latina owned beauty brand offering cruelty free makeup to help you feel your most glam and empowered. They also give back, with a portion of proceeds going to the Mamaberries Foundation, a 501c3 nonprofit foundation that helps single parents in need. I've been a fan of this brand since the beginning, and I'm so excited for their growth and partnership with JCPenney Beauty. This huge national retailer debut has basically been over 4 years in the making.
Get a sneak peek at the brand new retail gondola displays now seen at JCPenney stores across the nation. Over 660 stores to be exact! We celebrated at the Concord JCPenney inside the Sunvalley Mall and it was so much fun. Shan Berries and the team are so amazing, I am so proud of everything they've accomplished as an indie beauty brand and locally based small business.

Shades By Shan Launch at JCPenney Beauty
https://youtu.be/pLAiFCaxJGU
Best Shades By Shan Makeup
Shades By Shan Lip Liner

Shades By Shan Liquid Lipstick

Shades By Shan Lip Gloss

Shades By Shan Eyeshadow

Shades By Shan Highlight Palette

Shades By Shan Blush Palette

Shades By Shan Contour Palette

Shades By Shan Loose Powder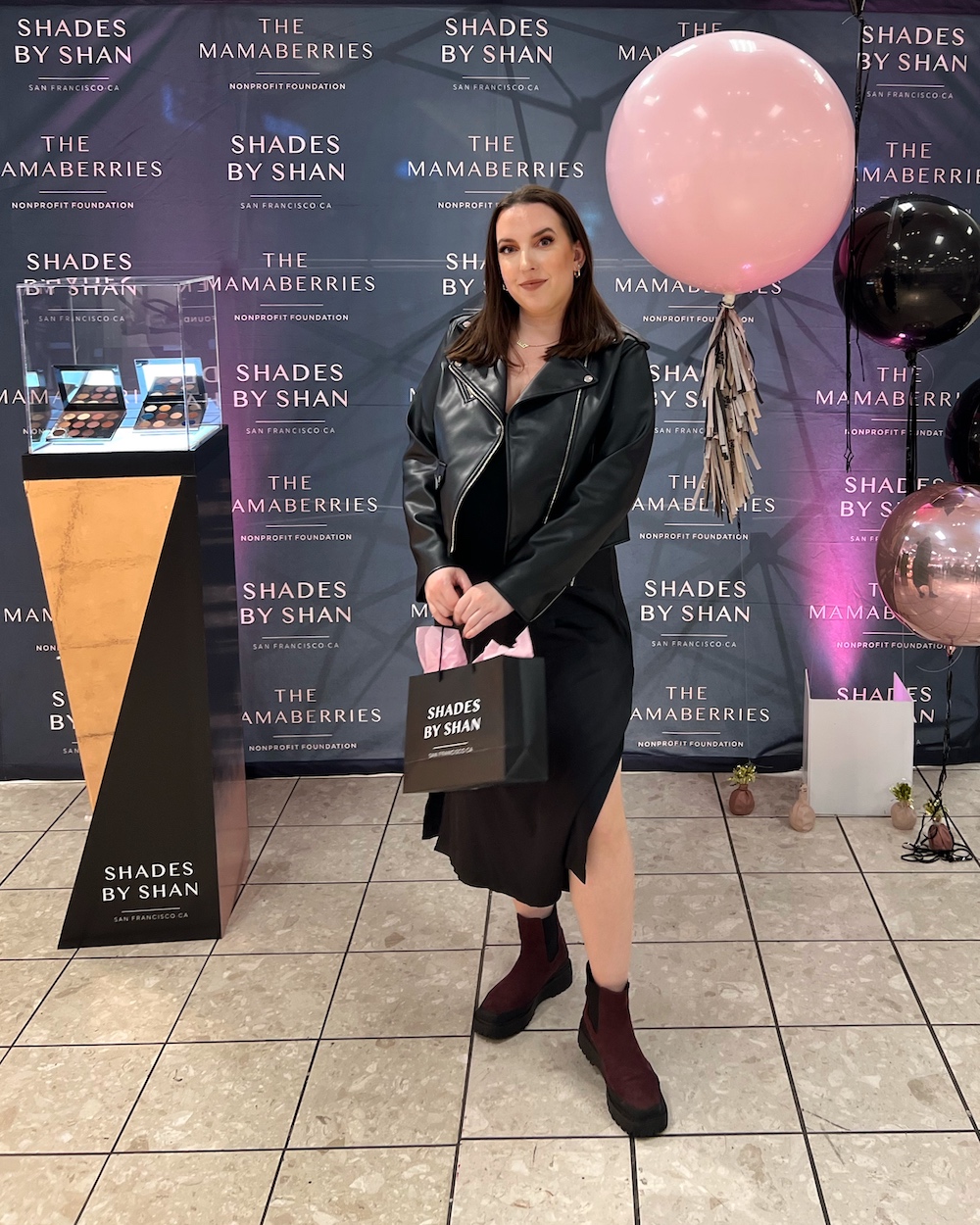 Best SBS Lip Products

Best SBS Face & Eye Products

Over the years I've had the opportunity to test and review so many of their products. I have several blog posts and videos reviewing SBS makeup, including a past holiday collection, even a few makeup tutorials and hauls.
SBS Apricot blush has been on my cheeks every day lately. I also never leave the house without Jess lip liner in my bag; the color is the perfect dusky mauve pink. Lately, their highlight in the shade Luchy is all I've been reaching for. I have panned so many of their eyeshadows, contour powders, and even finished up entire tubes of lip gloss in my past Project Pan series. The Flamin Rojo lip kit is my most worn red color of the past few years. The makeup is pigmented and available in shades that will compliment any skin tone. Finally, they are not tested on animals. Their translucent loose setting powder has replaced Laura Mercier, which was a difficult product to dupe as I switched to an entirely cruelty-free makeup routine.
Like this post and want more beauty guides? Read through some of my other small business and cruelty free beauty features before you go. Visit my YouTube channel for the Bay Area Beauty series for videos taking you behind the scenes on more beauty companies and treatments all around the Bay.