Beauty lovers, I have found the best priced cruelty free faux mink lashes out there. Run to your nearest 99 Cents Only Store and get your hands on some Ioni lashes! There are many affordable cruelty free faux mink lash brands I love, but never before did I see anything that stood out to me from the dollar store. House of Lashes, Ardell, and KISS are some of my favorite cruelty free lash brands normally. But they can cost around $5 to $10 and up per pair. Though they are reusable, at the rate I go through lashes I would love to save some extra money wherever possible. Especially with inflation in the US right now! Ioni lashes have just changed the game for me, and they're only $1.39 per pair. And they look so good! Let me tell you why Ioni lashes are the best of the dollar store false eyelashes.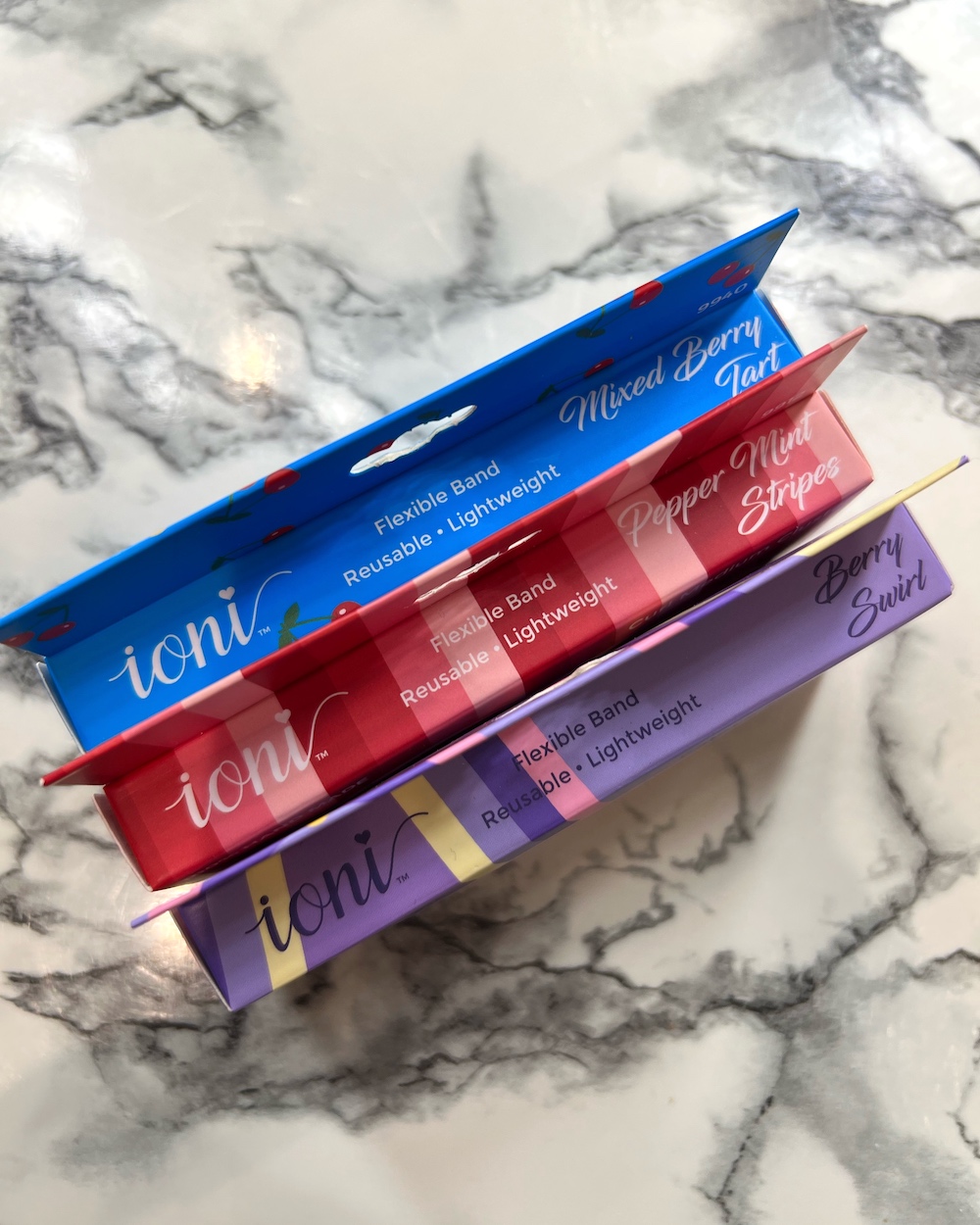 Ioni Lashes Price
Ioni lashes are $1.39 per pair at my local 99 Cents Only Store. The value is just unbeatable. And in the dollar store, you can't miss that colorful display of trendy eyelashes in the beauty aisle!
Ioni 3D Faux Mink Lash Styles
They have so many styles to choose from as well. I went with the sweets themed line in the really cute candy-inspired packaging. While the brand sells some more natural styles, I am always drawn to the more full and dramatic options. I love that extra volume and glamour of faux mink eyelashes for photos and video!
The three faux mink lash styles I bought are Berry Swirl, Pepper Mint Stripes, and Mixed Berry Tart. The lashes are long and wispy while still being very full and voluminous. The flexible black band is comfortable and the lashes have an overall light weight to them. I often wear them for 8+ hours! Here are the exact three styles I have, ranked from least to most dramatic.
Berry Swirl: Cateye Spikey Medium (#9916)
Pepper Mint Stripes: Curl Medium Cluster (#9912)
Mixed Berry Tart: Feathery Crisscross Curl (#9940)
Ioni also now has a garden inspired collection and bridal collection that look absolutely gorgeous! Follow them on Instagram for more.
How Long Do Ioni Lashes Last
Berry Swirl was the first pair I tried and they easily lasted me over 15 wears. With better care they could last even longer! I've worn them on livestreams, to concerts, and for lots of other occasions. The lashes are 100% hand made and surprisingly durable, I think it's partly due to that strong black lash band.
Are Ioni Lashes Cruelty Free
Yes, Ioni lashes are cruelty free and vegan. I do not wear real mink fur lashes for ethical reasons. The lashes by Ioni Cosmetics are all faux mink fibers but they look just as fluffy and fabulous.
Where To Buy Ioni Lashes
Shop Ioni eyelashes in-store for the best price! They are carried at both 99 Cents Only Stores and Dollar Tree stores, plus Burlington and Roses Discount Stores. Per the Ioni Cosmetics site, certain collections may only be found at certain stores. Skip the overpriced resellers on eBay, Amazon, Poshmark, and Mercari, and just head straight to your local dollar store.
Must Have False Lash Tools
Ioni lashes in the Sweets Collection do not include lash glue, so you'll need to have it in order to wear them. Some must have tools I recommend for pro lash application are the Ardell Duo clear lash glue and the lash applicator tweezers. Brow trimming scissors are also great to trim your strip lashes into a length perfectly suited to you. My scissors are by Morphe, but many brands make similar options. In a pinch, you could use sanitized nail clippers, which I have definitely done while traveling! I usually trim all my strip lashes into 2/3 length for the perfect fit on my mid to outer eye area to create a cat eye shape.

And that's a wrap! That's why I think Ioni lashes are the best dollar store false lashes. Have you tried them? Which sets are your favorites? Let us all know in a comment below.
Like this post? Check out some of my other cruelty free beauty guides before you go. Happy shopping!