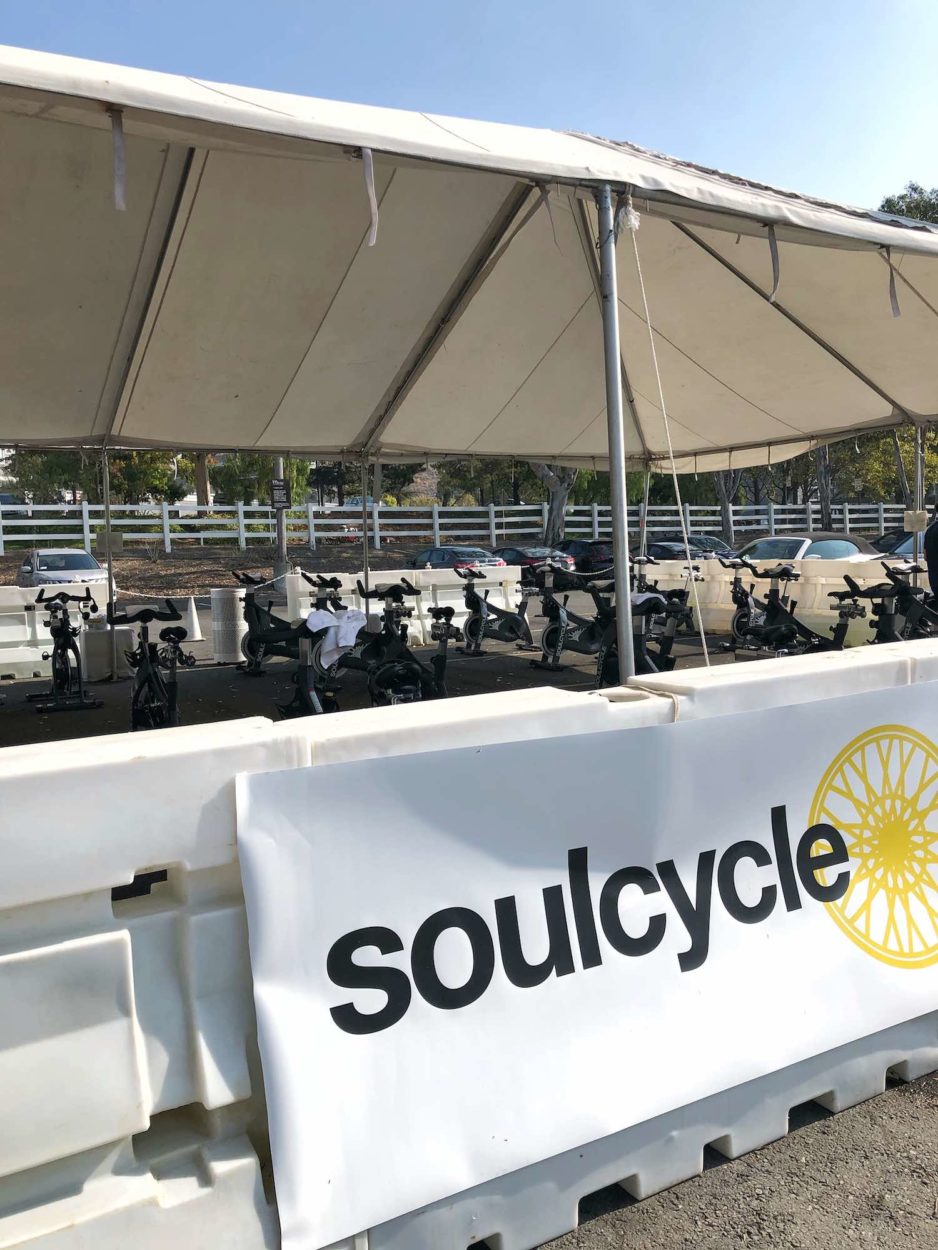 Have you heard? SoulCycle is back, but now outdoors! 2020 has put the ultimate strain on my fitness routine, with both the pandemic and reduction surgery. Getting that same high quality HIIT and cardio workout at home has been tough. That's why I'm so excited to be out taking group fitness classes again, but safely given current events. Let me share a bit more about the experience going back to SoulCycle and trying it in an outdoor setting.
The Setup
SoulCycle outside AKA SoulOutside is SoulCycle brought outdoors and silent disco style. At the Marin studio at Marin Country Mart, you'll see a huge tent directly in front of the studio. There are 32 bikes in the same layout as the indoor classes, except the bikes are spaced 6 feet apart. Check-in is done via the mobile app and you'll get your temperature checked upon arrival. You'll also get loaned a pair of wireless headphones to wear during the class. Lastly, you can still rent spin shoes for a fee. I highly recommend buying a pair since those $3 fees quickly add up over time!
The fresh air and breeze while riding feels great! Don't forget to wear plenty of sunscreen during those daytime rides. SoulOutside lacks some of the intensity and heat of an indoor class, but the tap backs and choreo are a little more difficult knowing just hard concrete is below you. I also miss the distinct scent of the SoulCycle signature candle which would fill up those indoor classes!
Safety Protocols
Masks are required upon arrival, but what I found interesting at SoulCycle's Marin studio is that masks may be removed once on your bike. I've only taken one class so far, but I might choose to keep my mask out of courtesy to my neighbors. Mask policies may vary by city, county, and state, so check with your studio beforehand! Hand sanitizer is readily available by the tent. Also markers on the ground will show spaced out places to stand if the front desk gets busy with clients. Between classes you'll see the team spraying down and sanitizing the bikes.
The Bay Area SoulCycle locations that have the outdoor studio setup include Marin, San Jose, and Walnut Creek. The smoky air quality in the Bay Area lately has held me back from taking more classes, but recent wildfires seem to be clearing up.
It's Still Expensive
So, what's not to love? I have to be completely honest and say the price. This goes not only for SoulCycle, but any name brand boutique fitness studio doing classes outside. I'm looking at you too, Barry's. Without being able to access the locker rooms, showers, and vanity area, I feel like I'm getting significantly less value for the cost of a class. Let's keep it real, we all love using those fancy Le Labo bath and hair products! And sometimes after classes I have other places to be, and not being able to shower and change after a class really throws off my day. At the Marin studio, the only restrooms available for rider use are the general Marin Country Mart bathrooms.
A single class at a San Francisco or Marin SoulCycle is $35, not including shoe rental. Bay Area studios, which San Jose and Walnut Creek fall under, cost $32 per class.
But I'm Still Loving It
But will the cost keep me from riding again? The short answer is no. While I'm a little irritated the price is still so high for a single class, I'm excited to be back in the saddle! My goal is to get 2-3 classes per week in this October to ramp up my workout routine to get me in a healthier place leading up to the holidays. I have a hard time doing that without the accountability of a scheduled class, so paying for a few classes is what I'll be doing.
Intrigued by SoulCycle outside? I definitely suggest trying it as long as you feel safe doing so. Even if you have spin bike or fitness routine at home, it's fun to switch it up and workout in a group setting even while distanced from others. Don't forget to book your first class with my referral link, it helps me earn free rides with every 3 new riders that sign up.