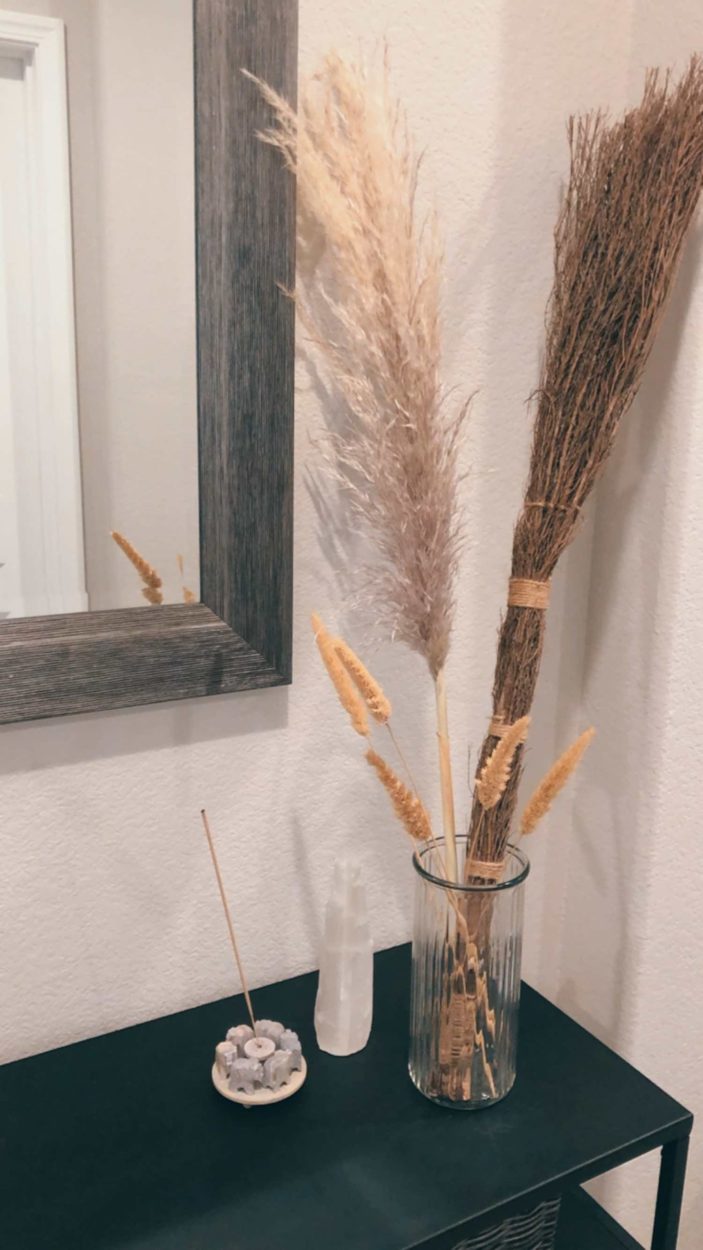 Styling my office console table has been such a fun project this season, and I've been doing it all on a budget! I recently got this black console table and I used it as a blank slate for styling an empty area in my office. I love the minimal vibe, thin legs, and narrow depth, I'm actually considering getting a second table for elsewhere in the house. It started with a table, then the old vase, then the pampas grass, and things started to come together from there. I kept the color scheme earthy and autumnal, with mid cool and neutral undertones. Did I mention it also smells incredible?
Let's talk all the details of this fall console table styling. All products linked below, plus similar options for old, wild harvested, thrifted, or upcycled pieces.
Top Level
Selenite Tower: HomeGoods | Incense Holder: Berkeley Bowl | Incense: ZARA Home | Vase: Upcycled | Pampas Grass: Wild | Wheat Stems: Wild | Cinnamon Broom: Trader Joe's | Candle: ROSS | Mini Pumpkins: Trader Joe's
Lower Level
Storage Baskets: ROSS
Below
Wicker Basket: ROSS | Throw Rug: IKEA | Paper Shredder: Amazon
Above
Wall Mirror: ROSS
Here's my big learning with fall console table styling: I needed this space to be both pretty and functional. That's why I used wicker storage baskets on the lower level table top. The small baskets stash away everyday essentials that I just don't need out on display. Things like face masks, lint rollers, keys, mail, and more. They are easily accessible without being a total eyesore. Consider getting a basket set so you have a variety of sizes to store various things.
Decorating isn't something that comes naturally to me. This is a high traffic area while working from home more than usual this year, so clutter piles up quickly. This is probably the limit of things I want out on display. I know realistically during the week this table may become a dumping ground for mail, returns, and other items in passing.
Will I style up this table for winter? You'll have to stay tuned to see! Like this post? Read through some of my other home and office content before you go. Also let me know how you are decorating, or not decorating, for the fall season.