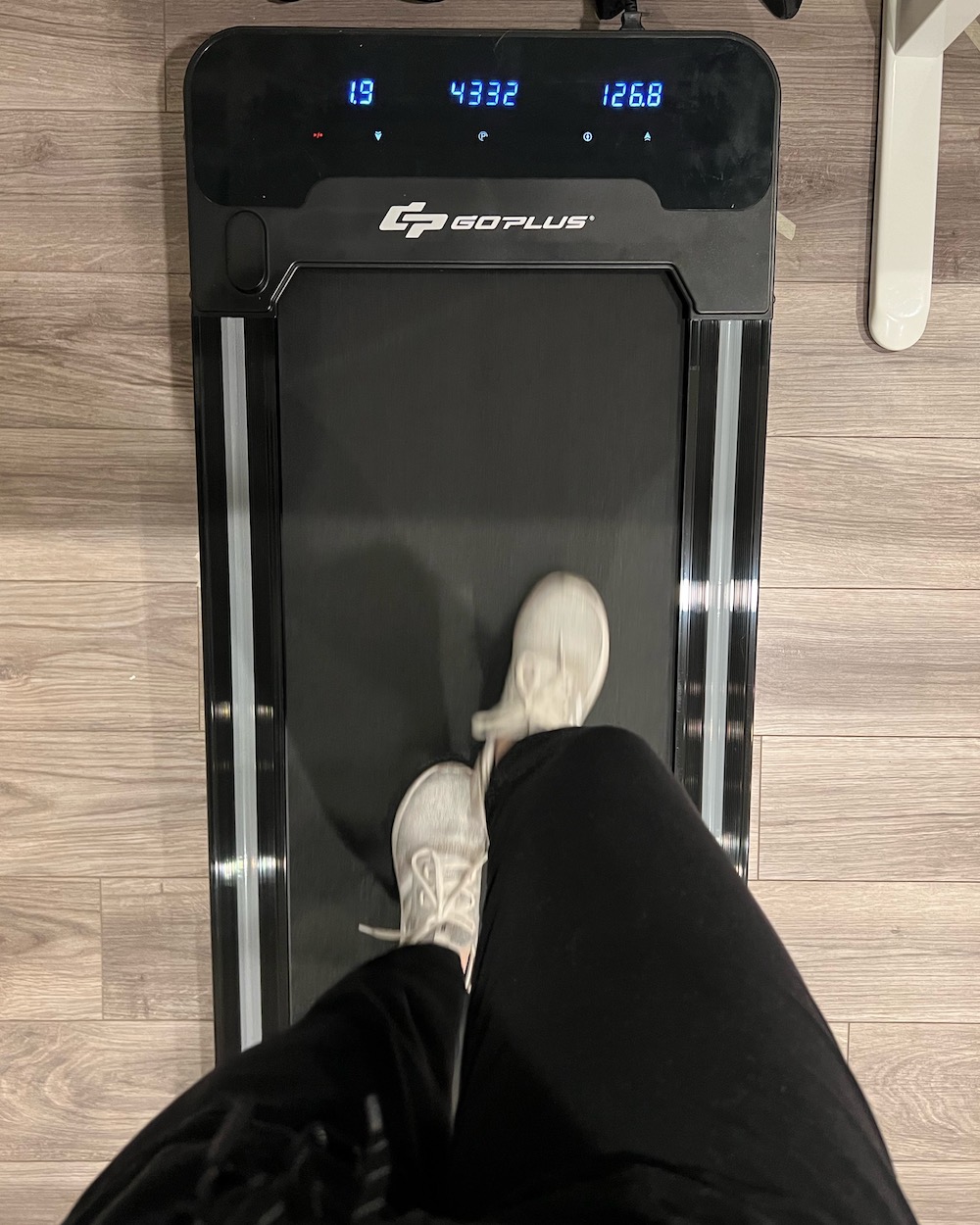 Contains affiliate links. As an Amazon Associate I earn from qualifying purchases.
Under desk walking treadmills are all the rage on social media right now, especially on TikTok. Last year I upgraded to a standing desk in my home office, and I always knew I eventually wanted to add a walking treadmill to go under it. This was a seed planted in my brain long ago from my days of working in tech, where standing desks and treadmill desks very very common things to see in San Francisco startup offices.
For my home office, I wanted a slim walking treadmill that was low profile and easy to move out of the way when not in use. In fact, I am walking on it right now while writing this post! If you are thinking about some potential health or fitness goals for the new year, let me tell you all about the under desk walking treadmill I just got for Christmas. The first day I got it I walked for 75 minutes while working, writing blog posts and reading emails. I can already tell it's a monumental upgrade to my workout routine. Let's go through some of the walking treadmill key features and is a walking treadmill is worth it.
Under Desk Walking Treadmill Review
Walking treadmill assembly
Good news, this walking treadmill arrives fully assembled! You just plug in the power cord and you're essentially good to go.
Walking treadmill max speed
The maximum speed on this walking treadmill is 4 MPH, while the minimum speed is 0.5 MPH. If you need a higher top speed treadmill, consider a 2-in-1 style treadmill that is better for both walking and running. Those type of treadmills from the same brand may go up to 7.5 miles per hour. They also have safety handlebars for running mode that can be folded down during walking mode.
I ultimately decided the pure walking pad treadmill style was better for me as I don't run and don't ever plan on becoming a runner. I also liked the idea of a slimmer treadmill that was also lighter and easier to move due to the absence of those safety rails.
Walking treadmill weight, weight capacity, & dimensions
This walking treadmill is super slim and compact with dimensions of 51.5″ long x 23.5″ wide x 6.5″ tall. The walking belt area is 41″ long and 17″ wide. Total weight capacity is 220 pounds. This walking treadmill itself is 55.5 pounds, with two wheels to assist with moving around. The are also rubber foot mats to help keep the walking treadmill secure. The frame is super sturdy and does not wobble or move.
Walking treadmill remote & controls
One reason I chose this walking treadmill over others is that it has both a touch screen panel and a wireless remote control. With the LED display I'm able to see my current speed, duration of walk, calories output, and total distance. There are also three preset modes you can program.
Walking treadmill noise
This walking treadmill is very quiet! It beeps upon startup and will beep at each interval change in speed, but it's pretty silent aside from that. You will hear a subtle friction of rubber soles on the belt itself. This walking treadmill comes with treadmill belt lubricant if that becomes a squeaky issue.
Why use a walking treadmill instead of just walking outside?
There are many reasons I would prefer a walking treadmill to walking outside. One reason being unfavorable weather. Sometimes it's just too rainy, windy, or hot. Another reason is allergies. Often when I take a walk, my allergies can be so severe my eyes water and swell up causing me to reach for Benadryl and then needing to take off the rest of the day. An additional reason could be social distancing or safety, if you want to avoid encountering others while exercising outside. Finally, the sheer convenience of having the ability to work out at home is wonderful. Under desk treadmills offer the convenience of a low impact exercise while doing other things.
What standing desk do you use with the walking treadmill?
I use this Amazon standing desk, and it works great under my walking treadmill. You can often find it on sale and with a coupon!
I will caveat this recommendation with this desk is great for my height and build, because that's something you'll want to look at when shopping for a standing desk to go with your under desk treadmill. Pay close attention to the maximum height of your standing desk, plus your height, and the height of the walking treadmill. Will you be able to find a comfortable position for your arms if you're typing on a keyboard, using a computer mouse, or writing in a journal? This may vary from person to person. If you are extra tall, you may need a different model that goes higher.
The maximum height of this particular standing desk is 48 inches.
Walking treadmill goals
My goal right now is to just reach my daily step goal of 10,000 steps. In order to reach that goal, I plan on doing 30 minute to 1 hour walks while doing computer work during my work day. I work from home as a full time blogger and content creator, but not all of my work can physically be done from the treadmill standing desk setup. Things like filming, livestreaming, video editing, voiceover recording, and gaming require me to be in a seated position for the most part. So I'm looking for those small wins and areas where I can get some walking in where exercise doesn't take over my entire daily schedule. That is the beauty of the walking treadmill, I can do small intervals here and there and it feels like an immediate win.
Walking treadmill with Apple Watch
One other thing to consider is that if you're an Apple Watch fitness app user, you may need to make some modifications. I've been wearing my Apple Watch on my ankle to more accurately track my steps during my indoor walk exercises. Otherwise, my wrists aren't moving with the walk and essentially none of the steps are tracked. Even with wearing the watch on my ankle, there is still a discrepancy between what the watch reports and what the treadmill reports. For instance, I have walked about 30 minutes now. My 30 minute exercise ring has closed. However, the treadmill reports I've walked 0.66 miles and my Apple Watch says I've walked 1.3 miles. That discrepancy is huge. But that's also why my goal is total step count, and not necessarily distance walked or even calories burned. The 3k or so steps I've accrued in that time wouldn't have happened if I was just standing or sitting. Small wins!
Walking treadmill with Bala Bangles
One great way to intensify your walking is to add ankle weights. My favorites are the Bala Bangles and they come in 1 lb and 2 lb options, in a variety of different colors. They are perfect for yoga and pilates, too!
Is a walking treadmill worth it?
In my case, YES! I made a lot of home office upgrades within the last 12 months and this was a purchase well worth it. I also use a spin bike at home and I love now having the variety of low impact workouts to switch between. This is now up there with some of my other Amazon fitness favorites. For an updated list, please follow me on Amazon to see even more of my fitness and lifestyle favorites.
Do you own a walking treadmill? If so, what do you think about it? Please share your thoughts in the comments section below.