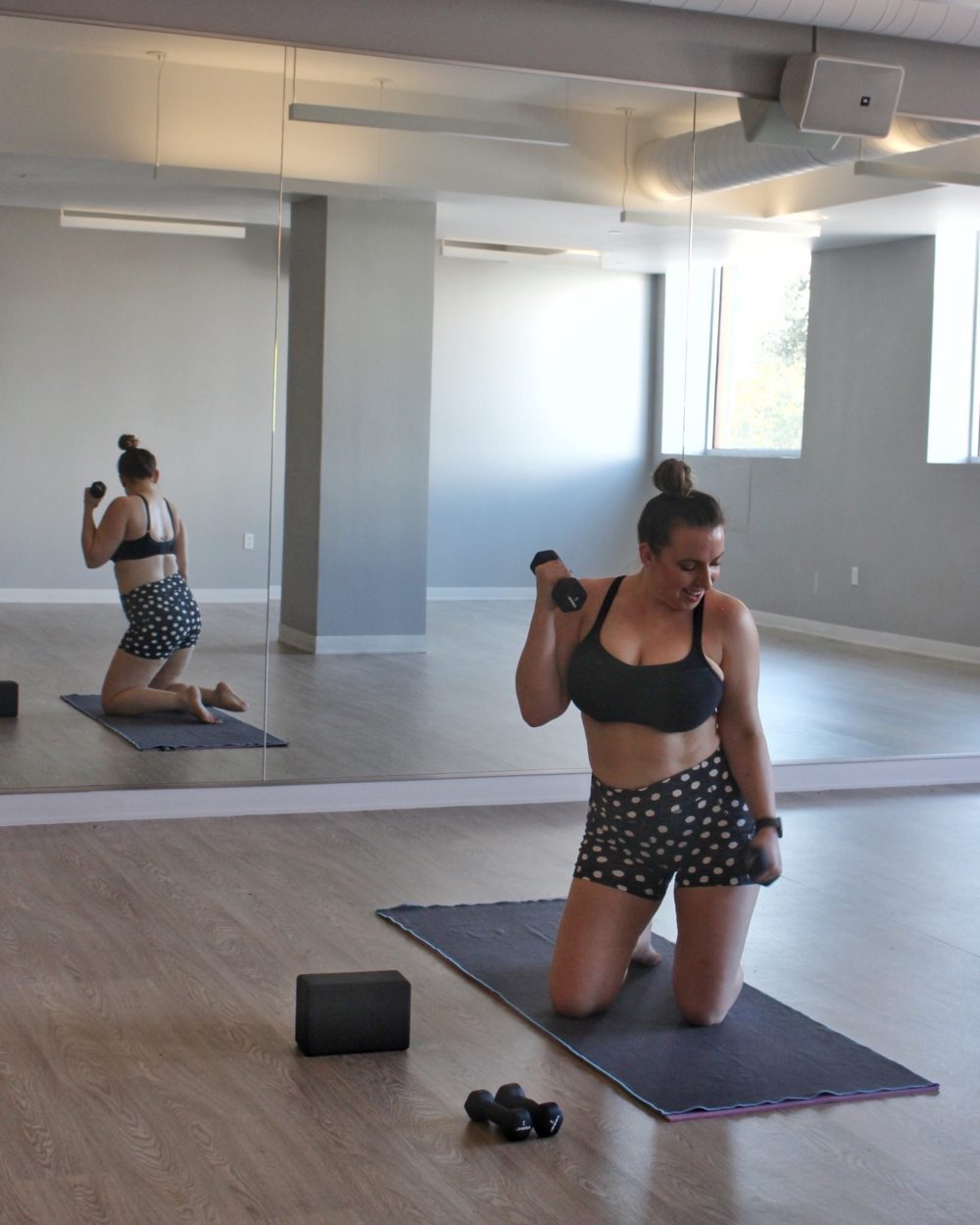 A few weeks ago I shared my fashion and beauty favorites on Amazon so I wanted to follow it up with all things fitness. These are a few key things that make my fitness routine a little more doable. Whether it's something to prepare me for or help with workout recovery, having the right gear paired with a positive mindset can set you up for success when it comes to fitness.
My muscles can get so sore between workouts, sometimes making it really hard to work out consecutive days. This handy device is a quick trick to relieve muscle tension and cramps. You can either roll it firmly against your body for heavy pressure relief, or just lightly for a mini massage. I first saw this tool at Barry's Bootcamp and it's such a game-changer!
I tried out CorePower Yoga for a month recently, which I loved. A few classes in I started to notice the experienced students laying a low profile sweat towel on top of their yoga mats, so I immediately went to Amazon to investigate. This towel adds a washable layer to your yoga mat, providing extra grip and a soft surface to flow on. My yoga mat is pretty low quality and the towel prevents further damage to the crumbling material.
This is an unconventional pick, but it is indirectly fitness-related. An amazing pair of headphones are a must for the gym. These are so comfortable and provide incredible sound. These pair wirelessly over Bluetooth, and a full charge lasts around 20 hours. That's a lot of working out!
This is a new addition to my watch wardrobe. I've been an Apple Watch devotee since it debuted, and the sport bands are my most worn style. The band is silicone, not fabric, so it handles well with sweat. At under $8, this leopard print one is a steal!
Fact: water tastes better in glass. Don't @ me! While it doesn't keep water as cool as long as insulated aluminium, I still love using my bkr bottle daily. The design is smart with the smooth grip sleeve and small mouth opening. The 16oz size is also perfectly portable.
Instead of paying $3 every class to rent them, I decided to invest in cycling shoes early in on my SoulCycle journey. These shoes are perfect for SoulCycle classes as long as you have Delta cleats.
What are some of your fitness must haves from Amazon? Let me know in a comment below. If you'd like to see some of my other Amazon favorites, let me know because I can definitely round up other recommendations from other product categories.