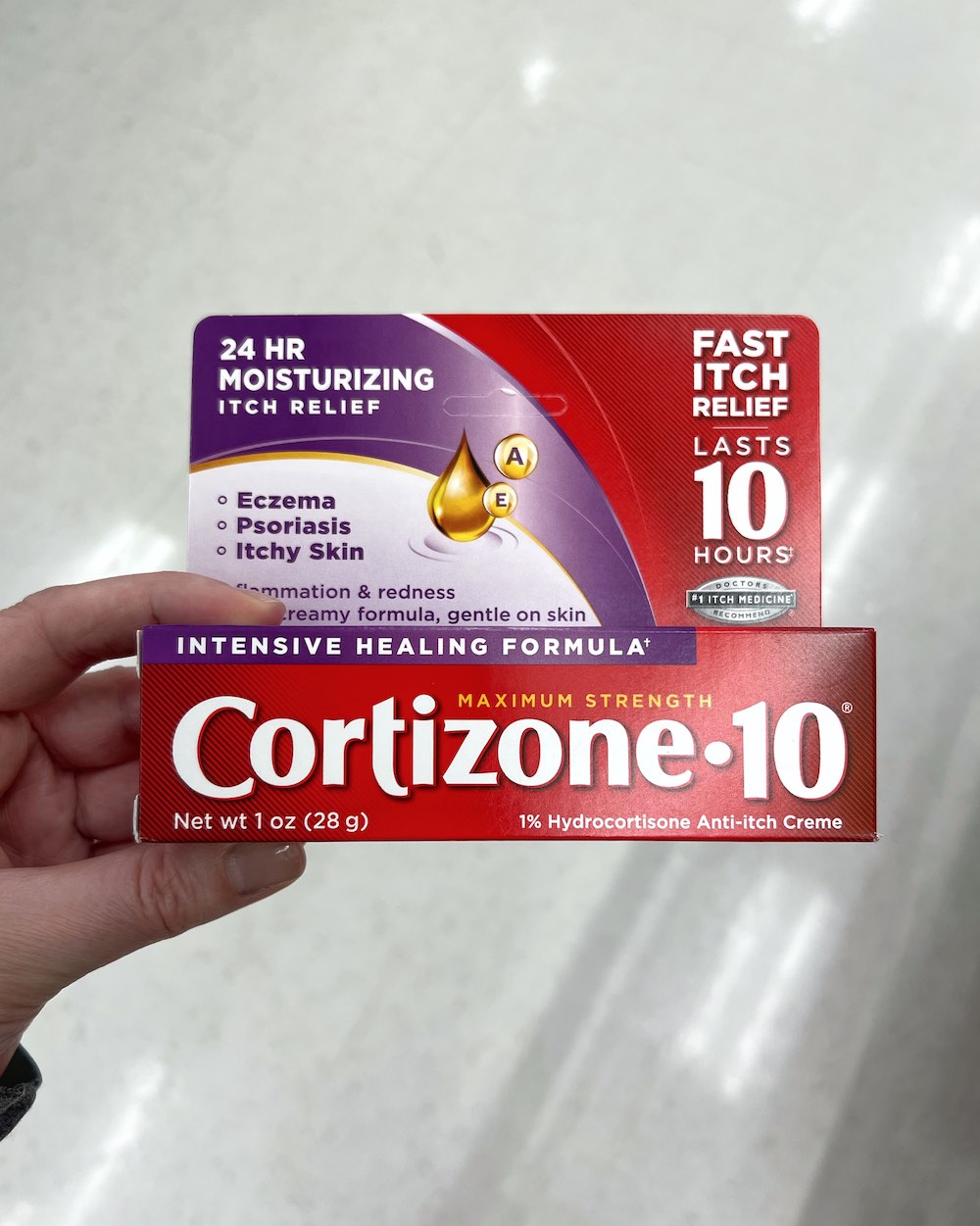 Having struggled with eczema for some time now, there are a lot of products I recommend that are gentle on the skin. Some of my favorite skin care brands for eczema include La Roche-Posay, First Aid Beauty, and CeraVe. But what have the actual physicians and medical professionals I've seen for treatment actually recommended me in terms of over the counter and widely available products?
As for the doctors, I've been to them all. The emergency room, urgent care, primary care, allergy doctor, and even dermatologist. I wanted to round up the best OTC eczema products recommended to me by doctors. These products are widely available at drugstores like CVS, Walgreens, and Rite Aid. All are over the counter and steroid-free!
OTC Eczema Products I Was Actually Recommended By Doctors

Cortizone-10
This was the first product recommended to me when I started seeing an allergist consistently. I was coming in for frequent allergic reactions and eczema flares. In addition to the prescription steroid creams I was prescribed, my doctor recommended this commonly sold OTC cream as an option for treating flares as well. The active ingredient in Cortizone-10 is hydrocortisone at 1%. It's an anti-itch cream that I keep on-hand in my home and travel bag at all times. It's suitable for mild eczema, and is my occasional alternative to my stronger prescribed steroid creams. This is the only medicated product I've been recommend that actually treats the itch. Everything else just focuses on soothing the skin and repairing the moisture barrier.

Neutrogena Norwegian Formula Hand Cream
This was one of the most recent products recommended to me with my dyshidrotic eczema. This is the blistery eczema that shows up mostly red with tiny little white bumps in-between my fingers. Over the last two years with constant hand washing, this has been a frequent issue for me. In addition to the use of my prescription steroid cream, my dermatologist recommended the Neutrogena Norwegian Formula hand cream to moisturize daily. I actually used to buy it consistently many years ago! It's a thick and occlusive hand cream that's fragrance free and glycerin-rich. There are no active ingredients in this cream, so really anyone with dry hands can use it. A little goes a long way. The packaging claims a single 2oz tube contains over 200 applications. It leaves your skin buttery smooth to the touch.

CeraVe Healing Ointment
Now I can't remember exactly which doctor recommended me this product first, I just remember coming home with a ton of samples of it. I think it was my allergist I was seeing for eczema and food allergies. This thick occlusive petrolatum-based ointment is packed with hyaluronic acid and ceramides. The consistency is similar to Vaseline and Aquaphor.
What eczema skin care products do I actually use now?
These days when it comes to drugstore eczema products, I mostly stick to La Roche-Posay and CeraVe. If I want to shop high end, I really like First Aid Beauty and Skinfix. I pretty much use something from one of these brands every single day. I use a gentle and fragrance free body wash, hand cream, body cream, face wash, and facial moisturizer. That leaves me the flexibility to layer in actives and exfoliants on an as-needed basis with serums, spot treatments, and masks. When shopping, ingredients I look for are ceramides, hyaluronic acid, and colloidal oatmeal. Generally, I also stay away from products that sneak fragrant and often harsh essential oils into products under the guise of being fragrance free. However, in small doses my skin can tolerate this in rinse off products such as cleansing balms.

What about vegan & cruelty free eczema products?
Unfortunately, I have yet to visit a doctor who has recommended me a cruelty-free product for eczema. While many drugstore skin care brands have fragrance free product options suitable for sensitive and eczema prone skin, most are associated with brands that currently test or have tested on animals. Ethically this leaves me conflicted. I want to take the best care of my skin possible, but also shop and promote brands that align with my personal values.
I will continue to test cruelty free and vegan skin care products with eczema in mind, but at this time I haven't been recommended any by a physician treating me for eczema. From my personal experience with the best cruelty free eczema skin care, I would point you to brands like Skinfix, The Honest Company, Paula's Choice, Derma E, and Sea Calm Skin. I'm also currently testing out Pacifica's new Vegan Ceramide line which is entirely fragrance free. Stay tuned to the blog for updates on which products are hits and misses.

In conclusion, soothing and treating your eczema doesn't have to break the bank. There are many over the counter options to try from the drugstore. So if you can't squeeze an appointment in with your doctor, or maybe visiting a dermatologist out-of-pocket just isn't in the budget right now, some of these products might be a good in-between. You can try actives like hydrocortisone to alleviate the itch and inflammation. Additionally, look to ingredients like colloidal oatmeal to calm the skin and seal in moisture. Finally, seek out products that are fragrance free.
Like this post? Be sure to share it with a friend who might need some solid eczema skin care recommendations. Also, let us know your favorite eczema products in the comments below.