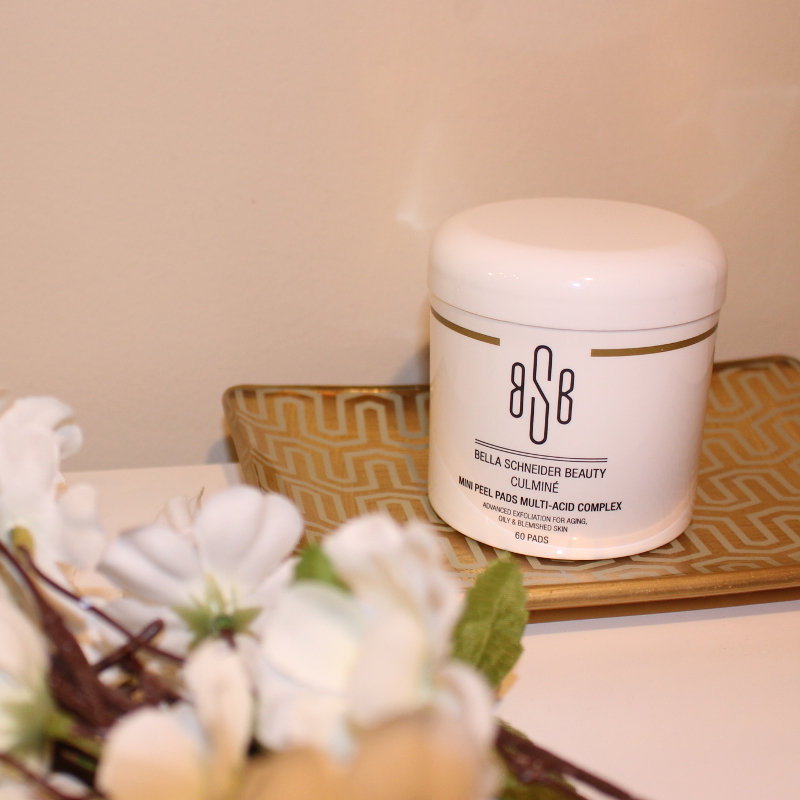 Here's an item you might recognize from my July favorites. I've been trying out the Bella Schneider Beauty Culminé Mini Peel Pads Multi-Acid Complex recently, and it was about time I brought you a dedicated review. It's such a great product to tie you over between facials and microderms; perfect for those lazy nights where you don't want to bother with a more time-consuming mask.
What is this stuff?
Basically this cute little pot contains 60 quilted cotton pads that you swirl all over your dry, clean face, to help exfoliate and brighten your skin. It's what you'd use place of your traditional toner. Beneficial for blemished, aging, and normal skin, you can use this once or twice daily, but I recommend trying it out a few nights a week and increasing frequency as needed. Packed with salicylic and glycolic acids, you'll want to avoid using this on any active breakouts or sunburns, since it gives a strong tingle. Not only do they have the powerful acids that drive cell turnover, the pads are also fortified with willow bark and fruit extracts. Also I was delighted to learn that this product is paraben-free.
How has my skin improved?
Not only has my skin been smoother and more even looking, my blackheads have diminished! Since I don't use acids in any other products in my routine, I feel like this is much more effective than the daily serum, moisturizer, or treatment that I'm currently using to improve skin tone and texture.
The verdict?
Since each use is less than $1 per application, I think this is an affordable luxury you should indulge in. One container could stretch out over a few months! Additionally, these pads don't sting as much as the more popular peel pads by Dr. Dennis Gross, which are also way more expensive.
Final thoughts?
Bella Schneider, who first made her mark as an esthetician and entrepreneur launching LaBelle Day Spa & Salon, has something really special with the BSB Culminé line. And from what I hear, the spa is amazing too. It's the ultimate in luxury both in experience and products used, and it's no wonder it's where Marissa Mayer is rumored to frequent for facials.
So move over Marissa… I'm making an appointment!
Disclosure: I received this item for consideration. As always, this is my honest opinion.