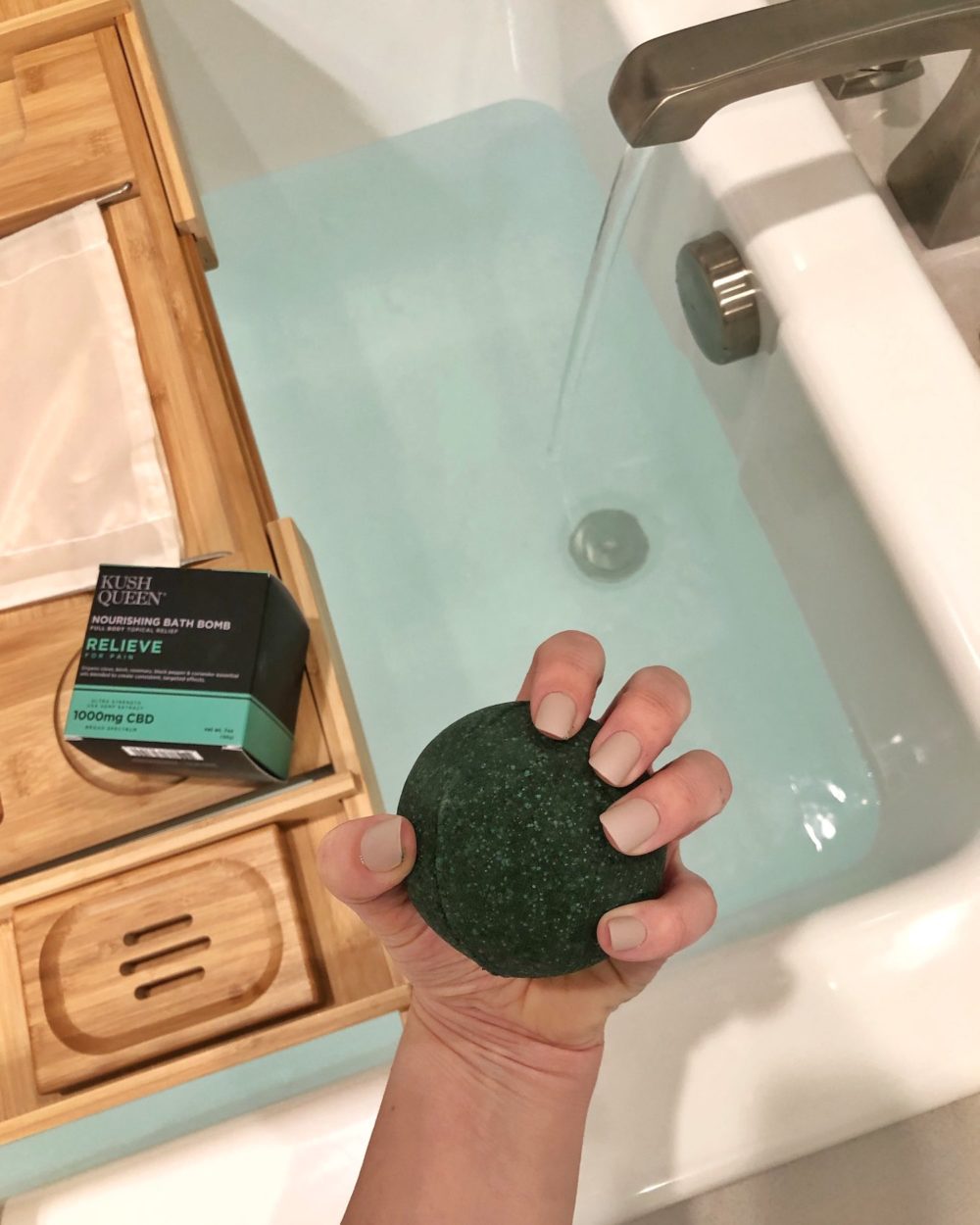 CBD seems to be all the rage with personal care products these days. But it's all very confusing. What's legal, versus what may not be state to state and country to country. What can be sold online versus what you can buy at a dispensary. Sources and spectrums; what does it all mean? CBD (cannabidiol) and hemp oil (cannabis sativa seed oil) being two completely different things. I still don't entirely understand it all, even as I'm writing this.
Companies use this confusion to their advantage when it comes to marketing! Let me share some of the best CBD-infused things I've been testing out from this whole new world of self care products. These products are all soothing in one way or another, for the face, body, or even both!  The first two CBD beauty products are totally non-psychoactive. The last one does contain THC, but probably not enough to give you the munchies considering it's applied topically.
This product was love at first sniff for me. Then I tried it on my face, and it was even more heavenly. It's a luxurious facial oil that uses CBD with a mixture of other ultra nourishing powerhouse oils, like jojoba, rosehip, sea buckthorn, and more. It smells so lovely of myrrh and sandalwood. The 1 oz size contains 500mg of full-spectrum CBD. Find it at Credo, Sephora, or Space NK!
This insanely potent bath bomb delivers 1000mg of broad spectrum CBD per bath. First, the scent is incredible. If you like woodsy and spicy stuff, this will be your jam. It's packed with organic clove, birch, rosemary, black pepper, and coriander essential oils. I was blown away by how relaxed my muscles were after using this product. It felt like I just had an intense deep tissue massage. Just wipe your tub after using because it will leave a bit of brown-black residue behind. Kush Queen uses hemp-derived CBD from a supplier in the Pacific Northwest, and their products are also 3rd party tested for potency and safety.
Again, if you have sore, achy muscles, this product is for you. It's perfect for targeting that acute pain. This is a calming and soothing deodorant-sized stick that melts the pain away. It contains shea butter, coconut oil, menthol, and a dreamy blend of essential oils.  Since this product contains a 1:1 CBD to THC ratio, you'll have to buy it through a local dispensary or online service like Sava. One tube contains 75mg of CBD and 75mg of THC. I tried this recently at an event with Sava, where they had a massage therapist giving massages with this product. I was blown away by how relaxing it was.
Still confused? I recommend reading this blog post from Credo which breaks it all down from a beauty perspective. Generally speaking, if you buy any CBD products online, it's going to not contain THC. But sometimes things that appear to contain CBD based on marketing, like if there's imagery of a marijuana leaf, green color palate, or words like haze, kush, and dope.
Products like Milk Makeup Kush Mascara and Kiehl's Cannabis Sativa Seed Oil Herbal Concentrate in fact don't contain CBD at all. If you research even further, you'll learn that CBD and hemp oil have different beauty benefits. Basically as a consumer, do your due diligence and look at product ingredients as you shop. Look for CBD or cannabidiol in the list of ingredients every time you shop. It's difficult because they can go by so many different names. Again, generally speaking products containing CBD may be slightly more expensive than those containing just cannabis sativa seed oil. And occasionally, products may contain both compounds!
My best tip for shopping CBD beauty? Look out for the CBD contents labeled on the product you're considering. It should very clearly label how many milligrams the product contains. That way, you can avoid paying an invisible markup on something that could be lacking the ingredients you're looking for.
Products Containing CBD
Products Containing Only Cannabis Sativa Seed Oil
In terms of which one is better for which skin types, that is something I can't give guidance on just yet. This space is expanding so quickly, I don't have enough time to test it all. That's why I wanted to give a quick explanation of what to look for while shopping. Paula's Choice CBD Oil + Retinol and Vertly Bath Salts are next on my list of products to try!
To see more of what I'm testing out in the CBD beauty space, be sure to follow me on Instagram and watch my CBD story highlight. Also read some of my other skin care and body care content before you go.