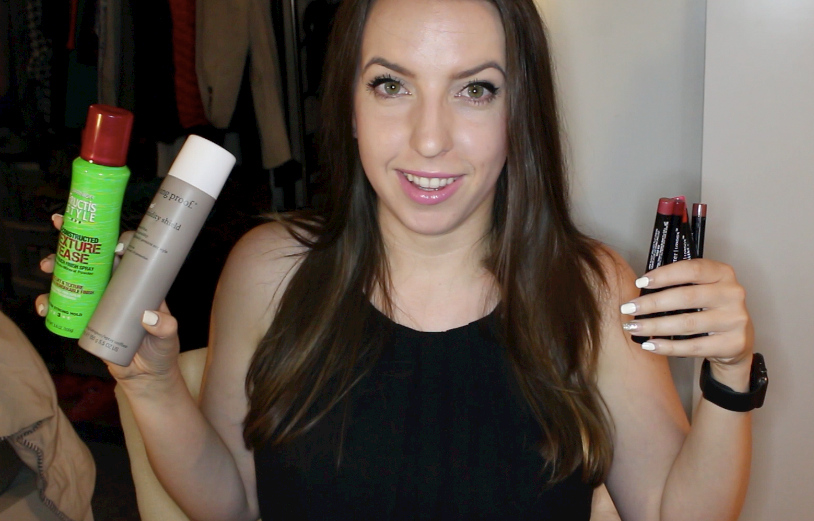 It's been a while since we've chatted favorites. This summer has been so busy for me, it's been hard to sit down and film a proper faves video. Surprisingly, I've been heavy on the hair care and makeup front this past month, but I promise all of the products are low maintenance.
Watch the video below and scroll ahead to get the full scoop on all of the products mentioned.
Butter LONDON Lippy Bloody Brilliant Lip Crayons (c/o)
If you've seen my latest beauty haul, you get my obsession with these pencils. They're highly pigmented, glossy, and comfortable to wear. Coupled with a killer color range, there's something for everyone. I also love that the lids contain a sharpener so you're never caught in a pinch.
Too Faced Better Than Sex Mascara
It only took a deluxe sample, but I totally get the hype over this product. Scandalous name aside, the mascara is gorgeous. It's quite similar to Kevyn Aucoin The Essential Mascara, which I actually featured in my August Faves last year.
LA Girl Pro Conceal HD Concealer in Classic Ivory
If you're looking for a new undereye concealer, make it this one. It's creamy, blendable, and super affordable. While the shade range isn't the best for fair skinned girls, there's a great offering for medium to deep skin tones. This product really took me by surprise.
Whole Foods 365 100% Organic Cotton Rounds
I thought desperately buying cotton rounds on a trip to Whole Foods was foolish, but I was wrong. I was only paying about a buck or two more than my typical facial cotton, but these are clearly far superior! These are the closest cheaper alternatives I've found to the Shiseido Facial Cotton.
Living Proof No Frizz Styling Cream (c/o)
This product has been saving my sleep schedule this summer. I can sleep in, wash my hair, and coat my damp hair with this and run out the door. It helps my hair dry frizz-free and never weighs it down.
Living Proof No Frizz Humidity Shield (c/o)
If I do a blowout, this is my go-to finishing product. I'm not one for caking on the hair care because my hair is so fine, but this spray is weightless. And like all Living Proof products, it smells amazing!
Garnier Fructis Style De-Constructed Texture Tease Hairspray
For top knots or donut buns, this product is an essential. Since cutting my hair, my up-dos have been a little more pathetic, so this product has really helped my hair get some extra grit and hold a style.
What have you been loving this summer? I'd love to know!
Stay tuned for an epic series of empties coming up soon. Thanks for reading!