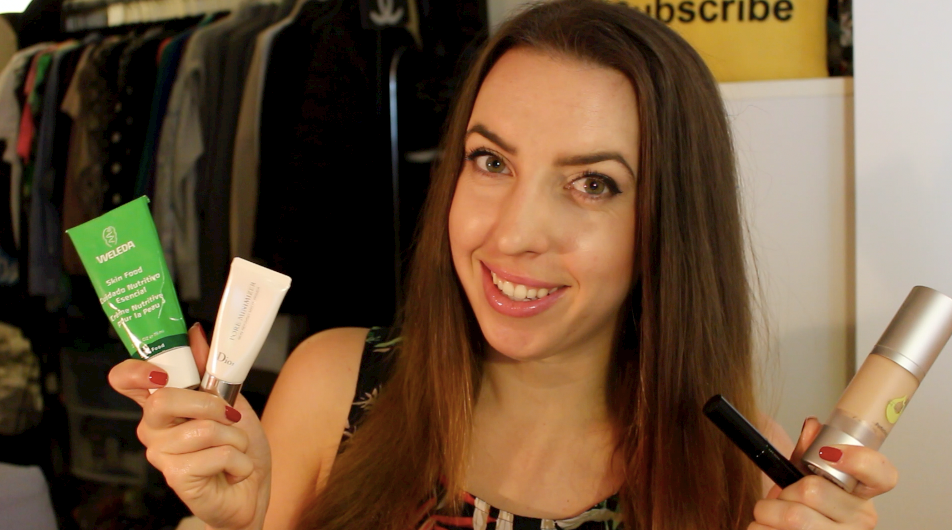 Can you believe that August is already over? I have quite a few new favorites for August, following a lot of birthday hauling in July. It's only expected, right? Watch the video below and scroll down for more thoughts on my monthly favorites.
Dior Pore Minimizer Skin Refining Primer
Primer has always been an optional makeup step for me, but I've absolutely been loving how this primer transforms the look of my foundation. This product is like a more luxurious version of Benefit's The POREfessional, only much less greasy. It's airy and light, and I don't find it clogging my pores at the end of the day.
Juice Beauty Perfecting Foundation (c/o)
I have been trying this organic, paraben-free foundation lately and it's amazing. Local pharmacy chain Pharmaca (seriously the best place ever: check them out online or in-store) actually hooked me up with this sample and it passed the test. It's a triple threat, too: comfortable, medium-full coverage, and long-wearing. Plus, it's packed with high quality ingredients and is never tested on animals. Can we also quickly point to how much cheaper it is at Pharmaca? #AWESOME!  Stay tuned for a full review coming soon!
Kevyn Aucoin 'The Essential' Mascara
If you enjoy thick, luscious lashes, then this mascara is for you. Packed with lash-gripping fibers, this mascara thickens, volumizes, and intensifies lashes like crazy. If you're not careful, it can get clumpy, however it's not too hard to work with. I'm definitely considering purchasing this one when my deluxe sample runs out!
CHANEL Nail Color 'Dragon'
Have you ever seen a more perfect red? While it might not be the most durable nail polish, the color is there and this is a true one-coater. I might also add that while it's opaque, the formula is still thin and easy to work with. And the fact that this polish makes you feel like a princess is always a plus.
Sephora Formula X 'Thrilling'
This color is pretty much close to perfection. Thrilling comes off as an off-white indoors, but outside in natural light it glows to soft gray to lilac shade. Not only is this a gorgeous neutral, but it doesn't chip easily. This is a solid 7-day manicure I just can't get enough with. It's an essential color for all seasons!
Julie G 'Liquid Metal'
No surprise here, I've fallen in love with another Julie G polish. Liquid Metal is a vibrant coppery rose gold color that pops on your nails, yet is still subdued enough for a professional environment. I love it paired with Thrilling, white or anything else neutral!
Evian Facial Water Spray
A flight without this stuff? Unheard of. I'm addicted to facial mists, and this is one of the originals. This little can delivers the most fine mist that settles gently and won't disturb your makeup. There's a reason why this product is stocked in every grocery store in France… je sais pourquoi!
Weleda Skin Food
I'm a bit of a hand cream freak, and I'm quite picky with my favorites. Something that contains too many unnecessary chemicals never makes my list. Skin Food is a paraben-free, extra hydrating, heavy duty skin cream. Perfect for your hands, elbows, and knees, I especially love this product for treating my feet at night. Also, the handy 2.5 fl oz size is perfect for your carry-on for long flights. Your skin will drink up the moisture. This stuff is really good!
Like this post? Don't forget to check out more of my favorites from previous months, and a whole YouTube playlist dedicated to the subject. Thanks for reading!
Disclosure: I received the products marked with (c/o) for consideration. I am not compensated for mentioning these products. As always, this is my honest opinion.