Palm Springs is one of my new favorite California getaway destinations. It's fun, it's hot, and it's far away enough from home that I can actually relax. It's perfect for so many types of trips as well: a solo reset, romantic escape, family vacation, or even a girls trip! Whether it's a Palm Springs weekend getaway or weekday trip, there's so much I can't wait to come back for. And it's HOT! Especially if you go during August or September.
Here's how I would suggest spending 3 days in Palm Springs, California and some options on what to see and do.
Where To Stay In Palm Springs
The Saguaro Palm Springs Hotel
We stayed at the incredibly Instagram-worthy hotel in Palm Springs, The Saguaro. The rainbow colorful motif is instantly recognizable and an instant mood boost. Book a pool-facing room or mountain-facing room for the best views. Try the spicy guava margaritas at the pool and the avocado toast at the restaurant, and thank me later.
The Ace Hotel Palm Springs
The Ace Hotel & Swim Club is actually my new favorite place to stay in Palm Springs, with its effortlessly cool midcentury modern vibe and decor. The rooms are a little more elevated than The Saguaro. The property is a little more spaced out too, with two pools to choose from, and the pools are also open later.
check Palm Springs hotel room rates below

Where To Eat & Drink In Palm Springs
Sandfish Sushi & Whiskey
Craving sushi but realize you're going to the desert? No problem, book yourself table at Sandfish for a sushi dinner and some amazing hand crafted cocktails. The whiskey menu is amazing as well. Reservations highly suggested!
FARM
FARM Palm Springs is the cutest courtyard setting restaurant serving delicious French food, like my favorite croque madame. Reservations are required for dinner but breakfast/lunch is walk-in only.
Azucar
Located inside the La Serena Villas Resort, Azucar restaurant is such a vibe with modern contemporary food and killer cocktails. The outdoor rooftop seating is unreal during the sunset over the mountains. It feels so secluded and special. This spot is adults-only and reservations are highly advised!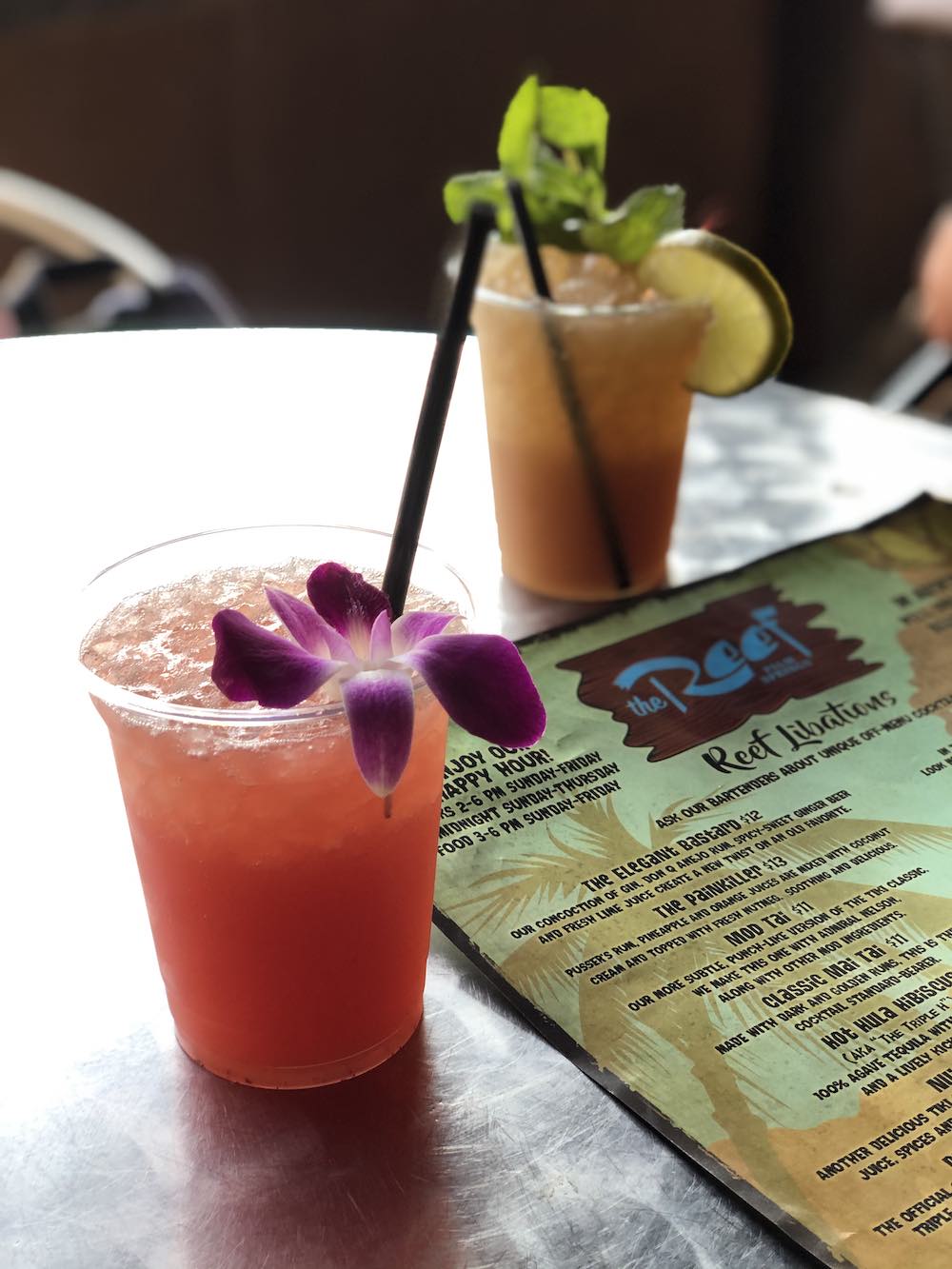 The Reef
One of two different tiki bars to recommend in Palm Springs. Located inside the Caliente Tropics Resort, The Reef is a kitschy and casual tiki bar that serves all the classics. They also serve food, so it's a perfect spot for casual meal or maybe some light bites and cocktails before dinner.
Bootlegger Tiki
Bootlegger Tiki is a cozy hipster cocktail tiki bar you'll absolutely want to check out. The $7 happy hour cocktails here might be Palm Springs best kept secret. They serve happy hour mojitos and daiquiris from 3-4pm, at opening, and 10-11pm, at closing.
Fruit Wonders
Date shakes are the unofficial chilled beverage of Palm Springs, thanks to the many nearby date farms where California dates are grown. Fruit Wonders is a juice bar downtown not only serves date shakes, but fresh organic juices, smoothies, paletas, agua frescas, açai bowls, and lots of other healthy super foods.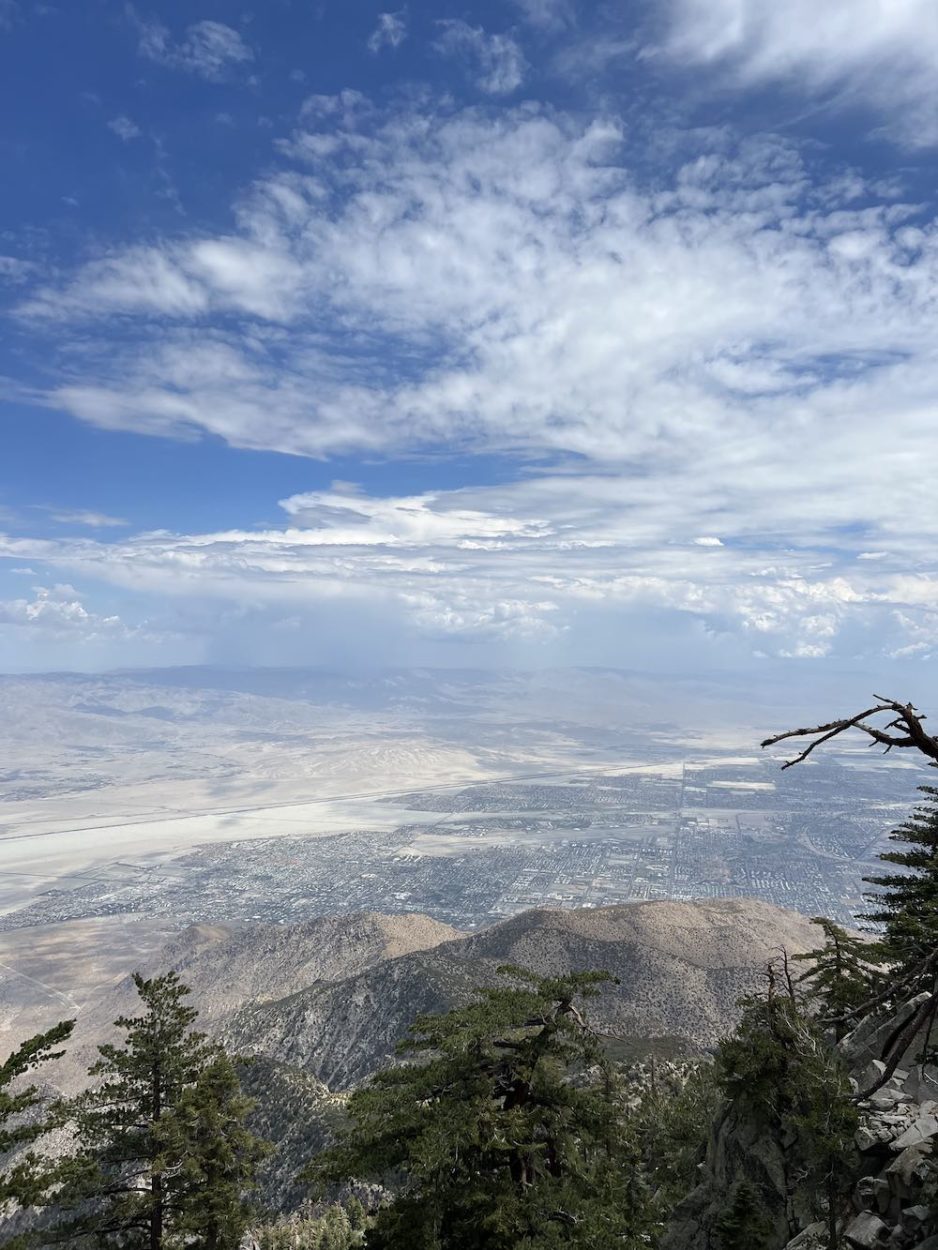 What To See In Palm Springs
Palm Springs Aerial Tramway
This is one of the must do tourist attractions in Palm Springs! The aerial tram takes you 8500 feet up the mountain range giving you a sweeping view of the Palm Desert region below, which the San Andreas fault line goes right through. You'll be able to see the Palm Springs International Airport, wind turbines, and everything else from way up above. Once at the top of the mountain, you can enjoy the San Jacinto State Park and San Jacinto Mountains. Did I mention the top of the mountain is about 40 degrees colder than the valley temperatures? The visitor center at the top of the mountain also has a gift shop, restaurants, bar, and many trails to explore.
During periods of intense weather conditions, the tramway may be closed. Check the website for updates leading up to your trip.
Joshua Tree National Park
Joshua Tree National Park could be its own trip, but you could dedicate one day out of your Palm Springs trip to it. The visitor center is about 1 hour from central Palm Springs. However when I went, we went through the Southern Entrance as we were then road tripping on to Arizona. When you go, be sure to visit the Cholla Cactus Garden and Skull Rock!
Palm Springs Art Museum
Even if you don't have enough time to go inside, a trip over to the Palm Springs Art Museum is definitely worth it if anything for the free public art outside alone. Outside you'll see the enormous Marilyn Monroe statue and various other murals and art installations. It's outdoors and free!
Slab City & Salvation Mountain
This is located about 1.5 hours south of Palm Springs, by the Salton Sea, there is no other place quite like Salvation Mountain and Slab City. Slab City is coined "The Last Free Place" which is somewhat of a squatter community which is entirely off-the-grid. It's kind of like Mad Max meets Burning Man. There are art installations amidst RVs, campers, tents, and hand-built structures with barbed wire, chain link fences, and solar panels. The crown jewel is Salvation Mountain, which is a stunning faith-based art installation created by Leonard Knight. It's breathtaking and I've never seen anything quite like it before.
Moorten Botanical Garden
Want a look at some of those living desert plants up close and personal? The Moorten Botanical Garden is where to do it. Just a few blocks off Palm Canyon Drive, it's a perfect spot for a mini excursion. Both times I've been to PS this has unfortunately been closed, but I hope to finally go on my next visit! It reopens September 2022.
Premium Desert Hills Premium Outlets
This is in the greater Palm Springs area and you can't miss it from the I-10 freeway. Located right by the Morongo Casino Resort & Spa in Cabazon, there are about 200 outlet stores including luxury stores at the Desert Hills Premium Outlets. I am definitely checking this out on my next road trip on my way out of town.
What To Wear In Palm Springs
Palm Springs is insanely hot in the summer. Like Las Vegas and Scottsdale summer levels of hot. The average summer temperature on my last visit in mid August was around 105 degrees Fahrenheit. So pack plenty of swimsuits, loose tops, shorts, sunglasses, hats, and kaftans. Here's some outfit inspiration based on what I would pack on a trip to Palm Springs. Don't forget to pack plenty of sunscreen too!

Palm Springs 3 Day Itinerary
Palm Springs Day 1
For your arrival in Palm Springs, whether by car or plane, check in your hotel and head down to the pool for a poolside cocktail. The middle of the day this time of year is super hot so it's likely too hot out to do anything intense like a bike ride or hike. Ease into the trip with some low key activities.
Check in at hotel
Poolside cocktail or happy hour at Bootlegger Tiki
Dinner at Azucar
Night swim at hotel
Palm Springs Day 2
This is your first and only full day in PS so let's make the most of it.
Breakfast at FARM Palm Springs
Walk to see art at Palm Springs Art Museum
Shop in Downtown Palm Springs (both boutiques & souvenir shops)
Grab date shake smoothie or popsicle at Fruit Wonders downtown before heading back to hotel
Pool afternoon at hotel, option to order light bites before dinner
Dinner at Sandfish
Palm Springs Day 3
For your final day, take it easy with sights and eventually head home.
Check out of hotel and check bags at front desk
Pick one half day excursion or activity:

Palm Springs Aerial Tramway morning excursion
Joshua Tree National Park drive through, with stops at Skull Rock & Cholla Cactus Garden
Slab City and Salvation Mountain morning road trip
pool day at hotel

Retrieve bags and head home, or to your next destination!
Have you visited Palm Springs, Coachella Valley, Rancho Mirage, or the Palm Desert before? Let us know your favorite spots in a comment below!
Hopefully you found some Palm Springs travel tips and some ideas on what to do in Palm Springs. Whether you're going for a long weekend in Palm Springs, or even during the week to take advantage of lower rate rooms and fewer crowds, I hope you have an amazing trip. Build your perfect Palm Springs itinerary with some of these tips. Safe travels!