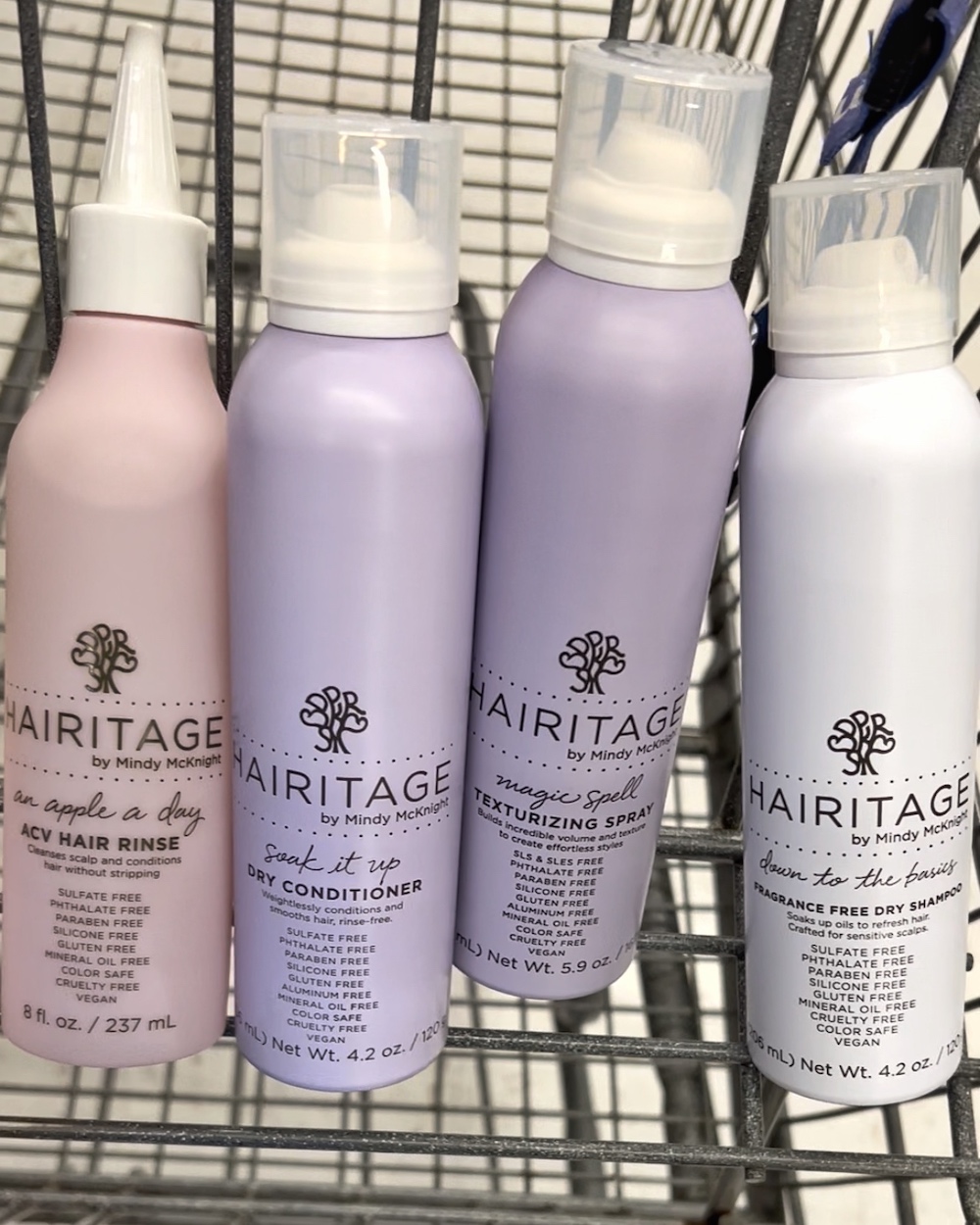 Hairitage by Mindy McKnight is a Walmart-exclusive hair care line I've been loving for a while now, which I feel like more people should know about! This line is both cruelty-free and affordable, with most of the products being under $10. They're sulfate free and color safe as well.
I first heard about the fragrance free shampoo on TikTok, and as someone with sensitive skin and sometimes a sensitive scalp it immediately caught my eye. Then I tried the apple cider vinegar hair rinse, which left my hair so silky soft and didn't strip my scalp like harsh clarifying shampoos can sometimes do. I was pretty much immediately hooked on the products from both a value and performance standpoint. Here are all the best products from the brand and some of my must haves I keep stocked in my shower and bathroom at all times.
Best of Hairitage by Mindy McKnight Hair Care

Apple Cider Vinegar Hair Rinse
Hairitage An Apple A Day Apple Cider Vinegar Hair Rinse
This ACV rinse is my favorite weekly hair treatment to reduce build-up and add so much shine. It's suitable for all hair types, including color treated hair, and is best used between your shampoo and conditioner step. I section my hair and pour a generous amount directly onto my scalp, with my head tilted lightly back. I gently massage it in a bit and then wait a few minutes before rinsing. It immediately clears away that gunky scalp feeling and makes the lengths of my hair so shiny and soft.

Hairitage Shampoo
Hairitage Down to the Basics Fragrance Free Shampoo
Looking for a gentle shampoo that actually still cleans your hair? This is it. It's fragrance free and moisture rich. I love the convenience of the pump top bottle. Fragrance free shampoo is actually pretty rare to come by, so if you have sensitive skin or a sensitive scalp, check this one out.

Hairitage Dry Shampoo
Hairitage Down to Basics Fragrance Free Dry Shampoo
I can't live without dry shampoo, and this one of my go-tos. It's much lighter than Batiste Dry Shampoo (which is my gold standard for oil absorption, however it's heavy) yet still does a great job at refreshing my oily roots without a ton of residue or whitecast. Did I mention it's fragrance free? So it's a solid choice for anyone with a sensitive scalp. It contains naturally derived ingredients like rice protein, rice starch, and volcanic minerals.

Hairitage Dry Conditioner
Hairitage Soak it Up Dry Conditioner
Dry conditioners are one of my favorite hair care secrets, but they can sometimes be hard to find. If I go 2-3 days between washes, sometimes my ends get a little dry. But because my hair is fine texture, I have to be careful with what serums and oils I use because they are easily weighed down. Dry conditioner is usually what I prefer reaching for. This instantly makes my unwashed hair a lot more soft and manageable. It contains conditioning ingredients like shea butter and coconut oil. The scent is amazing, although pretty strong.

Hairitage Texture Spray
Hairitage Magic Spell Texturizing Spray
While I love the Bumble & Bumble Dryspun Texturizing Spray, I was looking for both a cruelty free and more affordable alternative. This is what I reach for when I curl my hair and I want that volume to last. It has a moveable hold, adding texture without too much grit. This formula is suitable for hair types and textures 1A to 3C.

What's really unique about this brand is that it's also developed by a content creator! Mindy McKnight is a mother of 6 and content creator who went viral creating videos around childrens hairstyles on her YouTube channel. Today she has over 5.6 million YouTube subscribers and well over 1 billion views. As an entrepreneur she sought out to develop a line both good enough for her family and today's diverse consumer. I just love her story and it's amazing to see her line be so successful at a mainstream major retailer like Walmart.
Walmart has a lot of beauty exclusives I love sharing with my friends and blog readers. Press on nails from Salon Perfect and Lottie London, being some other recent discoveries. Hairitage is definitely in that group of Walmart exclusive beauty brands in my cart every shopping trip. The price is right and the products work great.
Hairitage also makes several products suited for curly and coily hair types. My hair type is fine and straight, so I have not tested them myself. Hairitage also sells hair accessories like headbands and hair tools like brushes and curling irons now. Have you tried Hairitage hair care? Share your favorites from Hairitage by Mindy McKnight in the comments below!
Like this post? Be sure to read through some of my other hair care and cruelty free beauty posts before you go!