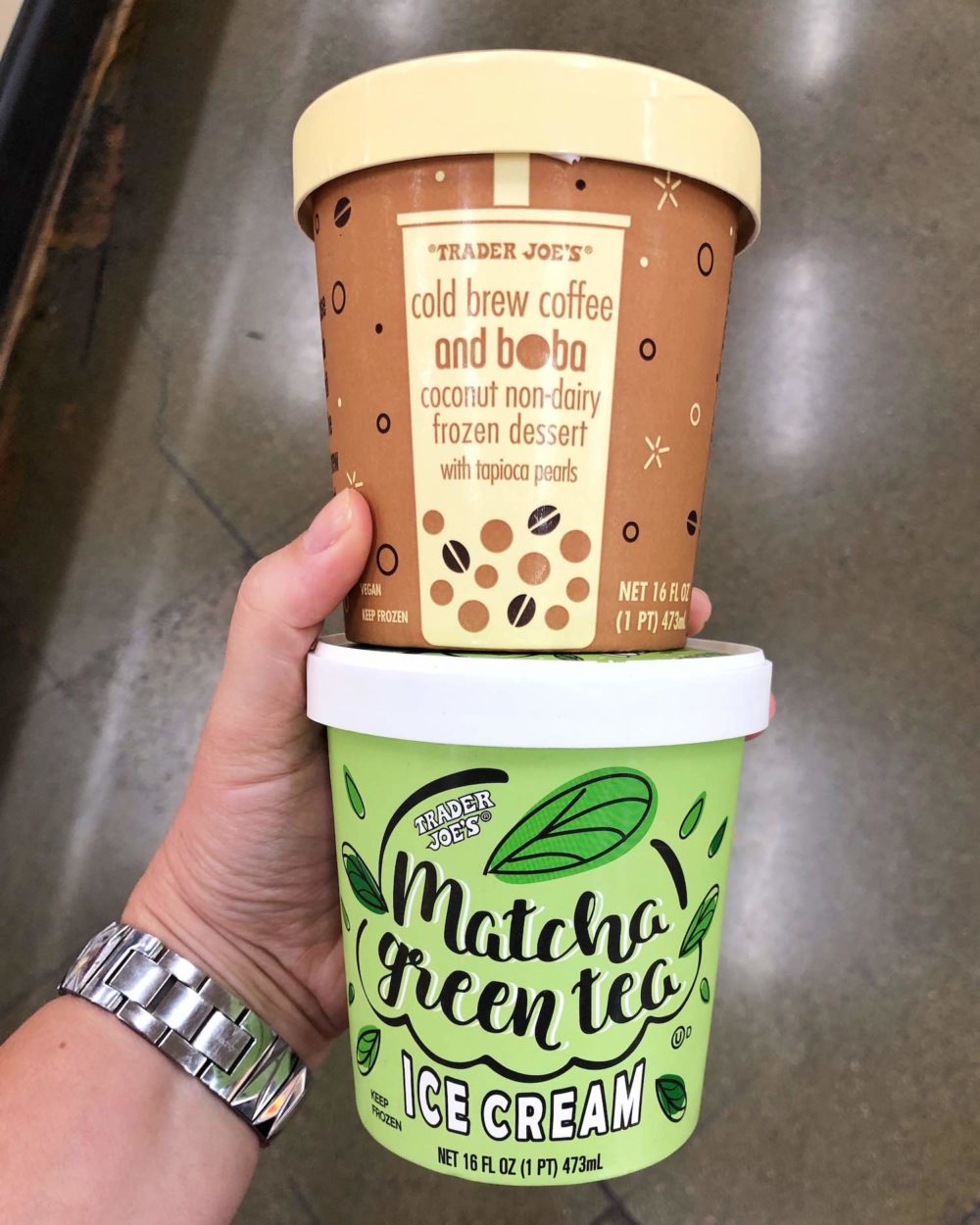 So you want to shop all things carrageenan free at Trader Joe's. Let me tell you my absolute faves! I'm severely allergic to carrageenan, which I revealed on the blog 4 years ago. Since then, I've avoided it in not just food, but drinks, skin care, and even makeup. Seeing as Trader Joe's is one of my favorite places to grocery shop, I wanted to share some of my carrageenan free Trader Joe's favorites. This list includes mostly permanent but also some seasonal Trader Joe's items. Carrageenan can actually be in a lot of TJs products, however these are repeat purchases often on my grocery list and Trader Joe's favorites I know I can safely go back to. Get inspired to try some new products or even use this as a helpful grocery list.
Carrageenan Free Trader Joe's Products
Trader Joe's Desserts
Matcha Green Tea Ice Cream
Cold Brew Coffee Boba Ice Cream (dairy free)
Thai Iced Tea Mini Mochi (dairy free)
Gone Berry Crazy Chocolate Covered Strawberries
Trader Joe's Frozen Appetizers & Entrées
Falafels (vegan)
Brazilian Style Cheese Bread
Potato Pancakes
Cauliflower Pancakes
Cauliflower & Broccoli Vegetable Patties
Steamed Chicken Soup Dumplings
Pork Shu Mai
Palak Paneer
Paneer Tikka Masala
Chicken Tikka Masala
Butter Chicken
Lamb Vindaloo
Vegetable Panang Curry with Jasmine Rice (vegan)
Yellow Jackfruit Curry with Jasmine Rice (vegan)
Hatch Chile Mac & Cheese
4 Formaggi Pizza
Tarte d'Alsace Pizza
Cauliflower Crust Cheese Pizza
Trader Joe's Prepared Foods
Unexpected Cheddar Broccoli Soup
New England Clam Chowder
Kale & Edamame Salad (vegan)
Trader Joe's Dips
Everything But The Bagel Greek Yogurt Dip
Creamy Cauliflower Jalapeño Dip
Garlic Dip (vegan)
Kale, Cashew, & Basil Pesto (vegan)
Creamy Cashew Fiesta Dip (vegan)
Trader Joe's Drinks
Oat Beverage (vegan)
Almond, Cashew, & Macadamia Nut Beverage (vegan)
Do you have a favorite carrageenan free item at Trader Joe's? Let me know in a comment because I want to try it!
Don't forget to follow my food Instagram account @omgfeedmethis. I share grocery hauls, what I eat in a day, and how I still enjoy food living with a rare food allergy. Also subscribe to my YouTube channel as I do Trader Joe's hauls from time to time.