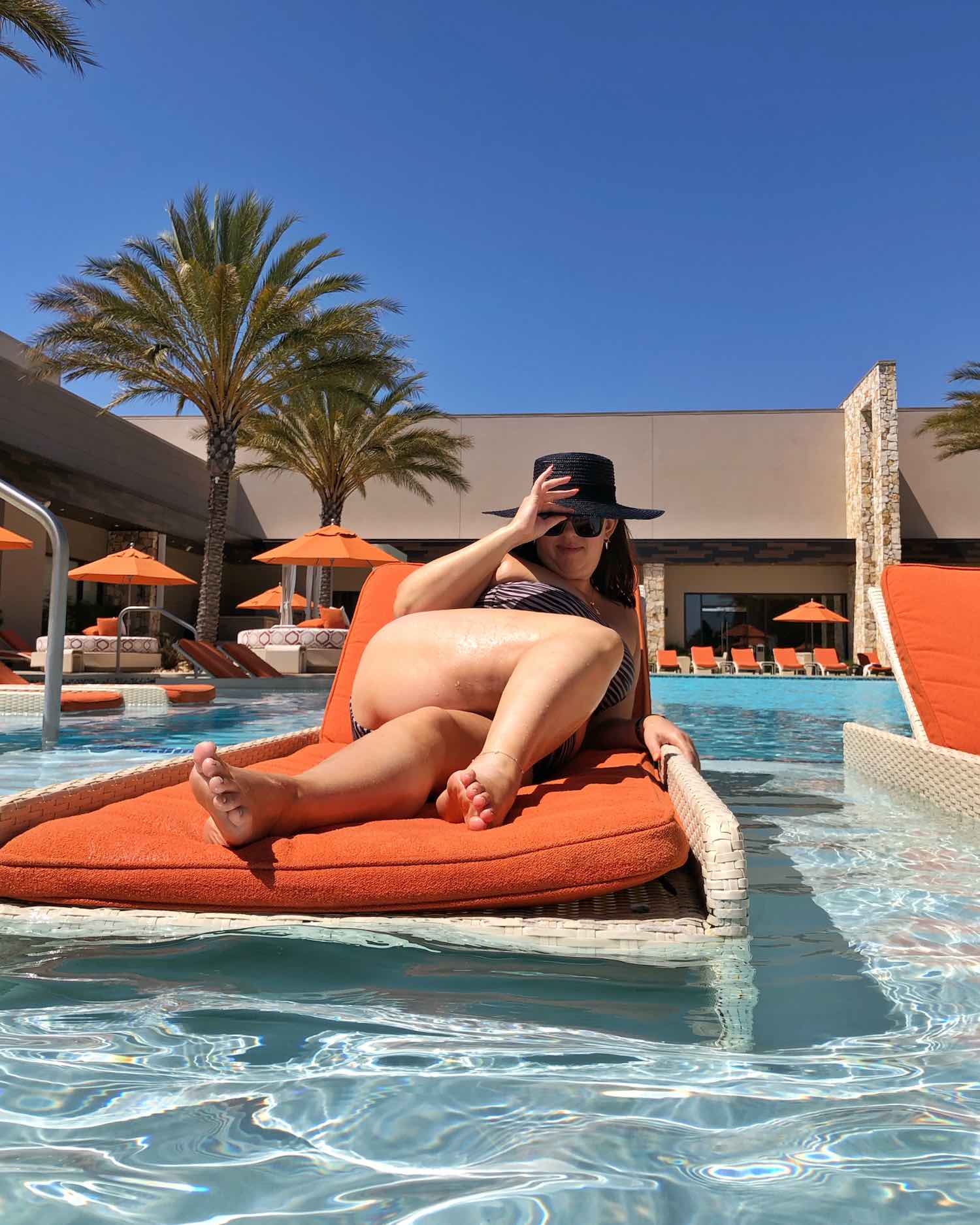 Want to have the feel of Las Vegas without leaving the Bay Area? Graton Resort and Casino has been a favorite of mine since moving to Sonoma County. The glamorous pool has been on my local travel list these last few years, however the pandemic put a huge pause on that. Graton Casino's pool finally reopened May 1st and I decided to rent a poolside cabana for my birthday this summer. It was a ton of fun. Here's what you need to know before booking!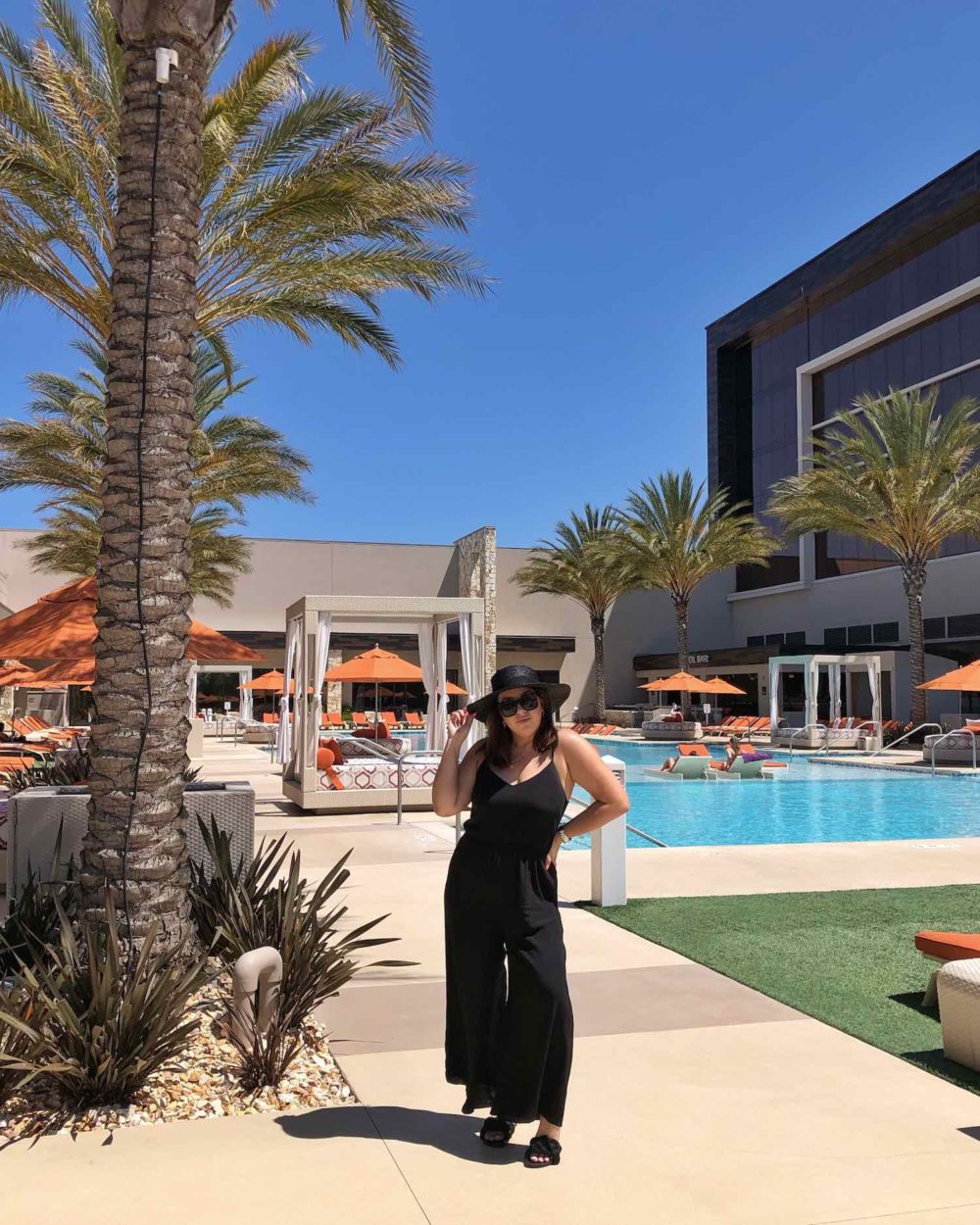 Graton Casino Pool Cabana Cost
So you might be asking how much a cabana costs? Currently the price varies on weekdays versus weekends. Monday through Thursdays, a cabana costs $250 plus 18% gratuity. Friday through Sunday it's $350 plus gratuity, however holiday weekend rates will be higher. Cabanas have a 4 guest capacity, and you'll have access to the cabana all day long and into the evening. Each cabana is equipped with a ceiling fan, mini fridge, power outlets, TV, bluetooth speaker, telephone, loveseat, chairs, changing area, and safe for your valuables. There are also 4 lounge chairs placed directly in front of each cabana.
Graton Casino Pool Cabana Food & Drinks
Food and beverage ordered to your cabana will be added on to your tab. Poolside food is offered by Tony's of North Beach, one of the more popular restaurants inside Graton Casino. And yes, it's by the same Tony Gemignani of Tony's Pizza Napoletana in San Francisco! We ordered chicken tenders, fried artichoke hearts, caesar salad, and balsamic fig flatbread. The food is delicious but we were a disappointed that staff came by and cleared away our partially eaten dishes while we were in the pool. We were planning on eating the leftovers so that was upsetting. I don't like wasting food and money! Our server also missed a few rounds of drink orders, so we occasionally walked up to the pool bar to help ourselves.
Graton Casino Pool Day Use
It's worth noting, you can visit the pool without having to rent a cabana. A day use pool pass is currently $75 which includes one drink. Pool day passes can be purchased in the Graton Casino gift shop, located in the food court next to the casino floor. Day beds are also available for renting, but we weren't interested in that due to the limited space and lack of shade. Graton has a 148k gallon swimming pool plus a huge hot tub. The pool is very Instagram worthy with manicured palm tree, orange umbrellas, and loungers in the shallow end.
Staying at Graton Casino Resort
Graton Casino has 200 guest rooms and suites. Overnight guests of course have access to the pool. With an average nightly rate for a standard room being around $500, I'm not sure I'm going to stay there any time soon since I live in Sonoma County. However I love the option of coming to play for the day at the pool, casino, and restaurants.
Book a stay at Graton Casino on Hotels.com
288 Golf Course Dr W, Rohnert Park, CA 94928
call (707) 588-7100 and ask for cabana reservations

All in all, we had a fabulous time! Even though my birthday was on one of the coldest July dates in history, and our food was prematurely cleared away, I had a blast making fun memories with my family and friends. It's not a cheap day trip by any means, so I certainly recommend getting there early to take advantage of the entire day. A cabana rental with food and drinks will probably cost around $500 but will depend on how much your party eats and drinks.
Have you been to Graton Casino before? I know gaming enthusiasts love coming here by the posts I see on social media and the bus loads of visitors coming here daily. I don't gamble that much but you may see me playing the penny slots and roulette tables occasionally.
Need more Sonoma County travel tips? Check out some of my other posts on wineries, restaurants, and hotels before you go. Happy travels!