What goes with great wine? Great food! It's no surprise Napa Valley offers amazing restaurants to match their world renowned wine. As a Bay Area local, I've had the chance to dine at so many incredible local spots so I wanted to provide the ultimate list of bakeries, casual restaurants, and fine dining options in Napa Valley. Whether you've got 24 hours in Napa or a full weekend to spare, here are 10+ recommended restaurants to try. Options at all price points too!
Best Places To Eat In Napa Valley
Gott's Roadside
Formerly known as Taylor's Refresher, Gott's Roadside has two Napa locations and several others around the Bay Area. It's the ultimate casual spot to stop for food. My menu favorites are the ahi burger, falafel salad, and cheese fries.
644 1st St, Napa, CA 94559 & 933 Main St, CA-29, St Helena, CA 94574
Hog Island Oyster Co
Also located inside Oxbow Public Market, Hog Island has a Napa location perfect to hit before or after wine tasting. Sit at the counter for all the oyster-shucking action!
610 1st St Suite 22, Napa, CA 94559
Oenotri
Come for the pizza, but come back for the pasta! Oenotri has a farm-to-table Southern Italian menu with daily rotating specials and dreamy homemade pasta unlike anything I've tried before.
1425 1st St, Napa, CA 94559
Morimoto Napa
Morimoto Napa is in my opinion the best spot for high end Japanese food in Napa! Not only is the sushi super fresh, the presentation of all of the dishes make you experience and appreciate the flavors in a new way. I recently visited Morimoto Philadelphia, which is the Morimoto flagship, each location has a slightly unique vibe.
610 Main St, Napa, CA 94559
Bounty Hunter Wine Bar & Smokin' BBQ
Just a few blocks from Oxbow Public Market is Bounty Hunter which is a spot that is so uniquely Napa. They offer 40 different wines by the glass and an all day menu chock full of classic barbecue plates and sandwiches. They also offer happy hour Monday through Friday from 3-6pm!
975 1st St, Napa, CA 94559
Ad Hoc
I've had numerous birthday dinners at Ad Hoc, that's how much I love it. Ad Hoc gives you the Thomas Keller restaurant experience in a more casual but still classy environment. The meals are done in 4-course family style. The menu changes daily but frequent favorites are the fried chicken and anything they do barbecue.
6476 Washington St, Yountville, CA 94599
Bouchon Bakery
If you love baked goods, Bouchon Bakery is worth checking out. Every time I go I end up buying like $40 worth of bread and pastries to take home. My favorites are of course their macarons, croissants, loaves, and cookies. Try to get there early to avoid the long line.
6528 Washington St, Yountville, CA 94599
Bottega Napa Valley
Bottega is an elegant Italian restaurant that still feels inviting and cozy. It's been a while since I've gone, but this still stands out as one of my Napa favorites for a special meal. Prepare yourself for the parmesan butter that comes with the bread, it's addictive!
V Marketplace, 6525 Washington Street, Yountville, CA 94599
Restoration Hardware Yountville
Like other RH restaurant locations, RH Yountville is over-the-top stunning with decor and the menu is pretty nice as well. If you're looking for that glam Instagram-worthy meal experience come here. I really enjoy the lobster roll and fried artichokes on the menu, but I've only gone for brunch and lunch.
6725 Washington St, Yountville, CA 94599
The French Laundry
Would this be a Napa Valley restaurant guide without mentioning The French Laundry? It's has three Michelin stars since 2007. I've only gone one time, but it was totally a once-in-a-lifetime kind of experience. I mean, the meal now starts at $350 per person, versus $250 which was the price 11 years ago. And trust me, you'll want to do the add-on wine pairing selected by their sommelier. Pro tip: use your American Express concierge service to help you with making a reservation!
6640 Washington St, Yountville, CA 94599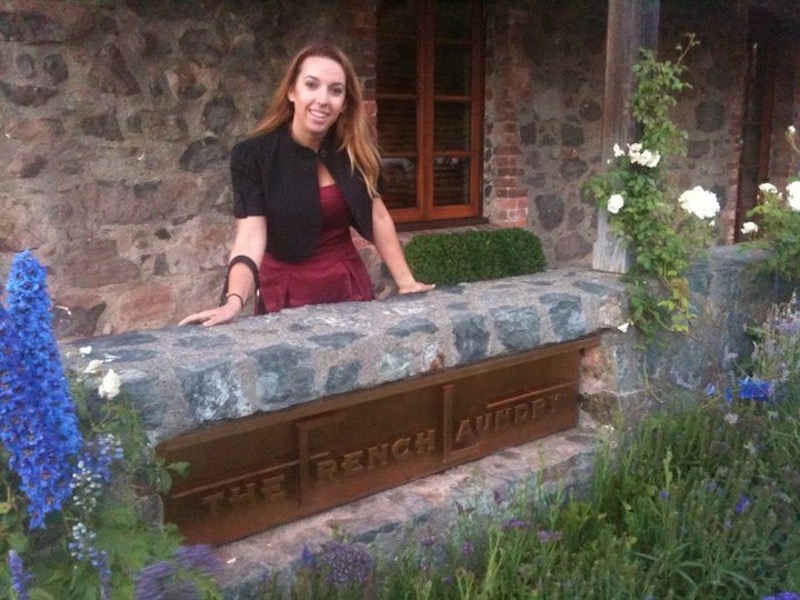 Did I miss any? What are some of your favorite places to eat in Napa Valley? Let me know in a comment below.
Like this Napa restaurant guide? Pin it and share the love. Be sure to check out some of other Sonoma, Bay Area, or California content before you go. Happy travels!