A lot can change in a year! It's been a full entire year since I had a breast reduction and I'm so overwhelmingly happy with the results. I've been documenting the breast reduction recovery week by week for the first month post op, 2 months post op, 5 months post op, and 9 months post op. At the 9 month mark, I felt like I was no longer actively recovering from surgery. Now at 12 months later, I truly feel like a new person and the surgery is no longer at the top of my mind.
I wanted to share a reflection of the past year and how life changing this surgery has been. It's also the perfect opportunity to recap some of the breast reduction frequently asked questions. I get DMs from readers every single day and I'm so glad to help provide perspective to anyone on their breast reduction journey!
What surgery technique did you have?
I had bilateral breast reduction mammaplasty, which includes a breast lift. I have anchor scars, so there is a horizontal scar along the bottom, thin vertical scar leading up to the nipple, and thin scar surrounding the nipple. The areolas are also reduced in size. Excess fatty tissue is removed and the breast is completely reconstructed into a new shape.
How long was the surgery?
The procedure was 5.5 hours under general anesthesia. It required a 1 night stay in the hospital. Not all surgeons or hospitals require this.
How much did it cost?
The cost depends on where in the world you're located plus the board certification and experience of your surgeon. In the San Francisco Bay Area, breast reduction surgery averages around $13,500 to $15,000. I had my surgery fully covered through insurance. Financing the surgery through CareCredit is something I considered if I had to pay out of pocket.
What was the insurance approval process like?
It was a nightmare but I'm glad I didn't give up. No one is going to advocate for your health like you yourself are! I got denied 4 times and approved on the 5th try. I tried two different insurance providers. Certain insurance plans will exclude covering the surgery, even if deemed medically necessary. So be sure to read all the fine print when selecting a plan.
The process is long so start documenting your case as early as possible. I told my primary care physician about my constant pain and discomfort. Despite living an active healthy lifestyle, I had daily chronic pain and difficulties with basic mobility. I got X-rays and bloodwork done to see if there were any red flags. There were not. I was then referred to physical therapy, in which I had weekly appointments for 3 months. Then I was able to visit several plastic surgeons for consultations to find my right fit. After your consultation, the plastic surgeon office will send your case to insurance for approval. This process took about a year and a half.
Many plastic surgeons won't take insurance for this type of procedure, so ask your primary care physician if they can recommend anyone. You can call around to surgeons in your area and ask if they take insurance. I spent hours upon hours calling dozens of surgeon offices and asking for more information. Unfortunately, this process is very time consuming.
Once insurance has processed your case you will either be approved or denied. You may get a letter via snail mail or your plastic surgeon's office will be notified first. Appealing the outcome may or may not be an option depending on your plan's policies.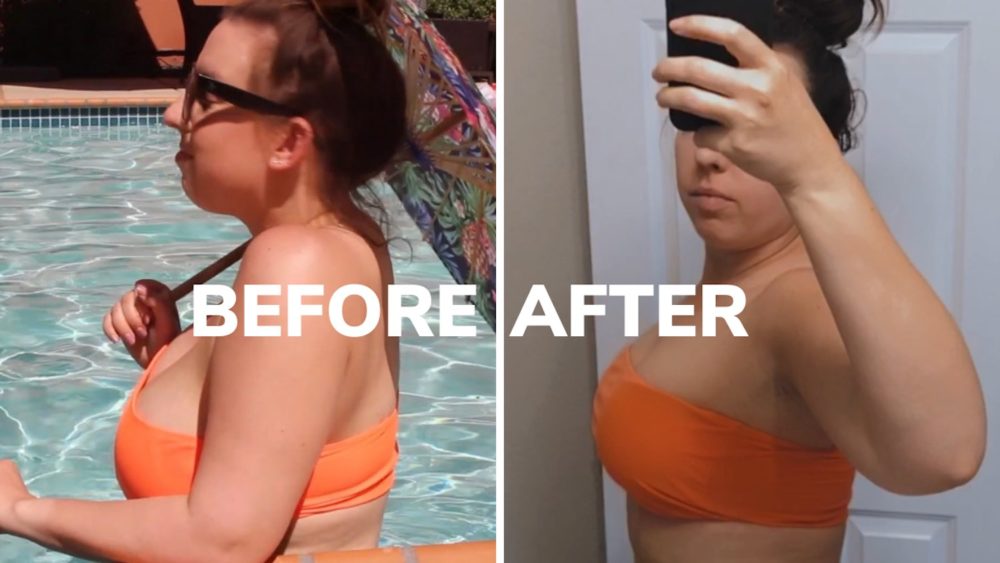 How much tissue did they remove?
738 grams on the left and 574 grams on the right were removed. Converting that into pounds it was 2.89 lbs. The left and right amounts are so different because I had severe asymmetry and was significantly larger on the left. For that same reason, my anchor scar is a bit longer on the left. Both scars end on my side under my armpits, but they don't curl upward too much.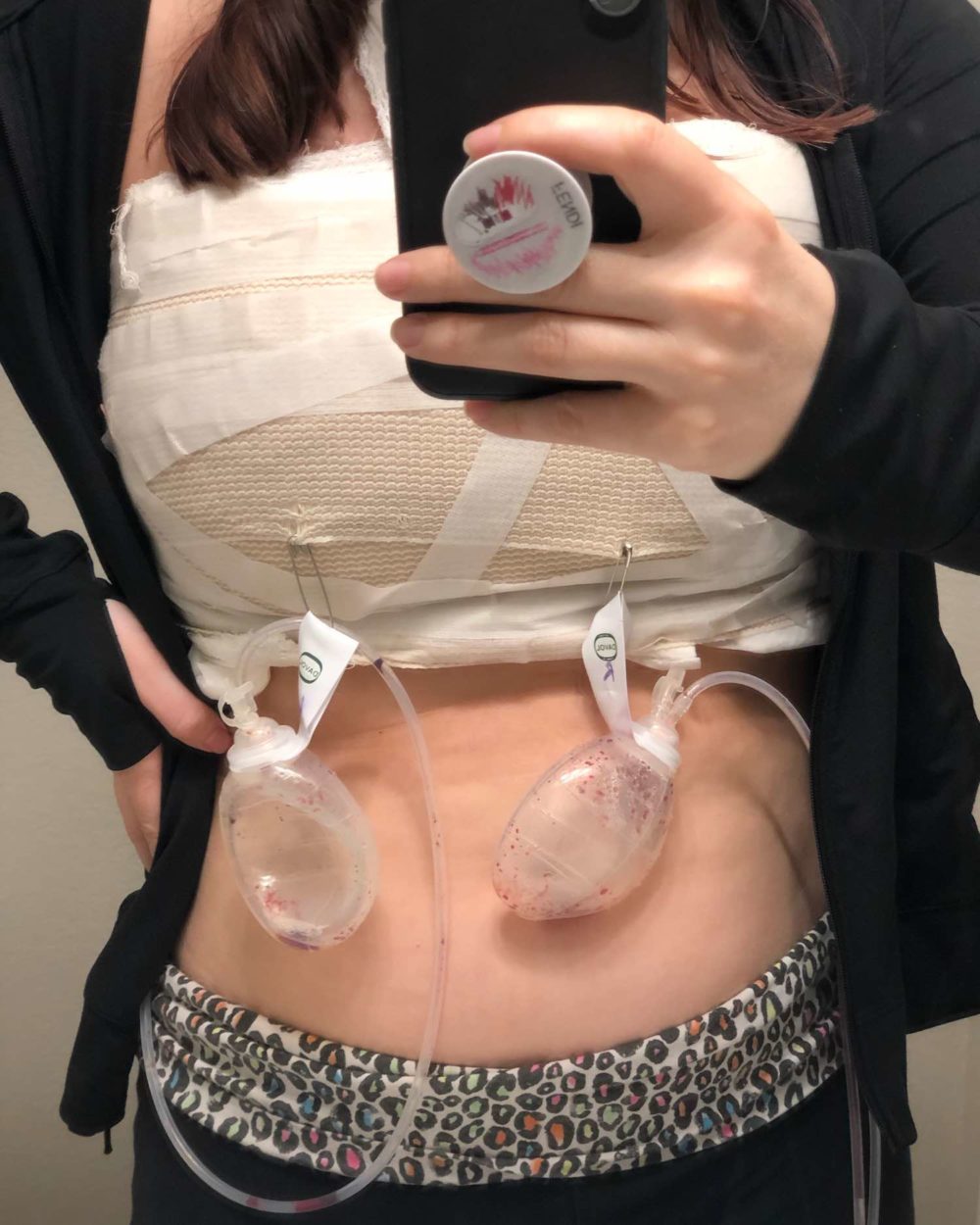 How long did you have the drains?
I had drains and bandages for 8 days post op. They were removed during my first post op visit. You won't be able to shower or bathe while wearing the bandages and it becomes very itchy during the last few days. Try to occupy yourself with other things to focus on. Also, not all surgeons will require drains so ask about that during your consult. The bandages are very compressive so once they're removed your breasts will be smaller than they actually are, but will swell up while healing. This is not your final size so be patient as you heal.
When could you drive?
Even though I was cleared to drive at the 2 week mark, as long as I was not on pain meds, I wasn't comfortable driving until the 5th week. My upper body and arms were just too weak to handle the intensity of driving. Bay Area potholes and roads are no joke! Also driving a manual transmission car I need to utilize my core and arm strength more than with an automatic.
What was your old size and what is your new size?
My old bra size was 32H, even though I was 1-2 cup sizes larger on the left due to asymmetry. Currently I think I'm a 34D but I haven't been fitted by an expert in-store. I'm happy with the results and everything is now way more proportionate to the rest of my body. They are finally symmetric again!
What bras did you wear while recovering?
I wrote an entire post on this subject! I found the best bras for breast reduction recovery were seamless sports bras and triangle or halter bralettes. Your skin will be super flaky so have lots of soft bras and bralettes on hand without constantly doing laundry. However for the immediate weeks following the surgery, my surgeon wanted me in super supportive bras so she had me in my old 32H underwire bra with tons of surgical gauze padding. It was pretty uncomfortable because for a while you need to be wearing a bra 24/7 while healing. At 3 weeks post op, I was approved to sleep without a bra.

Can you show a scar before and after?
I will show you as much as I can, but watch the video to see the side by side comparison! I had a mild skin infection at the 1 month mark. My wounds were still bleeding a little at the 3 month mark. At the 5 month mark I really started to see the purple and redness lifting. At the one year post op mark I'm really happy with how the scars have lightened.
Don't let scars hold you back from doing the surgery. The scars are honestly not that noticeable.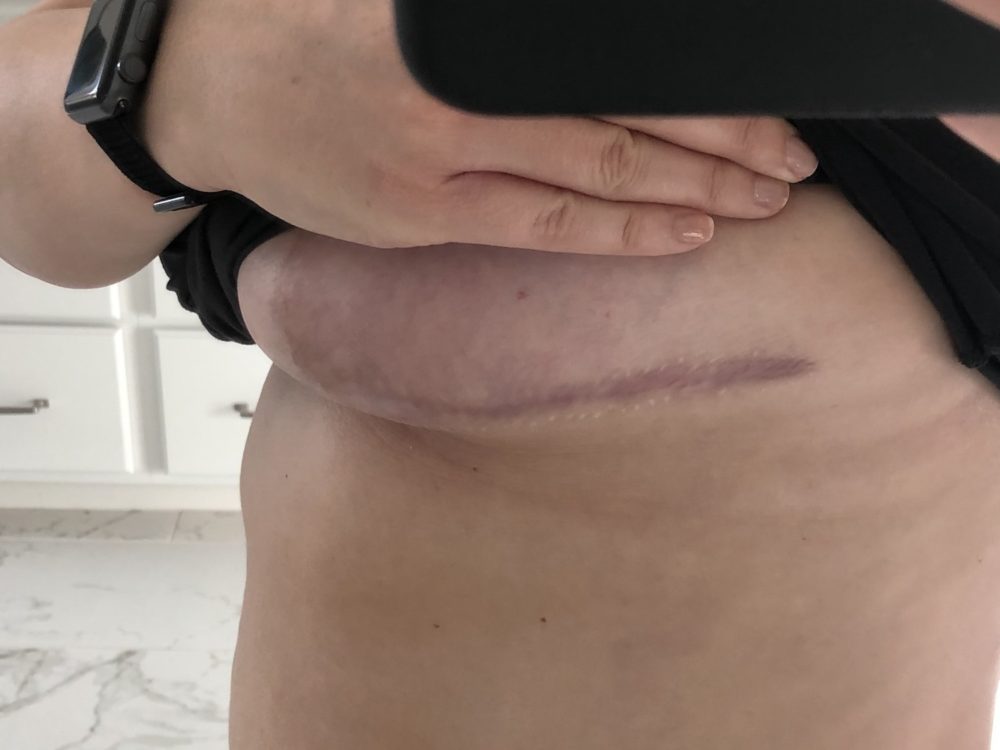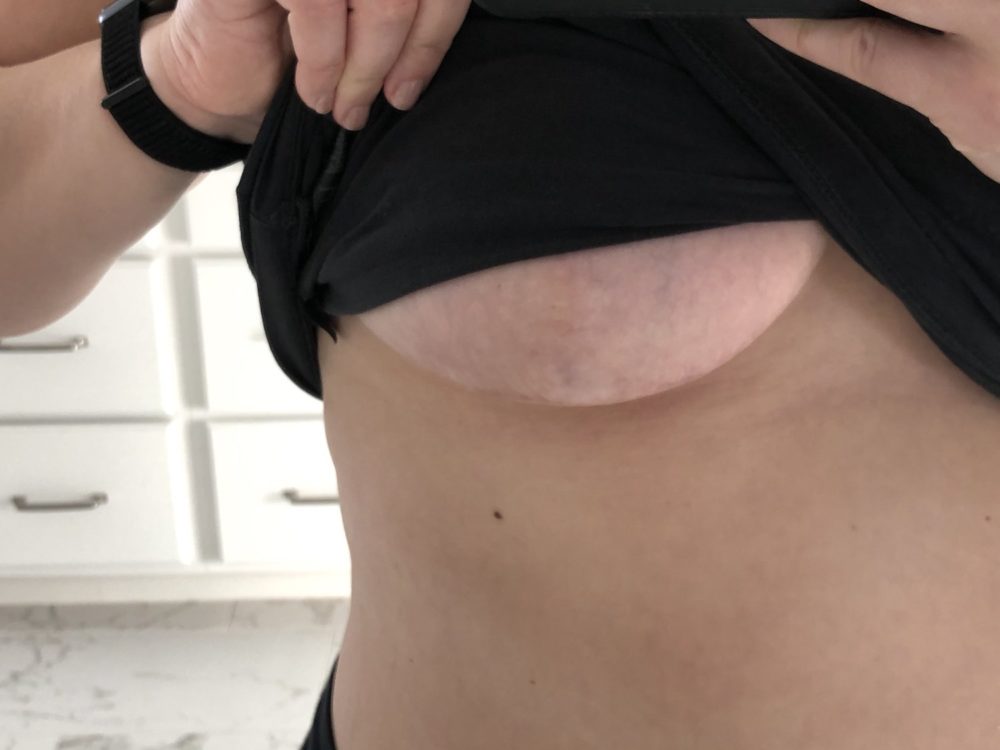 What scar treatments did you use?
I've used three treatments: Scar Away Scar Strips, Mederma Advanced Scar Gel, and Derma E Scar Gel. Every day I would use one of these three treatments, but only after my wounds closed and my surgeon gave me the green light. I would keep Scar Away Scar Strips on for 24 hours. Or I would apply Mederma Advanced Scar Gel or Derma E Scar Gel on cleansed dry skin once a day immediately following my morning shower. Also keeping your scars out of the sun is extremely important!

When did you start working out?
My surgeon encouraged me to start walking around the neighborhood 3 weeks post op. After than, I started easing into more walking and stretching. At 5 weeks post op I started doing subtle strength training with 8 lb weights. At 2 months I was doing some virtual HIIT workouts, minus any jumping jacks, suitcase crunches, and any other high impact complex movements that would stretch out my wounds. I started hula hooping a lot to ease back into cardio. Low impact workouts are my favorite!
Can you breastfeed after the surgery?
If this is important to you, ask your surgeon during your consultation. Some surgeons will outright say you won't be able to after surgery, other surgeons say it's possible but never guaranteed. The surgery technique is different surgeon to surgeon so get multiple consults to find your right fit. For this reason, some women opt for breast reduction after they stop having children. I am childfree by choice so this was not a concern.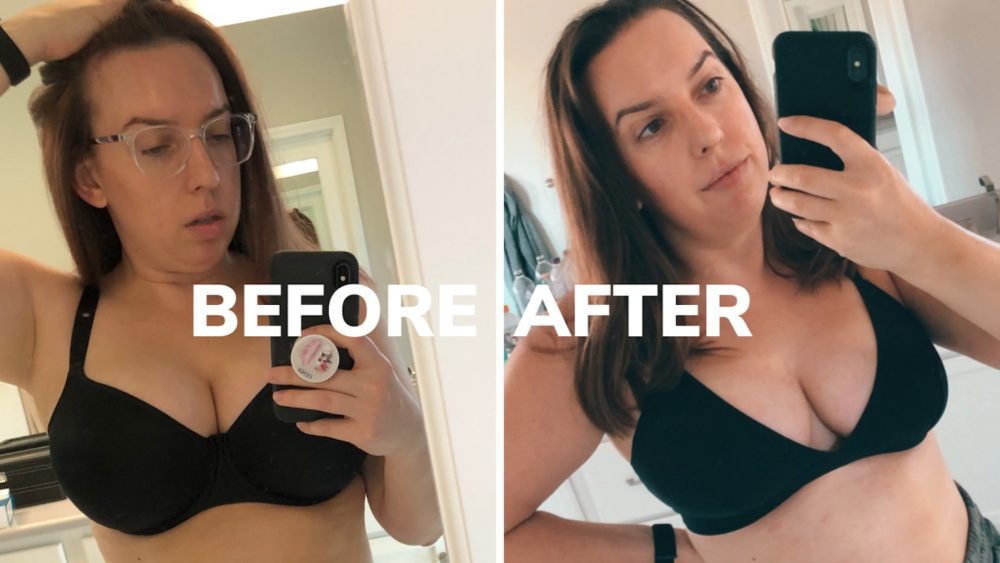 That's about it for my breast reduction recovery 1 year update. I'm truly so thankful for this new lease on life without pain. My goal right now is to rebuild my arm and back strength and improve my posture after years of being hunchback. I'm also enjoying being more carefree with clothing and revisiting old clothes that never fit before.
Have more questions on the recovery process? Let me know in a comment below! Wishing you all happy and healthy healing vibes.