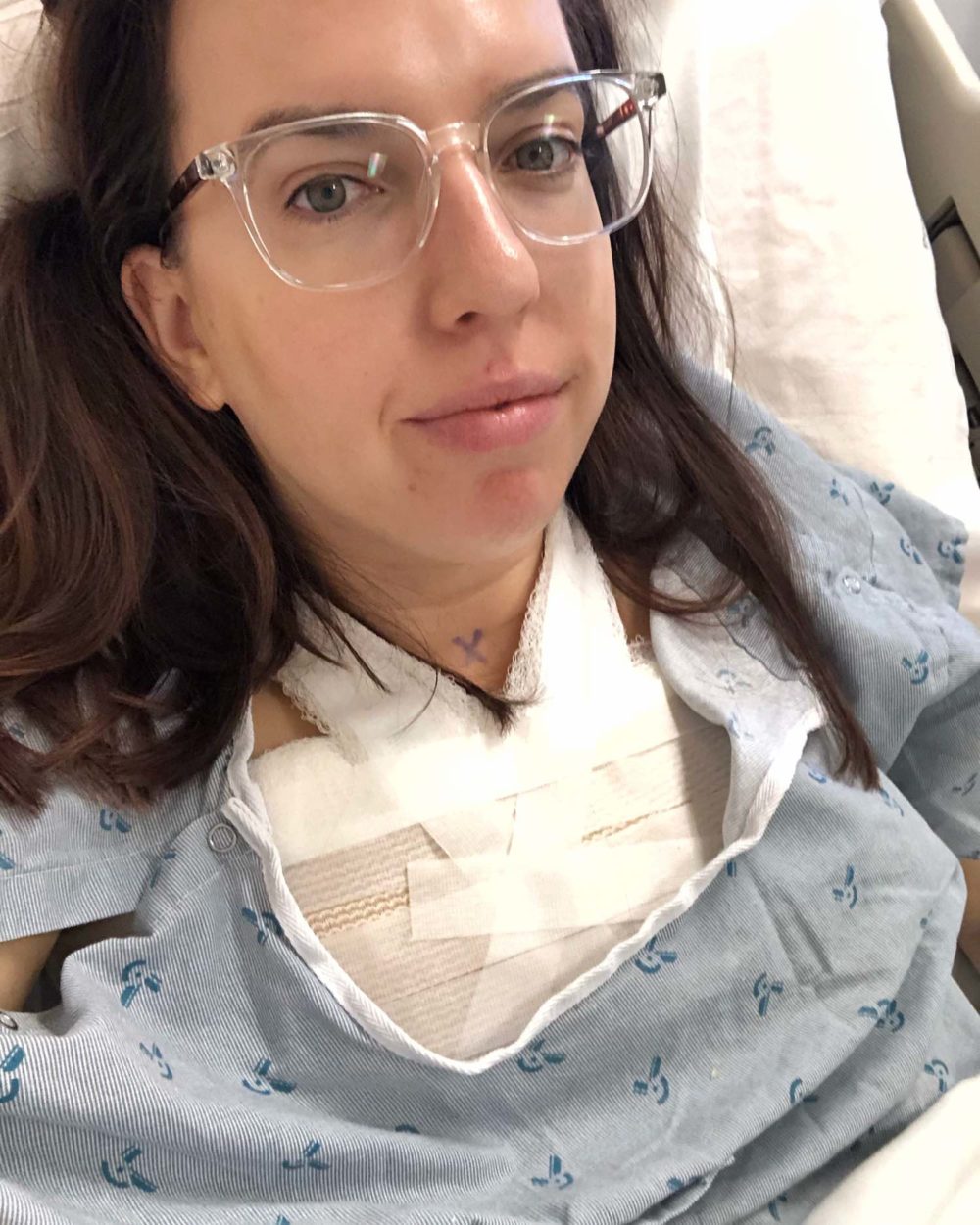 Breast reduction surgery is a major reconstructive surgery. I'm currently one month post op and I have a lot of thoughts. If you're considering the surgery or are just curious what the recovery process is like, I wanted to share a bit of my experience. Already, the surgery has been monumentally life changing. But it hasn't been all sunshine and rainbows.
Week 1: Coming Home
This week is definitely the worst. It's uncomfortable and doing basic survival tasks like getting dressed, going to the bathroom, and falling asleep are difficult. If you have surgical drains, it's even harder. I spent one night in the hospital, but not all surgeries require an overnight stay.
You'll need a caretaker, either a spouse, friend, or family member, to help you with basic tasks, logging your meds, and stripping your drains if applicable. My boyfriend and mom tag-teamed this effort since they both obviously have jobs to get back to. They helped with preparing meals, sponge bathing, loading/unloading the dishwasher, doing laundry, cleaning surfaces, dusting, and checking the mail.
Absolute essentials included snuggly blankets, zip up clothing, sweatpants, robes, baby wipes, face wipes, sheet masks, facial mist, lip balm, hand sanitizer, and hand cream. I also slept with a travel neck pillow and bed rest pillow to keep me elevated and on my back.
To get an idea of what the first week was really like, plus some general background on why and how I got the surgery, watch the video below.
Week 2: Bandages Off
Well this week was self explanatory. My first post-op visit was at the plastic surgery office, and not the hospital. Once I had the bandages off and drains out, I felt so much more free! My surgeon had me bring in my old 32H bras which I wear during healing with surgical padding to absorb any excess fluid and blood. Bra is to be worn 24/7!
The beginning of week 2 was off to a great start. I still was cranky from not being as independent as I wanted to be at this time, so I would highly recommend taking two weeks full off of work. You might feel better after one week, but healing has not been linear so there are up days and down days. Be prepared for that.
Week 3: Stitches Off
This week I felt amazing, but a little nervous now that the stitches were removed going into week 3. Bra routine was the same, but I felt a little delicate and still wanted to stay home to avoid bumping into people or things. Rides in the car were still really painful. I was exhausted after brief outings to grocery stores or restaurants. But staying home was an interesting idea, as the world was slowly slipping into social distancing with the global health situation. I was ready to start going places, but a shelter in place order was set in my county.
Sleeping on my back was tough every night. I'm a mouth-breather and tend to snore, so my throat is constantly sore every morning. I'd also unintentionally try rolling to my side while sleeping which was incredibly painful.
If you have a physically demanding job, maybe consider taking a full 3 weeks off work.
Week 4: Itchy & Infected
I became fussier than ever at the 1 month mark. Still swollen and not ready to take an after photo. Still correcting my posture daily. I still haven't been able to drive because the discomfort of a seatbelt and Bay Area potholes is not fun. I also drive a manual transmission vehicle, so constantly using my right arm to shift with sounds exhausting and uncomfortable. The constant itchy sensation was uncomfortable and exhausting.
Unfortunately upon closer inspection, I have a mild skin infection. I've started antibiotics this week and am closely monitoring the situation. I'm disappointed this has happened because I was extra careful with post op care, but sometimes these things are inevitable. My skin is extremely sensitive so I'm not entirely surprised. The puffiness, irritated scars, and red rash are hard to look at.
What's Next?
Antibiotics! After that, six weeks is really the next big recovery milestone after breast reduction surgery. I'm looking forward to being able to work out again and take baths. Every day my mobility and strength improves a bit more.
Obviously shopping for bras and swimwear is top of mind, but with the public health situation, I'm not sure what non-essential shopping in-store or even summer travels look like at this point.
I'm also continuing my low carb diet, to ensure I don't gain weight that would cause my new breasts to grow and drop. I lost 12 pounds before surgery and 3 pounds of breast tissue was removed, so right now I'm down more than 15 pounds!
Another thing I'm looking forward to is more aggressive scar treatment. Once my surgeon gives me the OK, I'm going to be trying a few different treatments out to see what can start to help fade the scars.
Stay tuned for another recovery update in a few weeks. If you're considering this procedure I wish you a speedy recovery!