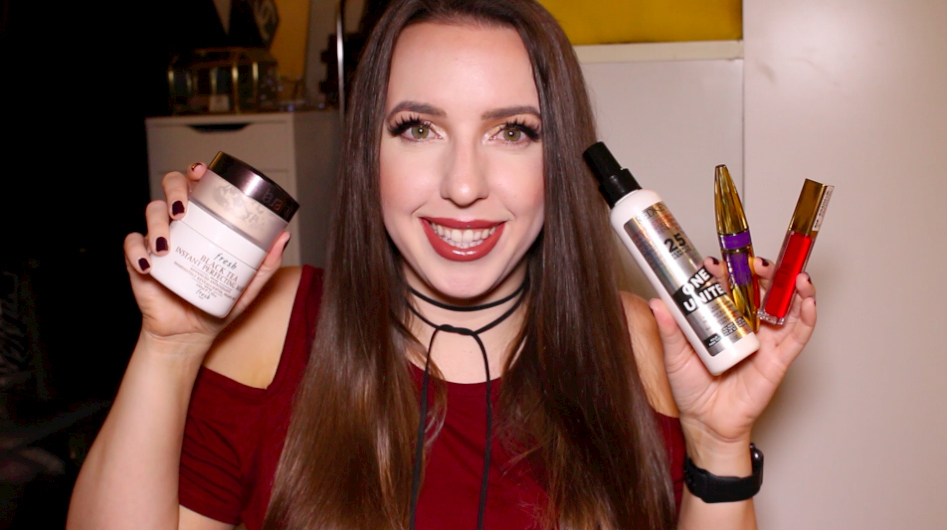 It's monthly favorites time again. The end of February crept up on us all, right? This past month I've been getting back to the basics, rediscovering a lip mask that I've liked for years, a new volumizing mascara from an unsuspecting brand, and a new detangler that met my strict criteria. I've been filming a lot more videos lately as well, so there are quite a few products in here that keep me camera-ready for hours on end.
Watch the video below and scroll ahead to read more of my thoughts on the products mentioned.
Fresh Black Tea Instant Perfecting Mask (c/o)
For an instant pick-me-up, this mask is everything. It's immediately cooling and soothing on the skin, making it my go-to mask before I have a special event. When you wipe it off, you'll immediately notice a difference. It firms, lifts, and smooths my skin out after a quick 15 minute mask. It's crazy good and delivers instant results!
BITE Beauty Agave Lip Mask (c/o)
The perfect lip mask for parched lips in the winter. The sugary flavor and plush texture feel amazing as this lip treatment brings your lips back to life. It's a staple product in my morning and nightly routine now.
Milani Amore Matte Liquid Lip Creme in Beautiful (c/o)
Red lip lovers, listen up. This affordable liquid lipstick from Milani is one of the most pigmented and long-lasting cool toned reds I've ever worn. I wore this lip color a lot during the holidays, but it made a strong comeback around Valentine's Day.
Maybelline Expert Wear Shadows in The Glo Down & Nude Glow (c/o)
This might be one of the best shimmery eyeshadows you can get for under $4. The Glo Down and Nude Glow are extremely smooth and pretty pigmented. I'm totally a matte girl at heart, but sometimes I can't resist a little shimmer!
Maybelline Colossal Big Shot Mascara (c/o)
If you like volumizing mascaras that are on the dry side like I do, this mascara is a winner. It has a natural bristle brush and stiffer wand, allowing for maximum control in layering coats and getting the mascara how you want it to look. I find the formula holds a curl for quite a long time and makes my lashes look fabulous.
Laura Mercier Translucent Loose Setting Powder (c/o)
If you've been struggling at baking with other loose powders, you have to try this one. It just looks flawless and the texture is super finely milled and comfortable under the eyes. It's a bit messy to apply, but worth taking a few extra steps to keep your face flawless and camera-ready.
Redken One United (c/o)
There's a new detangler in the rotation, and it is Redken's One United. Strange name, but the product boasts doing 25 things in one simple product. I use it purely for detangling and it works amazingly. It's super lightweight so it never weighs my hair down.
What have you been loving recently? I'd love to know some of your monthly favorites in a comment below.
Catch up on my monthly favorites playlist and stay tuned for another edition of empties coming up soon. Thanks for reading!

Note: I received the items noted with (c/o) for consideration.