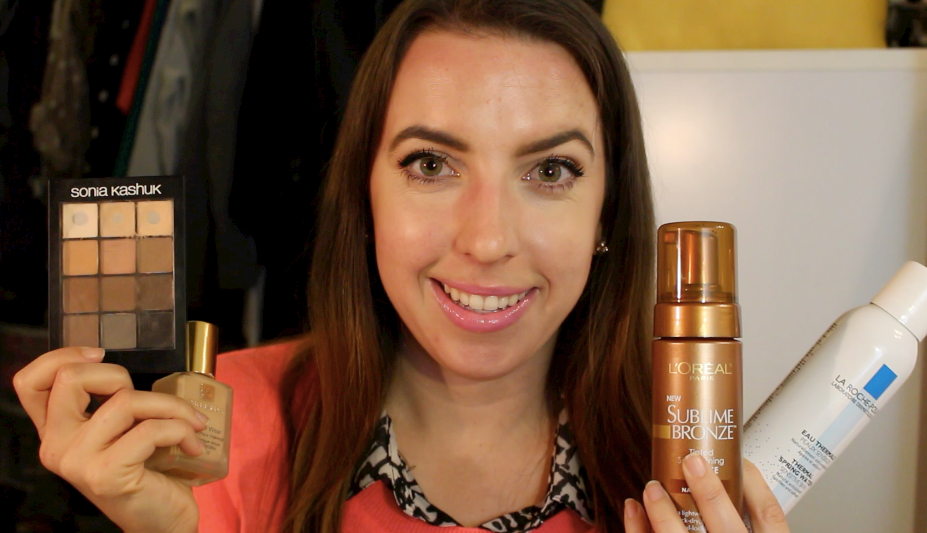 April is trailing off and May is just about here, so it's time for some beauty favorites! I feel so seasonally appropriate, too, with my bronzing, makeup that can withstand the elements, a spring lippie, and a facial mist to cool down and awaken the senses with.
Watch the video below to hear the scoop and check out the links below for where to buy the products.
Sonia Kashuk Eye On Neutral Matte Eyeshadow Palette
This is a repeat item from January, and for good reason. Matte eyeshadow is always a staple in my routine, and this palette is a fantastic bargain. Most of the 12 shades in this palette have excellent pigmentation, with the exception of 1 mediocre color I found. Lately, I've been loving swiping my Crown Brush dome contour brush across the third row of shadows for my powder contour. It's super quick, easy, and a versatile medium tone brown.
Maybelline Color Whisper in 'Petal Rebel'
One more mention for the Color Whispers! These lippies are nice because they're sheer and comfortable to wear. No need for a mirror with this one and it goes with just about any makeup look. Check out this lip color worn in several of my latest outfit posts as well as the photo above to get an idea of the color payoff and finish.
Estee Lauder Double Wear Stay-in-Place Makeup
I last covered this product in my October faves, but I've been a fan of this foundation for 3-5 solid years. The coverage is full and the wear time is long. If you want to have bulletproof face makeup from 6am to 6pm, you need to try this product. Especially if you have normal to oily skin.
L'Oreal Sublime Bronze Self Tanning Mousse
For my first drugstore self tanning product, I must say I'm enjoying this one. I'm not the most experienced with self tanners though, so I can only compare it to St. Tropez and Jergens Natural Glow (which is a gradual bronzing lotion, hardly a self tanner). The dry time is noticeably longer than St. Tropez, but it's not a deal breaker. For the price, I think it's pretty good! But pro tip: skip on the Ulta application mitt, the St. Tropez mitt is much better!
La Roche-Posay Thermal Spring Water
Otherwise known as Eau Thermale, this is probably my new favorite facial mist. The mist is so fine; on par and if not finer than Evian's popular facial mist. Packed with the mineral selenium, a natural antioxidant aimed to sooth and soften. I'm a huge fan. I just need to find a TSA-friendly size.

In case you're new here, I cover favorites every month and appreciate your visit. I invite you to check out some of my other posts and videos if you like these type of round ups. Thanks so much for reading, and please let me know your top April favorite in a comment. I'd love to hear about it!