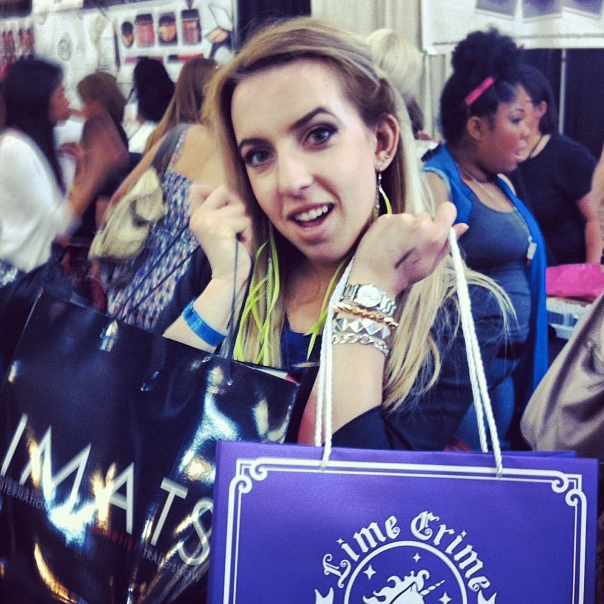 At this time next week, I'll be Pasadena-bound for IMATS! While this is the International Makeup Artist Trade Show, the general public can attend two out of the three days of this wild show. My third year attending the event, I use it at my annual occasion to stock up on all things beauty since products are heavily discounted or are at actual wholesale prices. Brands exhibiting include cult favorites beauty like Make Up For Ever, Stila Cosmetics, Eve Pearl, Anastasia Beverly Hills, Lime Crime, and NYX Cosmetics, so the exhibitor roster is always impressive. Perhaps an even better deal are the brushes and tools available at the show, because you can shop both bargain and luxury brush brands side by side, from labels like Hakuhodo, Sigma Beauty, and Crown Brush. Seriously, the cost of ticket more than outweighs the savings you get from the discounts! Not to mention, there are hundreds of talented makeup artists, cinema and special effects gurus, and bloggers in the building reach to teach, shmooze, and stop for photos with you. There's just so much going on it's hard to really concisely explain, but all in all it's a fun weekend wrapped around all things beauty.
If you're in LA for the event, please leave me a comment as I would love to meet-up. I will be there roaming around with Caitlin, Lindy, Mallory, and Skyler, so don't be shy if you see us!
Plus, we always turn this into a girls weekend full of shopping and dining at some of LA's finest: The Grove, Roscoe's Chicken & Waffles, Sprinkles, Pink's, Santa Monica's 3rd Street Promenade, and so on, so I'm very excited to have this as my first trip of 2014.
Check out my blog post for last year's coverage and some of my favorite photos to get an idea for what's in store January 18 & 19. Next weekend be sure to follow along with the #IMATSLA hashtag on Twitter and Instagram.