There are few early 2000s horror films more iconic than Resident Evil. It had an amazingly maniacal plot, awesome cast, and epic soundtrack. Milla Jovovich has always been that girl! And her look in the first Resident Evil film lives in my head RENT FREE. I was rewatching some of the movies in the series earlier this year, and then it dawned on me: I already have everything in my closet to replicate her outfit. At least in the first Resident Evil movie. The iconic red dress with the asymmetric hem, the knee high leather boots, and the leather jacket. So I've had this costume planned for months. But it also is a great last minute Halloween costume idea since it may be easy enough to source from your everyday clothing.
Let's break down the Resident Evil Alice costume piece by piece, just in time for that last minute Halloween costume!
My name is Alice, and I remember everything.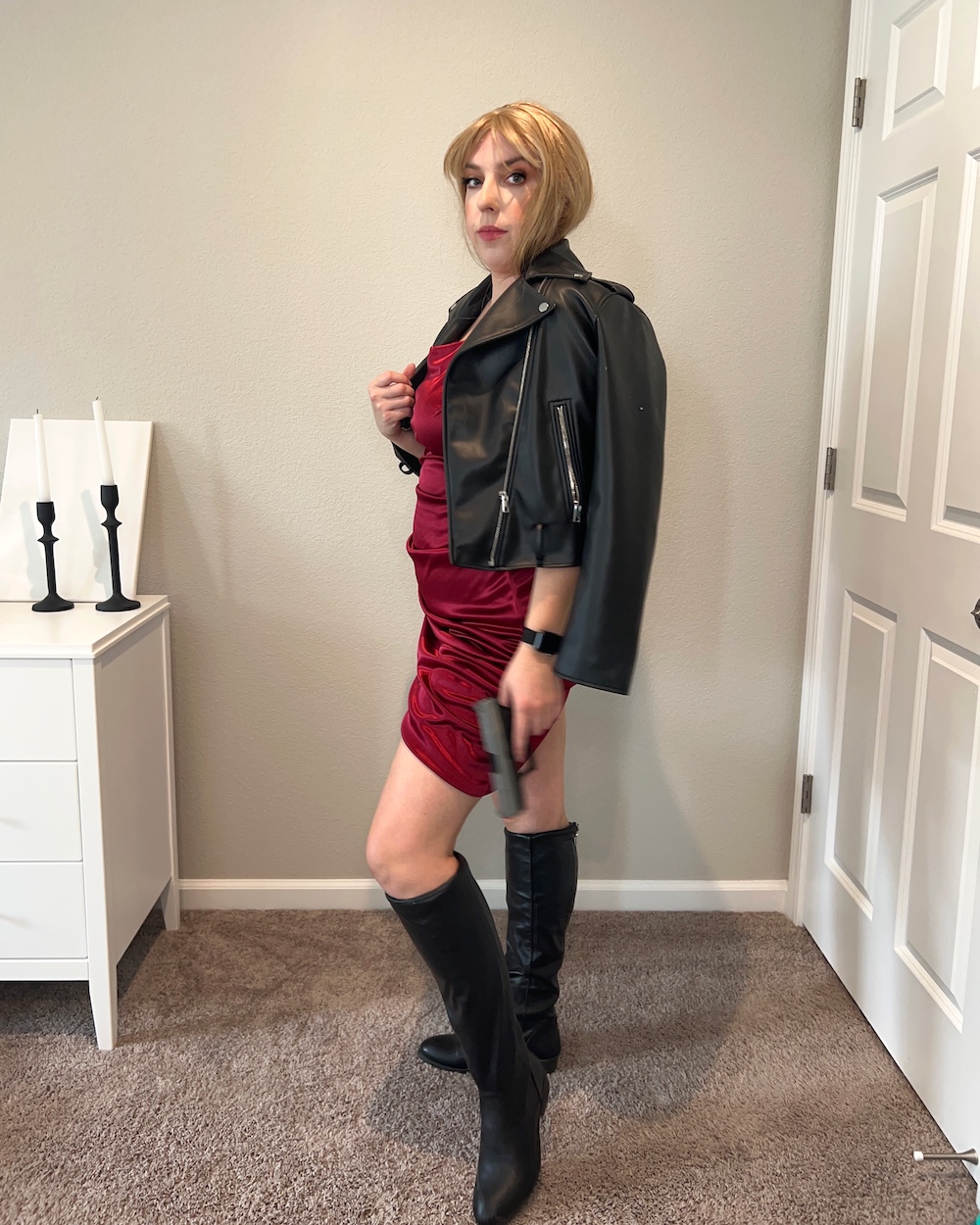 Resident Evil Alice Costume
Alice Red Dress
The Resident Evil Alice dress is the core part of this Halloween costume. It's a dark red cami style slip dress, with an asymmetric hem. It's fitted yet flowy. I already owned something similar, but with drawstrings, so I tucked those in to give the dress a more streamlined look.
Alice Bike Shorts
If you watch the movie and look at the still promo photos closely, the bike shorts or mini skirt Alice has under the red dress is actually dark burgundy and not black. In the interest of keeping things simple, I just wore a set of black boy shorts shapewear I already owned. You could also wear your favorite athletic bicycle shorts, but the key here is to make sure they're not too long.
Alice Leather Boots
Alice wears flat black leather boots that hit just below the knee. They have no visible hardware, but have a discrete black zipper on the inside calf. I used a pair of over the knee boots I already owned, I just folded the top panels down to shorten the height.
Alice Leather Jacket
Alice wears her husband Spence's leather jacket in the film briefly. The jacket is more of a racer style with a snap collar and no lapel. I did not have an identical style, so I used my black faux leather moto jacket with a larger lapel to complete the outfit. As long as you've nailed the dress, bike shorts, and boots combination, the leather jacket is really just extra.
Alice Hair
Alice has dirty golden blonde hair with bangs which is slightly parted to the left side. In the sequel films, her hair is darker brown. As Alice doesn't have many unique accessories, hair is an important part of the look, so find a wig if you can or style your natural hair accordingly. I reused an old golden blonde wig from a Lady Gaga costume over 10 year ago. It was too long, but I wanted to use what I already had!
Alice Gun
If you have a toy gun or airsoft option lying around, this is a perfect accessory to finish the look! I have a P99 airsoft which is pretty similar to what the Umbrella Corporation commandos use in the movie.
Alice Makeup
There's no doubt about it, Milla Jovovich is absolutely gorgeous and makes a stunning Alice. She is beautiful and fierce.Her makeup in the film is very natural, but completed with a soft peachy nude and warm toned lip color. I used Milani Color Fetish Balm in Lustful to replicate the look. But the longer the movie goes on, the dirtier Alice gets through all the fighting with the un-dead. Alice also has a scar and bruise along her collarbone and shoulder, so you could replicate those with makeup if you have the time and want to mimic that detail.
Missing some of these items in your closet? Shop some of the ready-to-buy pieces for your Alice from Resident Evil costume in the widget below.
Hopefully you enjoyed this fun Resident Evil costume idea! Other iconic female characters from the video game and film series include Jill Valentine, Ada Wong, Claire Redfield, and Rain Ocampo. There are many ways to do your own Resident Evil cosplay. Can you believe the first movie released 20 years ago already? I played the Resident Evil Director's Cut PlayStation game on Twitch this week wearing this cosplay, it was a blast!
Like this Alice Resident Evil cosplay? Don't forget to check out my DIY Daria Morgendorffer and DIY Shark Halloween costumes before you go. Happy Halloween!