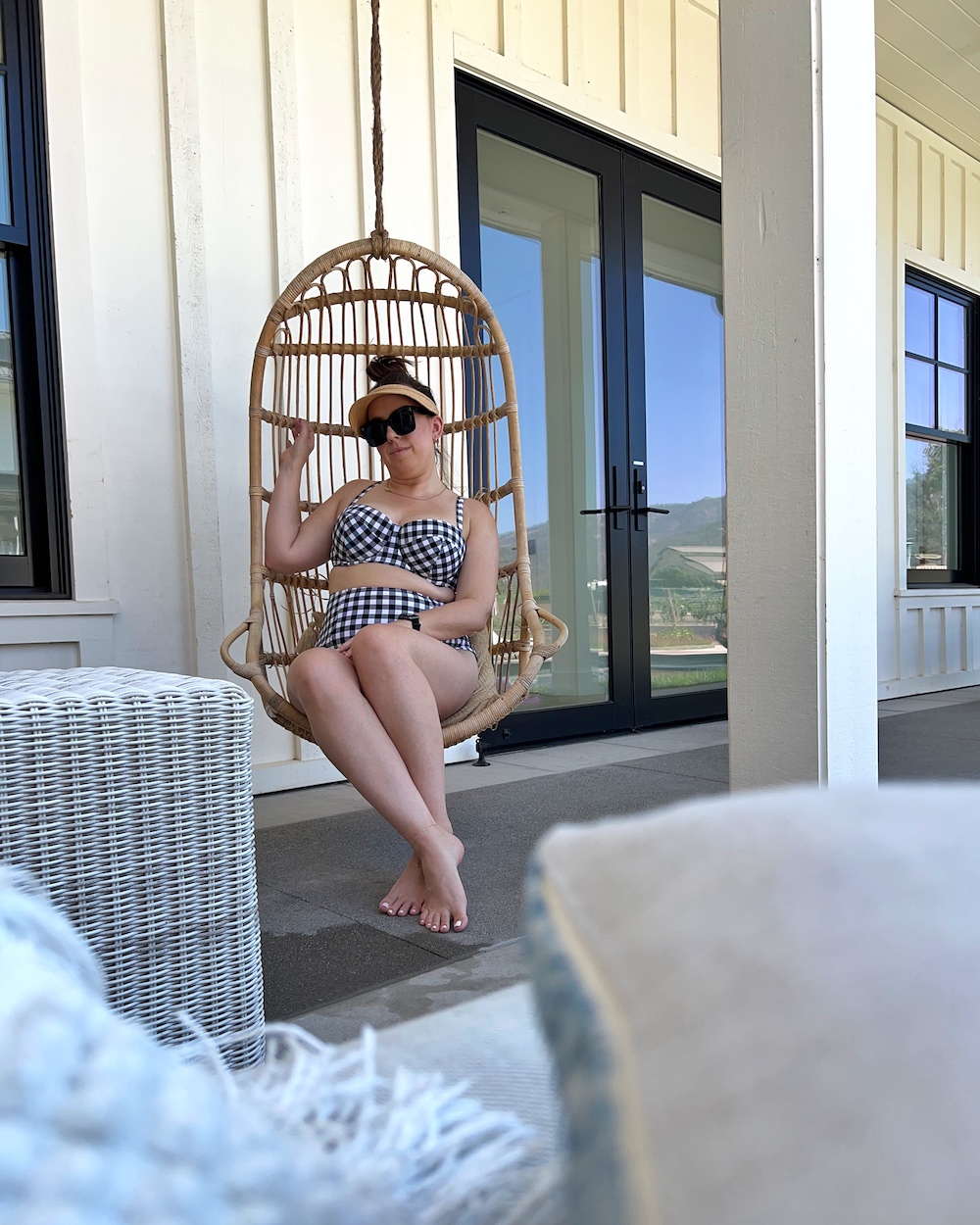 So, you're in love with the Serena and Lily hanging chair like everyone else. Every time I see one hung up at a hotel or resort I visit, I immediately want to sit in it and snap a picture, imagining it in my own space. While you can frequent the Serena and Lily outlets to see if they have any in store, let me round up some potential Serena and Lily dupes I've come across that might closely mimic the real thing if you're on a budget. While there is nothing quite like the original, let's go through the iconic chair and some similar options. It's just the perfect item to fit your coastal, midcentury modern, or boho decor vibe!
Serena and Lily Hanging Chair
Outdoor hanging chair: $998 (currently on sale for $698)
Colors: light dune and white
Hanging rattan chair: $548
Colors: natural (light beige) and white
The Serena and Lily hanging chair actually comes in two main different options: one design for indoor and another design for outdoor. So, you could easily put one inside your home, say in a living room or bedroom, or in your backyard or patio area. They also offer the chair in more of a loveseat and bench style, perfect for seating two people.
The indoor chair features a hand-bent rattan material, whereas the outdoor chair features a sturdier all weather wicker frame in the light dune color and a powder-coated aluminum frame in the white color. Both styles of chair hold up to 300 lbs weight. With both hanging chairs, professional installation is required. The ropes the chairs hang on are included, however the hardware to mount the chairs is not.
Double hanging rattan chair: $1298
As for the Serena and Lily double hanging chair, it's suitable for indoor use and is made of bent rattan. The double chair is suspended by two ropes instead of one. This two-seater Serena and Lily rattan chair holds up to 800 lbs. There is also an outdoor version in white.
Hanging rattan bench: $998
Finally for the Serena and Lily hanging rattan bench, this is wider style than the one-seater chair, only with a lower back style. This one is suitable for indoor use, is suspended by two ropes, and holds up to 500 lbs. This one also comes in an outdoor version in white.
Serena and Lily Hanging Chair Dupes
Shop on: Target, Overstock, World Market, Wayfair, Amazon, CB2
Not all hanging chairs are created equal! Some things to look out for are chair dimensions, care instructions, weight capacity, and shipping costs. Also look at the material and if it's weather resistant enough to keep outdoors. In the carousel widget above you can shop some of the most similar chairs I've found from Target, World Market, Wayfair, and more. Apparently IKEA had one at some point, but it is not currently on their site.
Pro tip: make sure you get cushion, either from Serena and Lily or another brand, to make your rattan hanging chair a bit more comfortable. You'll need it since rattan chairs can be kind of stiff to sit on. With a comfy cushion you'll definitely sit in it a lot more!
This item is just one of the many pieces on my Serena and Lily wish list. Are you a fan of the Serena and Lily hanging rattan chair? Let us know in a comment below! Whichever style you go with, I'm sure it'll be your new favorite area of your home, making the best spot to chill, relax, and even snap a photo in.
Like this post? Be sure to read through some of my other home and decor inspired blog posts before you go. Happy shopping!