One decor piece on my wish list forever has been a wood blanket ladder. I found the store bought ones looked too manufactured and had no character. Also they were usually pretty expensive. I was browsing Pinterest and really fell in love with the look of blanket ladders and brought up the idea of a DIY to bae who has been getting into woodworking projects. As a Valentine's Day gift to me this year he made me one! I was involved every step of the way and wanted to share the DIY wood blanket ladder tutorial for the blog.
As for the wood blanket ladder style, I was looking for that hygge and Scandi vibe. I wanted the finished result to have zero exposed screws or hardware. That style is just a little too American farmhouse for me. Most of the house has a cool color palette, so I wanted a cool to neutral brown but not something too gray to clash with the floor. I wanted it to look like slightly weathered wood, minus the splinters. We did a few layers of stain and it came out so dimensional. The ladder rungs are circular dowel rods and the vertical posts are square pine wood.
This is a beginner to intermediate level DIY. This can also be an affordable DIY, depending on what tools you already have. As with many DIYs, the materials can be cheap but the tools can be an investment. Materials cost about $30, but the tools cost $150 if you don't already own them. We pretty much got all of these supplies at The Home Depot.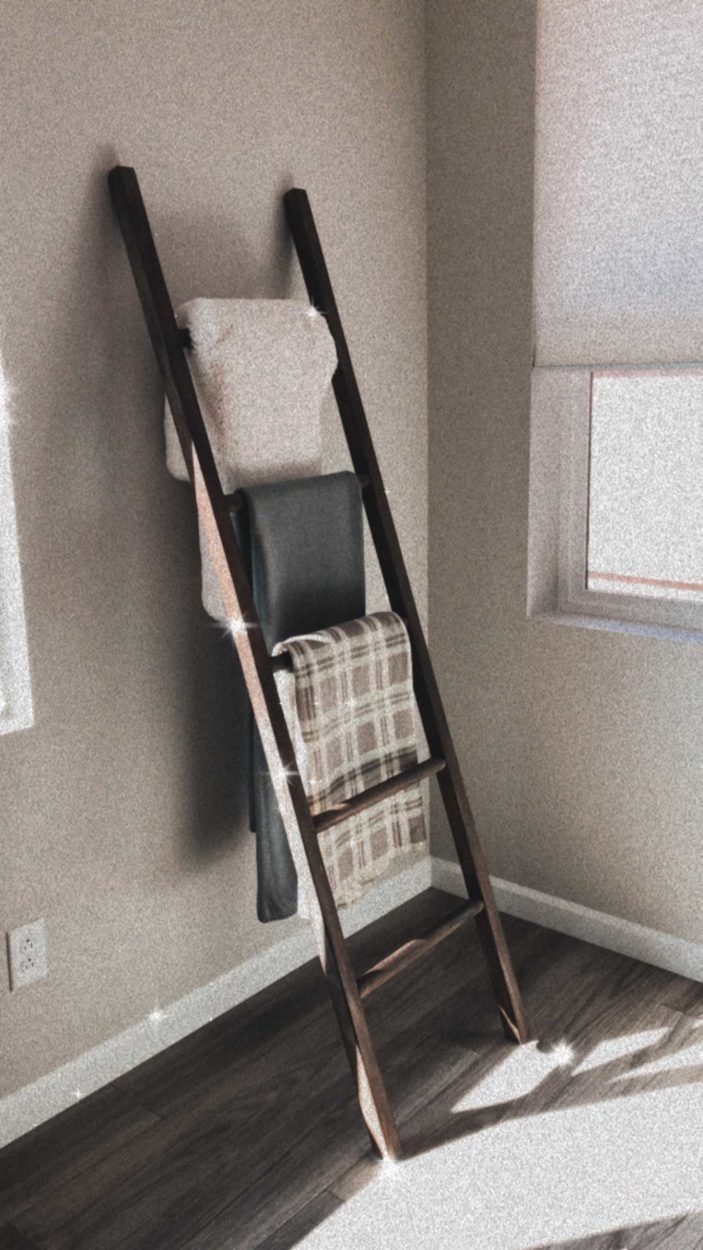 DIY Wood Blanket Ladder Materials You'll Need
2x 2x2x96" Select Pine (cut to 72")
3x 1.5×3" Pine Dowel (cut to 16")
1x 3/8×3" Pine Dowel (cut to 1.5")
Behr Water Based Wood Stain (we layered Espresso & Black)
DIY Wood Blanket Ladder Tools You'll Need
drill
kreg pocket hole drill bit ($15-20, or buy as part of a pocket hole joinery system – $25-$90)
1/16" or 3/32" drill bit
drill press or drill bit guide
pocket hole screws, 1.5" or longer, coarse thread (soft wood) (kreg makes good ones)
long driver bit for pocket hole screws (square bit for kreg pocket hole screws)
circular saw with carpenter's square or miter saw or hand pull-saw
oscillating multi-tool with flush-cutter attachment or hand pull-saw
60, 120, & 200 grit sandpaper
optional: self-adhesive rubber feet to protect floors and walls
optional: scribing tool makes centering marks easier
DIY Wood Blanket Ladder Step By Step
Mark 6' length on each 8' pine 2×2" (lumber won't be exact length 8', so do not measure 2' and think you'll have a 6' piece).
Mark 16" intervals on 1.5" dowels – you can get two rungs per dowel.
Cut 2×2" sides and dowel rungs to length.
Measure 1' intervals along the lengths of both sides. mark the perpendicular at each 1' interval using a scribing tool or carpenter's square.
Double check that both sides are the same length, that the drill marks are aligned on both sides, and that all rungs are the same length. sand or re-cut if necessary.
Using the drill press or drill bit guide and stop collar, use the pocket hole bit to drill pocket holes at each point marked in step 4. be sure to stop drilling at the appropriate depth – once the hole is too big, it's very hard to make it smaller again!
Pre-drill holes for screws in the center of the end of each dowel rung using the 1/16" or 3/32" drill bit to a depth about 1/2" shorter than your pocket hole screws. this can be tricky – clamping takes time, but can save you headaches.
optional: cut floor angle and wall angle into the bottom and top of the rungs so the ladder can lay flat against the floor and wall.
optional: sand, rough to fine, the squared edges off of the 2x2s for a weathered look. if you are patient or have help, hand-sanding takes time but works; otherwise, you'll want the help of an oscillating multi-tool and sanding attachment.
Attach the rungs to one side using pocket hole screws.
Check the rungs for square against the side.
Attach the remaining side to the rungs using pocket hole screws.
Ensure all screws are tight and the ladder is square.
Cut 3/8" dowel into small (3/4"-1 1/4" length, roughly) segments.
Insert and hammer 3/8" dowel segments into pocket holes to cover the pocket hole screws. you may need to sand down the tip of the dowel segment in order for it to "start" into the hole. use a pull saw or multi-tool with flush-cutting attachment to rough-cut the dowels to almost flush with the ladder side, then sand flush.
Stain the ladder. unlike paint where thin coats building up is the goal, you'll want to be generous with stain, using more than you think is necessary to cover an area, but trying to avoid overlapping on each coat. allow each coat to dry for an hour or so, checking the color against your desired color after each coat.
optional: apply rubber feet to bottom and top as desired.
And that's it! That's how we made this gorgeous 6-foot wood blanket ladder which now serves as both stylish and functional decor. The ladder is 6 feet tall with 5 rungs for blankets and looks so pretty in our living room. The stain came out a cool chocolatey chestnut brown, which compliments Sherwin Williams Agreeable Gray on the walls. The blanket ladder lives in the corner of the living room which gets bright indirect light. As a result, the stain color has lightened a bit. The wood looks authentically rustic yet still minimal.
In short, I already want to build another! However, I might try dip painting the next blanket ladder for a colorblock effect. This would also make a one-of-a-kind gift to someone in your life.
Will you try this blanket ladder DIY? Let me know if you do and definitely tag me on Instagram if you share your creation.