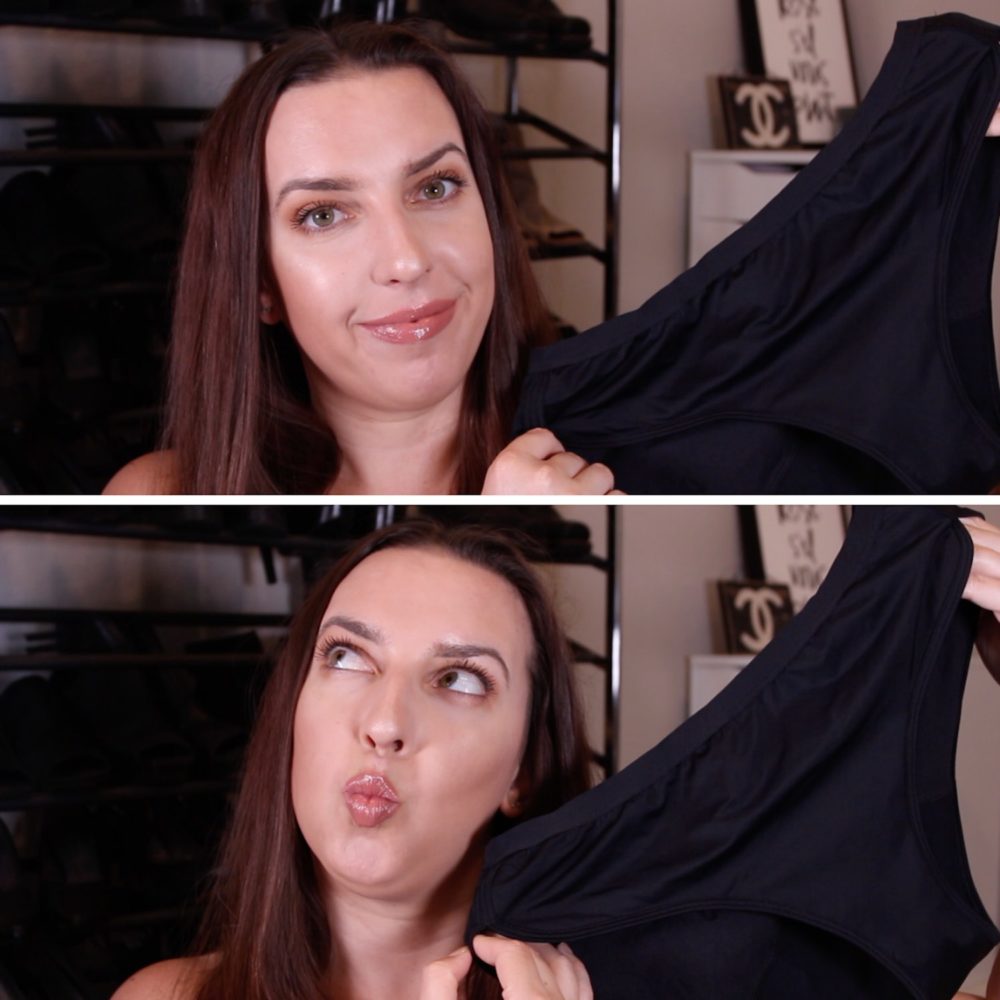 Period proof underwear is everywhere now, have you tried it yet? I've been testing THINX for a few months now and I have some thoughts to share on the THINX Sport and THINX Cotton Bikini period proof underwear styles. There was some trial and error. I have some complaints about the fit. But overall, I've had a great experience wearing them. They are a game changer! If you want to know if THINX worth the money, sizing tips, and where to buy THINX for the best price, you are in the right place.
THINX Underwear Review
Do THINX work?
Yes! Both of these styles can handle a moderate level flow and will not leak through onto clothing. It will leak if you have a heavy flow, however. You could wear THINX with a tampon or menstrual cup of course and just forgo a panty liner or pad. I just love the option of wearing THINX alone. The absorption capacity is impressive and I never feel wet or clammy walking around. Fluid absorbs into the fabric pretty quickly leaving the crotch fabric panel with no visible surface moisture. I usually wear them for 8-10 hours before wanting to change into a new pair.
How do THINX fit?
I personally find THINX to run small so I'd recommend potentially sizing up. The large is snug on my bum and around the leg openings. Also both of these styles are low rise and since I'm usually bloated on my period, it's not super flattering on me. These two styles will show visible panty lines on tight clothing. Additionally, I much prefer the cooler, moisture wicking fabric of the Sport over the Cotton Bikini. I also prefer the cut of the Sport.
Are THINX worth the price?
There's no way around it, THINX are pricey. If you buy them on shethinx.com directly rather than on Nordstrom, they have a few bundle and save options at the moment. I suggest picking up a few pairs to try to find your right fit, and to also have enough pairs to last through your cycle. If you spend a lot on tampons, THINX as a substitution will save you money in the long run, therefore they are worth the price.
How do you wash THINX?
As for washing them, I will rinse them out with cold water, usually right before my shower. I'll hang them to dry and then put them in with my regular laundry but in a lingerie wash bag on a delicate wash cycle. Since the panties are so absorbent, you'll need to lay them flat or hang out to dry for a little longer than with normal laundry. Having a few pairs on hand will save you from doing laundry every day of your cycle.
Would I recommend THINX?
Even though the fit is not 100% ideal for me, I would recommend these styles as basics everyone could use. I think my next pair will be a higher waisted style, like the Boyshort. In the long run THINX will save you so much money and unnecessary waste from buying tampons, pads, and panty liners.
Shop on THINX
Shop THINX on Nordstrom
Hope you enjoyed this quick little THINX underwear review. I'm definitely looking forward to testing out more styles. Have you tried period proof underwear before? I would love to hear about your experience and what your take is. Please check out some of my other style features or lingerie content before you go.