Top: Uniqlo (similar, similar, similar) | Shorts: Forever 21 | Sandals: Steve Madden (similar) | Sunglasses: Stella McCartney | Necklace: Forever 21 | Bag: Proenza Schouler | Watch: Michael Kors | Bracelet: Vince Camuto (similar) | Earrings: Forever 21 (similar) | Self Tan: Beautisol (c/o) | Nails: Essie 'Super Bossa Nova' &  Sinful Colors '24/7′
With my crazy schedule, it's rare I ever catch a golden hour photo shoot opp. That's why when K and I were recently visiting Kansas City, I snuck in a few outfit snaps just before the local July 4th fireworks show. And I have to admit, the fireworks were WAY better than at home… thanks, Karl The Fog.
Instead of the typical red, white, and blue forced blogger ensemble, I just played up the blues. This shirt is my new favorite Uniqlo piece and I want it in every color. Paired with my relaxed basics, this outfit was a no-brainer. For packing light on this trip, from the girl who notoriously has overweight luggage, I would say that's a huge victory.
Baggage handlers somewhere between SFO and MCI still broke the handle on my luggage, though.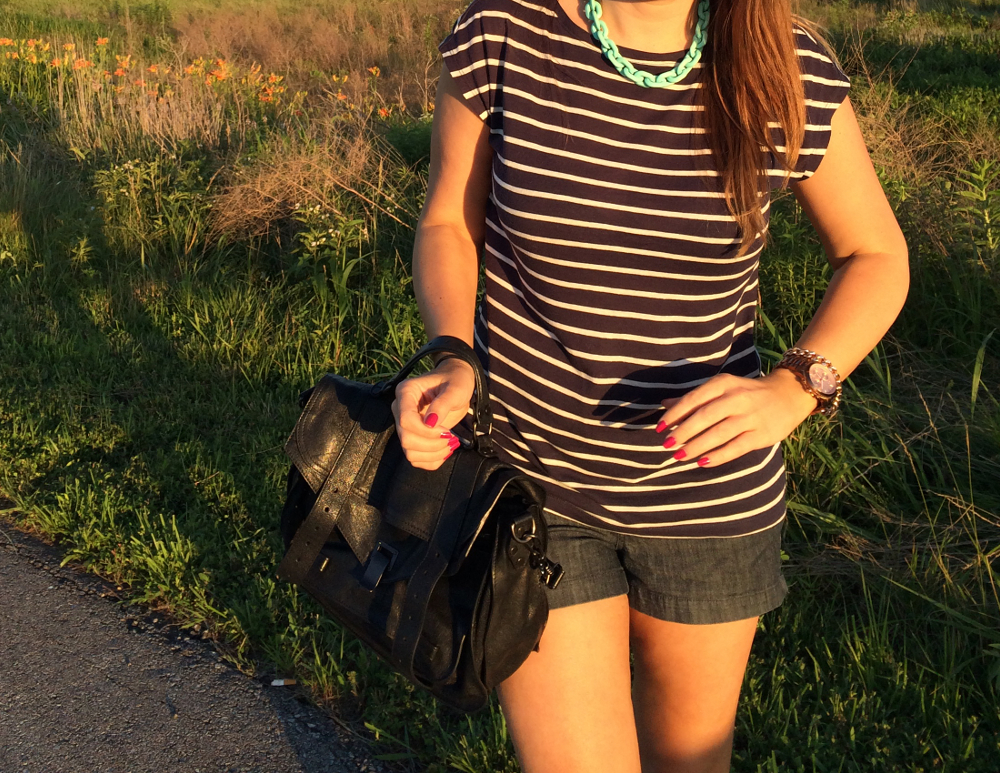 Viva la golden hour! Thanks so much for reading. Hope your July and summer are going well!