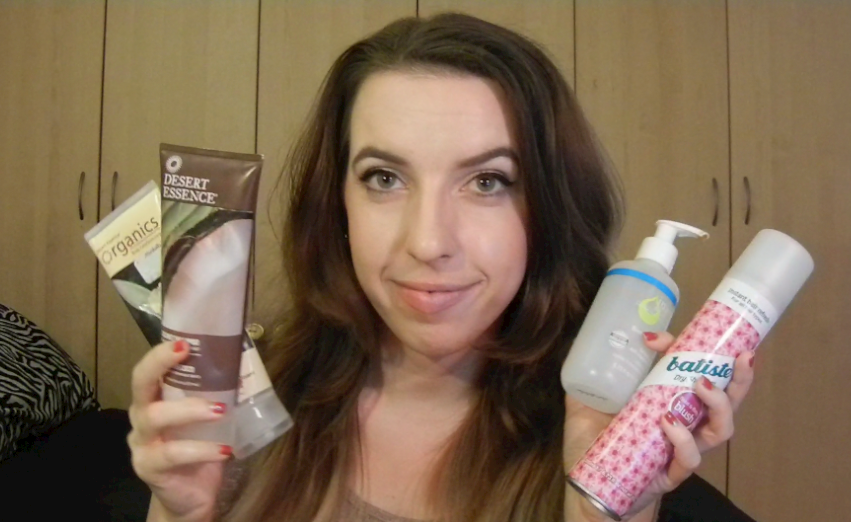 Last month I started using up products with a purpose… to clear through some of my more chemical-laden items to make space for newer, more natural alternatives. I'm on a mission to better hair and skin, and natural products seem to be the way to go. Not to mention, I am extremely sensitive to fragrances and other additives so I'm being proactive in avoiding them before I have an adverse reaction. Get the inside scoop on all the products I finished up and watch the video below!
Yes To Cucumbers Facial Towelettes
While these wipes are not my favorite at getting off makeup, I've found a way to make them work. The first step is to loosen up my makeup with jojoba oil, and then go in with a wipe to get off the last bit of residue. Alone, these wipes are just too stringent on the skin, and the formula isn't the best at dissolving makeup. I do enjoy that they are natural, and I'm totally fine with taking extra steps to get off my makeup. These aren't for everyone, but I think they're decent.
Yes to Tomatoes Blemish Clearing Facial Towelettes
It's important to note that these wipes are not geared toward removing makeup, as they are just meant for cleansing the skin. Acne-prone skin, to be exact, which is just what I have. I use these in a unique manner as well, where I'll cleanse my face with a face wash and then use one of these wipes after. I feel like the blemish-fighting ingredients need to go on bare skin to be at all effective, so there's not point of applying the wipe when your makeup is still on. These are so convenient if you're traveling and don't want to get out of your airplane seat, or if you're too tired to wash your face. You might notice that I finished up a lot of wipes as evidenced by these empties, so I thought I might mention I was traveling a little in June.
Beauty Treats Rose Makeup Remover Cleansing Tissues
I picked up a bundle of these wipes in various scents at IMATS LA. While they were an absolute bargain and were decently saturated, I knew they probably contained some ingredients I'm not too fond of. These wipes do contain parabens and I'm trying to slowly cut those out of my beauty & hygiene arsenal, so I won't be buying them again. The rose scent was nice, though, so these are a good affordable makeup wipe option.
Up & Up Cotton Squares
Not a month goes by without finishing a container of these. I use about four squares a day between makeup remover and toner, so it's not tough to blow through an entire pack. They're not the cheapest out there, but they do stay together better than other brands I've tried. I don't mind because they're super easy to replenish since they're from a store I frequent all too often… Target!
LUSH Buffy Body Butter
My legs have been abnormally tight and itchy these last few weeks, and the only thing that soothes the awful itching sensation is a nice body exfoliation. This is a product that will achieve that, without overdoing your skin This oatmeal-colored bar soap is extremely creamy and hydrating, but it's chock full of crushed almonds that deliver a powerful scrub. You almost feel as if you don't need a body lotion after you get out of the shower. It's crazy!
Queen Helene Mint Julep Masque
Remember those sleepovers in middle school where you and your friends would all do facials and manis? I do, and this was the product we used for at-home spa nights even way back then. This face mask does a great job at sucking blackheads out of pores, drying up acne, and helping your skin feel super clean. Sadly, it contains parabens but I've found a new nautral clay mask for my weekly facial routine. This is still a fabulous cult beauty favorite which is super affordable and easily accessible.
Elizabeth Arden Refining Toner
This is a product I'll be replacing with pure witch hazel moving forward, but this was actually one of my previous favorite toners. I recently just looked at the ingredients and I was bummed to see it contained parabens. Therefore, we have to part ways. If that's not a concern for you, definitely try to grab this toner on clearance at TJ Maxx. It's lightweight and soothing; not at all like a harsh alcohol-based astringent.
Generic Luxurious Almond Hand Soap
While I don't have a link to this exact product, I know it's the type of product I won't be buying again. Cheaper soaps that contain sodium lauryl sulfate tend to leave my hands feeling really dry and striped of moisture. I just hate that feeling, so I prefer more natural hand soaps and that's what I'll be buying from here on out. They actually aren't noticeably more expensive, they're just available at more specialty stores. I got this particular cheap hand soap at TJ Maxx just because I loved the sweet almond scent and there were no sulfate-free items in stock at the time.
Batiste Dry Shampoo in Blush
If you're a new reader or subscriber, you probably don't know my history with this product. I've been a loyal Batiste user for the past three years and I love it! I've tried many dry shampoos on the market and this one is the absolute best. While the product is a white aresol powder that instantly soaks up oil on hair roots, you have to pay close attention to blending if you have dark hair. It really does a fantastic job at soaking up oil, eliminating funk, and giving some extra volume at your roots.
Secret Outlast Antiperspirant & Deodorant Clear Gel
I use up just about one of these every month and it just works for me. I am way to sensitive to wear any scented deodorant and the clear gel just seems to be the best fit. Until I can find a natural deodorant that actually works, I'll be sticking with my trusty Secret Outlast.
Peter Thomas Roth 'Max Sheer' All Day Moisture Defense Lotion SPF 30
This is a nice whipped sunscreen that is actually nourishing enough to double act as your moisturizer. While this came in a gift set with my Clarisonic Mia, I used it sporadically over the past year and then I tossed it in my travel bag for my Midwest vacation where I finished it up. I really loved the consistency and feel of this product, but I was kind of bummed to see the price. I'm considering getting the Diorsnow sunscreen next, but I need to do a little more research on ingredients and reviews before I decide which to buy.
Desert Essence Coconut Shampoo
This is the best natural and vegan shampoo I've tried, and I can find it at my local grocery store! It's paraben, sulfate, and phthalate free, as well as cruelty free. The scent is absolutely divine and it lathers surprisingly well. You do have to use a little more than a typical shampoo, but that doesn't bother me at all because it's affordable. I really love this product and I'm hooked!
Desert Essence Vanilla Chai Body Wash
Since I love my Desert Essence shampoo so much, this was an exciting find at TJ Maxx. While I believe this scent is now discontinued, this body wash was the perfect amount spicy and sweet. It's free of all the yucky chemicals, just like the shampoo, but I found one tube did not last me that long. I would definitely buy this again, even more so if I found it at TJ Maxx for cheap. It also lacks all the chemicals I'm watching out for.
Juice Beauty Green Apple Peel Full Strength
I need to be more disciplined at using this on a more consistent schedule, but this peel is super effective at evening out my skin's texture and tone. I apply it to a freshly-cleansed and towel-dried face and allow the gel-like peel to set for about 10-15 minutes. Then, I'll rinse off and apply a lightweight night cream or moisturizer. I love that it's all natural and free of all the harmful chemicals I'm trying to stay away from. This is absolutely a product I will  buy again soon.
Juice Beauty Blemish Clearing Cleanser
I recently covered this cleanser in my paraben-free cleansers post and this is a gentle cleanser for people with acne-prone skin. It has a distinct smell and it's made of all kinds of different natural ingredients. You probably guessed it, but I should also mention that this product is free of parabens, propylene or butylene glycols, petroluem, sulphates, PEGs, TEA, DEA, phthalates, GMO, silicones, pesticides, artificial dyes or fragrances.
Juice Beauty Antioxidant Serum
While I enjoyed a sample of this serum, I wasn't able to use it long enough to form an opinion on it. Such is life with beauty samples!
Juice Beauty Cleansing Milk
This was a decent cleanser, but it didn't strike me as something suitable for my skin. I'm in need of a cleanser more geared for acne-prone skin. I'm sure this a nice cleanser for normal skin, though.
Juice Beauty Nutrient Moisturizer
I wasn't a huge fan of this moisturizer, but again, it was just a sample size so I didn't have it long enough to form a strong opinion on it. It felt like it was better geared toward normal to dry skin, and not my combination to oily skin.
Mineral Fusion Hydration Mist
While I raved about this product last month in my favorites, I found a cheaper alternative which is just pure rosewater. I really did like this Mineral Fusion mist, though. It helped reduce any powdery buildup on my face with a quick burst of refreshing hydration.
Burt's Bees Beeswax Lip Balm
I'm a Burt's Bees girl for life. I just love the minty feel of this lip balm and it works so well layered under lipsticks. This is a product I have in my purse at all times.
Rimmel Lasting Finish Blush in Pink Sorbet
This was a gorgeous satiny pink blush that gave a nice pink glow to the cheeks. The formula was great for the price, so I totally recommend it if you're on a budget or are looking for a blush at the drugstore.
What products did you finish up last month? If you did a monthly round up post or video, please leave your link in the comments. Don't forget to catch up on my empties and micro reviews from May, April, March, and more.