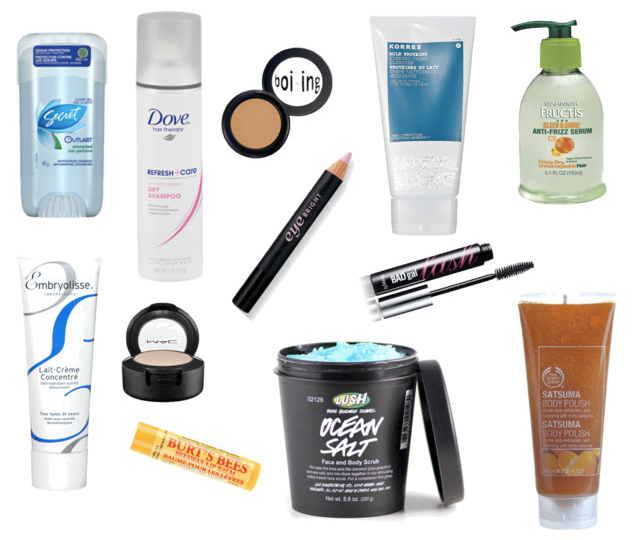 In April I really blew through my makeup products in an effort towards spring cleaning. I love finishing products up so much, I've continued on my empties video routine since September. Be sure to checkout my empties playlist on YouTube and all of my empties blog posts for more of my thoughts.
Here's a quick summary of all the products mentioned in the video.
elf Studio Bush in Pink Passion
This is a wonderful blue-toned bubblegum pink blush that's a bargain find at Target. elf's Studio line blushes run $3 and the quality is really top notch. While this blush is moderately pigmented, it can be worn sheer if you use a light hand during application. I love it for both day and night looks.
Benefit Boi-ing
This is a silky creamy concealer that is emollient enough to use under the eyes. I loved it since it had a salmon undertone that helped to correct my blue undereye circles and was great layered over Eye Bright!
Benefit Eye Bright
Eye Bright is great for brow highlighting, brightening, and undereye color correcting. The consistency is very easy to blend and the color is a nice light pink color that brings light to the face. I am definitely going to buy a full sized pencil of this again soon!
MOR Cosmetics Emporium Collection Hand Cream, Neroli Clementine
I am a hand cream junkie and I absolutely loved the smell and texture of this one by MOR. The formula was thick and hydrating, but not something that takes an eternity to absorb into the skin. The clementine fragrance was delightful and a hit with this citrus scent fanatic. It contains shea butter and cocoa seed butter that really nourish. I also love that MOR does not test any of their products on animals.
MAC Studio Finish Concealer in NW20
This is a cult beauty favorite and it really works wonders on acne. It's not the best at concealing undereye circles as it's an extremely dry formula, but it works wonders concealing the redness around my nose and spot concealing pimples I sporadically get all around my face. One tiny pot lasts a long time, so be sure to use it up within a year of purchase since the formula can become even more dry and a little harder to work with.
Laura Mercier Foundation Primer
I tried this sample packet and found it to be nothing extraordinary.  I know that Laura Mercier carries an oil free version that I might be more interested in trying, but the fact that this product contains mineral oil made it an already iffy product for me. It didn't perform wonders on my skin so this isn't something I'd shell out money on.
Smashbox Photo Finish Hydrating Primer
I'm a huge fan of the Photo Finish Light since I have combination to oily skin, so I didn't have high expectations for this product working well for me. I tried it after I had a facial including a chemical peel and microdermabrasion, and I found this product was decently able to help makeup smooth on over my scaly and peely healing skin. Again, this was a sample packet size so I wasn't able to try the product out extensively.
Jergens Daily Moisture Lotion
I'll be honest and say I disliked this product based on the ingredients alone. This product contains a lot of parabens which I'm not OK with. It also had a very chemical-like smell that I was not too fond of. I did appreciate that it was thin and absorbed into the skin quickly, but in the end I would much prefer a more natural daily body lotion.
Benefit BADgal Lash Mascara
This used to be one of my favorite mascaras, but I'm not sure what happened. It's way different than I remember. This mascara is known for giving your lashes a thick, dark black, voluminous appearance, but this time around it didn't have the 'wow' factor I remember.
Burt's Bees Lip Balm
Burt's Bees seems to have a love-hate relationship with the beauty community. The sides are quite divided and some people say it's super hydrating and others say it is not. I personally love the waxy feel and intense peppermint oil sensation in this cult classic lip balm. I love it for protecting my lips from the wind and elements, and also for layering under lipsticks. It keeps my lips smooth, protected, and smelling great.
Embyrolisse Lait-Creme Concentre 24-Hour Miracle Cream
I've talked about this moisturizer again and again; it's simply amazing! I love it so much I buy it in bulk at the annual IMATS event. It's light yet extremely hydrating, and it's suitable for all skin types.
Korres Milk Proteins Foaming Cream Cleanser
This is my favorite basic cleanser because it's effective and gentle. It works fabulously with the Clarisonic and melts your makeup off instantly. It will never leave your skin feeling tight and stripped. It's paraben free and smells amazing, too!
Lady Gaga Fame Eau de Parfum
I've raved about this fragrance before in my review on OMGbuymeTHIS, but let me say it again: it's AWESOME. The scent is intoxicatingly sexy and is perfect for nighttime wear. I only used up a sample, but this is, without a doubt, the next full size fragrance I buy!
The Body Shop Dreams Unlimited Eau de Parfum
This fragrance was nice, but not as special when compared to the Lady Gaga Fame. I think it's a great scent for the price though, and definitely something worth smelling next time you visit The Body Shop.
Dove STYLE+care Refresh+Care Invigorating Dry Shampoo
While I love my Batiste, I thought it was time for me to venture off and try something new in the world of dry shampoo. This dry shampoo by Dove is both cheaper and much more accessible, and actually quite good! It's less heavy than the Bastiste, and almost as good at absorbing oily residue that builds up on day two and day three unwashed hair. The scent is extremely fruity and floral, but not too much for someone as sensitive to smells like I. It doesn't produce the volume like Batiste, but still gives you something to work with. I think this is an excellent drugstore dry shampoo definitely worth a try.
Garnier Fructis Sleek & Shine Anti-Frizz Serum
This is a product that can be a complete fail if you apply to much. I used 3/4 to a full pump of this on 90% dry hair just before blowing out with a round brush. It helped smooth down fly aways and control frizz, which I liked. If you apply any more than that, your hair can become a greasy, oily, flat, stringy mess. I won't be buying this again since I've moved on to a more high end serum by Kerastase, that I think has some higher quality ingredients. I also won't be buying this again because of a recent news story last year of a woman burning her hair off with this product. While I don't apply heat like that, I am too afraid of my hair burning or getting extremely damaged from the close proximity of my blow dryer. I've already had enough hair breakage from bleach, so I steer clear of anything that might severely damage it again.
Secret Outlast Antiperspirant & Deodorant Clear Gel
Not much to say here besides this is my everyday deodorant. I like it because it's clear, dries quickly, has no scent, and it keeps me from smelling or profusely sweating all day. I would love to find a natural alternative but so far I've found nothing that works as good as this one.
Skintimate SignatureScents Moisturizing Shave Gel in Strawberry Tangerine Twist
I've used this shave gel for ages and I'm pretty bored with it. It works but just doesn't excite me anymore. I've also purchased two new cans that have clogged up just after opening, so that's a total bummer. But until I can get a solid recommendation for an alternative  I think I'll just keep defaulting to this line and the other scents since they're satisfactory. Hoping to find something just as good that's all natural.
The Body Shop Satsuma Body Polish
This was a great gentle body scrub, but I just hated the packaging. The pop lid wouldn't come undone without me using my teeth, so I had to leave it ajar and standing upside down in my shower so the product wouldn't leak out. The actual scrub is great with medium size granules in a jelly gel.
LUSH Ocean Salt
If you love margaritas and exfoliating, this is a product made for you. Ocean Salt is an intense scrub made from lime, coconut, vodka, and chunky sea salt. While LUSH says this can be used for both face and body, I generally use this only on my body. The vodka scent is just too strong to use it on my face. For the body this works as a great prep before shaving that will leave your skin smooth and totally supple.
Up & Up Cotton Squares
I use these basic cotton squares both with toner and my makeup remover (pure jojoba oil). They hold up decently and are moderately priced so I always just stick with them since they're convenient.
Beauty Treats Vitamin E Skin Brightening Natural Pearl Mask
I wasn't too fond of this mask as it didn't really do anything for my skin. I figured it wasn't right for my skin type since it's more suitable for people with dry skin needing extra hydration. I've tried several sheet masks from this line and this was my least favorite.
What have you finished up most recently? I try and use up what I've got to get my money's worth but also make way for new things to try. It's a rewarding and bordering on dangerous cycle, but I'm loving it!