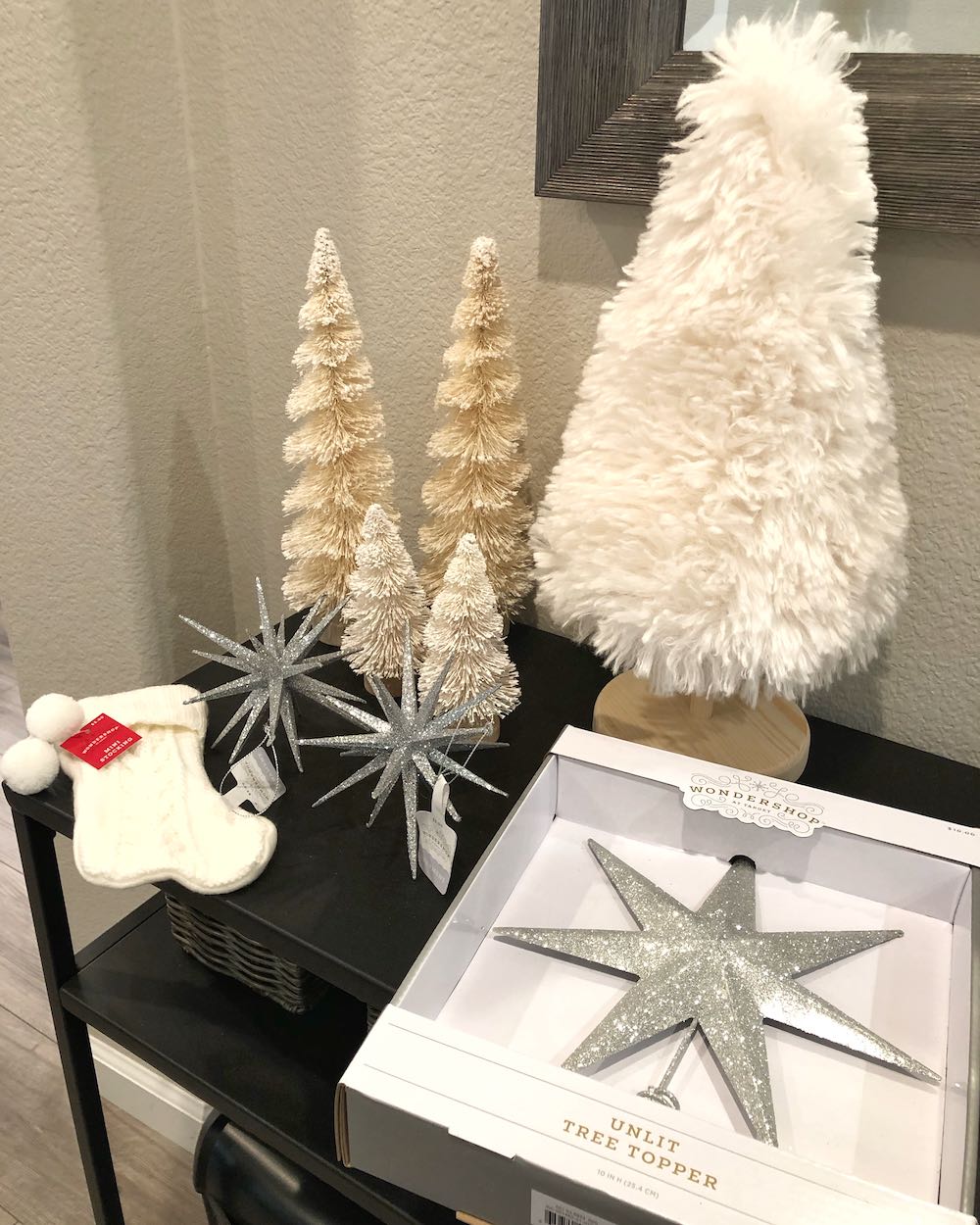 The 2021 Target Wondershop holiday decor is here! I spent some time at Target's Wondershop section last week, picking up some new classic and neutral holiday decor to supplement my growing holiday decor collection. Having moved into a house from an apartment about 2 years ago, I was pretty much starting from scratch with decor options. Here are some new Target holiday decor things I picked up that you may want to put on your radar. Target Wondershop has a great selection of trendy and classic holiday decor options, and plenty in my preferred neutral color palette of white, cream, and silver. The best part is that so many of these items are affordable. Here's everything I bought!

Bottle Brush Trees
I grab a few of these bottle brush trees every year to decorate all kinds of space with. These look great on mantles, console tables, table centerpieces, bar carts, bookshelves, dressers, and more. What's more, they're one of the most budget-friendly festive decorations that don't take up too much space. Target sells a variety of colors and sizes of these in both the Wondershop and Bullseye's Playground (Dollar Spot). This year I picked up bottle brush trees in green, cream, and white. Last year, I got a bunch of green flocked bottle brush trees in various heights. I have enough bottle brush trees now to make a mini forest!

Faux Fur Tree Skirt
Last year I DIY-ed a tree skirt using a faux fur area rug, but it honestly looked so bad. With the curved hem it just looked messy wrapped under the tree. I was too late to find an actual white faux fur tree skirt in-store last year. This year I decided to shop early. I found this white faux fur tree skirt in the Target Wondershop and it was exactly what I was looking for.

Fluffy Faux Fur Tree
This is my absolute favorite thing I hauled and it was the last one I saw in-store! This super fluffy and soft faux shearling tree sits atop a light birch wood stand to make the most perfect Scandi holiday piece to decorate any cozy neutral space. Hygge goals, right? Comes in two different sizes: 16 inch and 12 inch. I bought the larger one but may grab a few more.

Silver Ornaments, Garlands, & Tree Toppers
My Christmas tree has a silver color palette so I recently found these new items to add into the mix. The silver glitter starbust ornaments are a beautiful shimmery finish, which matches the simplistic glitter star tree topper. Snowflake ornaments work really well in with this aesthetic too. Finally the shiny foil star garland is an affordable item to add a bit of sparkle and glitz to any tree, mantle, bar cart, or other area you want to make more festive.

Matching Holiday Pajamas
This year Target Wondershop has matching holiday pajama sets for the entire family, in both classic red buffalo check and white buffalo check print. They have them in mens, womens, and childrens sizing. The two-piece styles are my favorite, but they also come in a nightgown style.

Mini Cable Knit Stocking
These tiny cable knit stockings are adorable, I just couldn't resist the cable knit and pom pom details. These would be perfect for any small space, or to represent a smaller family member on the mantle. I know what you might be thinking… and no, I did not get this for a pregnancy announcement. I got this for our newest member of the family… our kitten!

Peppermint Candy Canes
Candy canes are a forever holiday staple. I love displaying them on my bar cart for quick access during the holiday season. Candy canes go great with hot chocolate or even adult hot chocolates when combined with some Peppermint Schnapps. Maybe even in an Irish Coffee. I also like to add them to presents, affixing them to ribbons, bags, or gift tags if possible. It makes a really festive touch!

I held back on getting an excess of items, so there were many more items I was admiring that I didn't buy. I really loved the look of the Wondershop faux fur garlands and pom pom garlands. What was your favorite Target Wondershop item this year? Let us know in a comment below!
Like this post? Be sure to read some of my other home decor posts before you go. Stay tuned for more holiday decor, gift guides, and Cyber Week content coming soon!