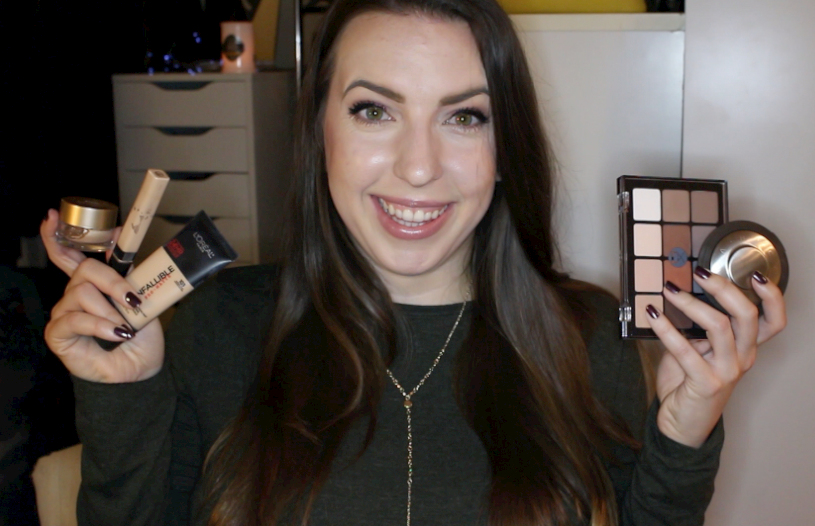 It's been a while! My last favorites was in August, so I've been evaluating my makeup over the past few months to give you a mega edition of favorites! There's a good mix of both high end and drugstore favorites here, plus some new hot items and limited edition products as well.
Watch the video below and scroll ahead to read more of my thoughts on the products mentioned.
PÜR Eye Polish Pure Pigment Eye Primer + Top Coat (c/o)
If you love multitaskers, this product is for you. These Eye Polishes can be worn as either a stand alone shadow, or a base for other powder shadows. They're pigmented, yet thin in consistency, so they dry quickly on the eye. They look amazing on the lids, and are so simple to use. Velvet and Silk are my favorite shades, and for something even more wearable I recommend Cashmere and Satin.
butter LONDON Shadow Clutch Palette in Natural Charm (c/o)
This is a wonderful versatile and convertible palette with a mix of mattes and shimmers. The shades are highly pigmented and while I've been loving the mattes most so far, I'm slowing experimenting with the shimmers. I love that you can rotate in other singles making this palette ideal for travel.
Viseart Neutral Matte Eyeshadow Palette
The hype on this palette is well deserved. The shadows are rich, pigmented, and blend like a dream. They don't kick up a ton of powder, so you never grab too much on your brush. Warm tones tend to look better on my complexion, so this palette was made for me.
L'Oreal Infallible Matte Foundation
It's been a while since I've tried a drugstore foundation, because I honestly tend to prefer high end. I was pleasantly surprised by this one because it reminded me a lot of Make Up For Ever Mat Velvet +. Applied with the Real Techniques Complexion Sponge, this foundation delivers a medium coverage which dries quickly and lasts through an entire workday. It's not as long lasting as Colorstay Whipped or Double Wear, however it is much lighter feeling on the skin. This is now a foundation staple in my collection!
Maybelline Fit Me Concealer in Fair
A great concealer for less than $4? SIGN ME UP! I regret avoiding trying this for so long. It's pigmented yet thin in consistency, so it's perfect for blending under the eye.
BECCA Shimmering Skin Perfector in Champagne Pop
I rarely wear highlighters, but when I do, I want something bold and beautiful. Champagne Pop is a true champagne gold that delivers a strong peachy golden glow to the skin. Fair warning that this is the Jaclyn Hill collaboration, so it is limited edition! Scoop it up now before Sephora gets crazier as we get closer to Christmas.
Hourglass Arch Brow Sculpting Pencil in Warm Blonde (c/o)
If there's a time to perfect your brow game, it's the winter! Partly because your brows are less shielded than in the summer, when they are always behind sunglasses. This brow pencil is phenomenal; it has a very natural finish, contains a ton of product, and offers a robust shade selection.
Bite Beauty Matte Crème Lip Crayon in Glacé
Dusty mauves are so in right now, and this lippie is right in line with the trend. Glacé pulls slightly more brown on my lips, which I love because it's so outside my norm. This crayon is incredibly comfortable to wear and is also longwearing, so I'm super impressed with the formula!
Primal Pucker Paste in Vanilla Peppermint (c/o)
Swag bag score! I love that this balm has a sweet yet fresh scent and glides amazingly on the lips. If you dislike the waxy texture of Burt's Bees, you would definitely enjoy this lip balm instead!
butter LONDON Nail Polish in "Lust or Must" (c/o)
I've been wearing this chocolatey brown polish non-stop since September. I've never been a brown nail polish person before, but I can't get enough of this one!
NARS Nail Polish in "Tokaido Express"
This is an oldie but a goodie in my collection. It's a shimmery deep purple which wears really well.
CoverGirl x Star Wars Nail Polish in "Nemesis"
Yes, they just slapped a Star Wars sticker on this. And yes, I am a sucker. I love this deep plum creme for the fall and it's just one more thing to get me pumped for the movie coming out soon!
What have you been loving recently? I'd love to know!
Stay tuned for another edition of empties coming up soon. Thanks for reading!