Capris: Old Navy | Headband: Old Navy | Fitness Tracker: Fitbit | Shoes: Merrell | Socks: Thorlo (similar)
You might have already heard, but a few weeks ago I got to attend Mudderella with St. Ives! A complete newbie to obstacle courses, and a closeted freak for American Ninja Warrior, I jumped at the opportunity. St. Ives sponsored the event and provided a decked out Rinse & Revive station at the end of the circuit. But worry not, the warm shower station was California drought-friendly!
The event begun with a pumped warm up session, then a high energy countdown at the starting line. Next followed a long track that we mostly jogged, which led into a piggy back ride. From there, the obstacles from there got slightly trickier and trickier, but there wasn't any single obstacle I skipped. While each location course varies, by obstacle #2 we were down on all fours in the mud.
One of my favorite obstacles was Ain't No Mountain High, which was a series of deep pools of mud separated by steep, slick muddy walls. For this challenge, you definitely needed to lean in to your team and surrounding team members for a hand up the wall. Without a doubt, this was where I got the muddiest! I thought it'd be really uncomfortable and gross, but I actually enjoyed getting dirty for once.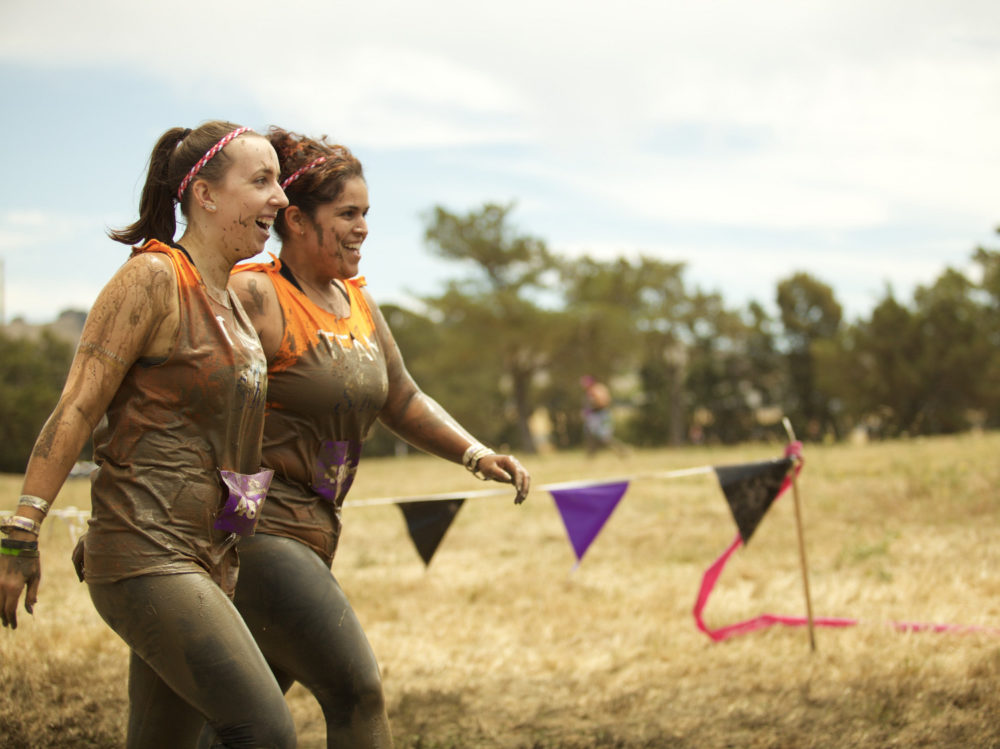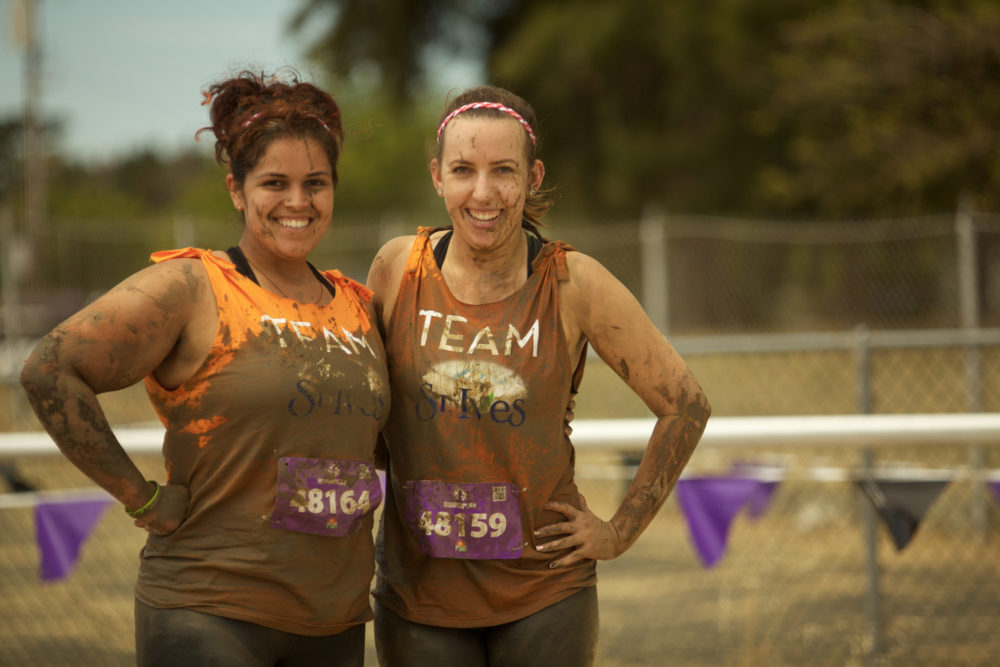 The scariest obstacle for me was definitely the Hat Trick; a steep rope ladder and mega water slide starting with a near vertical drop. I can't believe I climbed that high so quickly and faced my fear of that terrifying slide. From there, the finish line was within sight.
Overall, I think that anyone can complete this course with an open mind. Honestly if you're more advanced with fitness, this circuit may be too easy for you, but you could certainly push yourself to do it in a shorter amount of time. The 5.5 mile course took us about 2 hours, with a small wait for a few obstacles. While I didn't suffer from pain too much on event day, the soreness was real on day two and three.
And finally, it was time to get clean. I've been a long time fan of the St. Ives Apricot Scrub, but in recent years I've moved on to other things. But since revisiting it, I'm glad to see that that the scrub and many of the products in the range are now paraben-free. I love using this scrub most for my neck and shoulders, but after the race it was perfect for sloughing off the mud all over. Two new-to-me products are the Oatmeal & Shea Butter Body Wash and Coconut Milk & Orchid Extract Fresh Hydration Lotion. The body wash is rich yet not heavy, and the lotion is light yet hydrating. Both of these products smell divine and are now shower staples for me.
Getting cleaned up after the race with fresh smelling, naturally-based, and radiance-boosting products was the icing on the cake for this great experience. It's safe to say, I'm now pretty much hooked on these events. Have you tried anything like Mudderella before? I would love to know in a comment below so I can check it out. I might not be ready for Tough Mudder just yet, but I'm willing to give it my best shot!
Disclosure: I got to attend Mudderella on behalf of St. Ives. All opinions are my own.