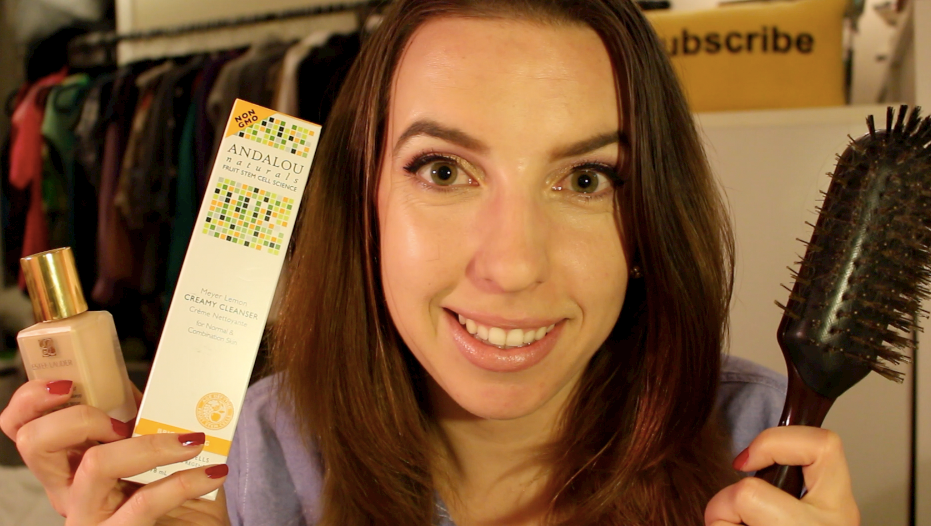 This month I have a fantastic selection of products I really stand behind in my monthly favorites. Some are new and others are old faves making another cameo. It's that time of year where I really dial in on my skin care and body care, and step it up a notch with heavier makeup, so here's what I've had in heavy rotation in October.
Caudalie Hand and Nail Cream
This is the hand cream that never leaves my bag, and let me tell you it's worth every penny of the $15 price tag. Caudalie's hand cream formula is thick yet easily absorbed, delivering considerable moisturization without leaving your hands greasy or sticky. This product is paraben-free and made with high quality ingredients. I especially love the smell which is somewhere between grapeseed and citrus, which is friendly enough for both males and females, and not overly fragrant or offensive for work!
Estee Lauder Double Wear Stay-in-Place Makeup
If you're looking for a high coverage matte foundation that will last all day, Double Wear is the first and the best foundation that comes to mind. The formula is a little thick, so apply in thin layers to get the finish and coverage you're comfortable with. This is the next step up from Covergirl Outlast Stay Fabulous, if you have oiler skin or just need something with a heavier coverage.
Andalou Naturals Creamy Cleanser, Meyer Lemon
While I usually go for an acne-targeting cleanser, I like to switch it up every now and then and go with something aimed at brightening. This potent natural cleanser feels amazing on the skin and smells divine. If you're looking for a natural cleanser that works well, look no further than this one. I've seen the redness in my face reduce significantly since using this product, so I'm eager to try more stuff from the label. I might also add, they are GMO-, paraben-, and sulfate-free, and use mostly organic and fair trade ingredients. This product is vegan and cruelty-free as well.
Real Techniques Brushes
If you're looking to expand your drugstore makeup brush collection, Real Techniques is a line you shouldn't miss! The colorful handles, fun packaging, and great store displays are just a few of the reasons, but these synthetic brushes are honestly surprisingly awesome at makeup application. I've been loving the blush brush, eye brushes, and contour & buffing brushes for my every day routine as of late. Since the brush fibers are synthetic, they are excellent for applying cream or liquids since the hairs don't absorb the product as natural hairs do. The quality is fantastic and rightly so considering the line was actually created by a YouTuber and pro makeup artist, Samantha Chapman, of Pixiwoo. Best of all? They're super afforable.
Kellie Little Groove Elliptic Brush
In the short time I've had this brush, it has worked absolute wonders on my hair. The ergonomic design plus the well thought out mechanics of the two types of bristles help tame down my unruly fine hair by simultaneously detangling and adding shine. The longer synthetic bristles feel amazing on my scalp, and my hair has never felt smoother. There are just too many amazing features and benefits to mention here, so I'll have a more in-depth review video and blog post coming on this revolutionary brush in the near future. If you thought a hair brush was just a hair brush… think again.
I've been kind of slow on the fall trends this month, but I suspect I will have a few darker lip colors and nail polishes in next month's favorites. As the weather cools down, what have you been loving recently? Please leave me a comment because I would love to know and scope it out.
FTC disclosure: I received the Real Techniques Brushes (via Klout) and the Kellie Little Groove Elliptic Brush for consideration to review. I liked them both so much I've decided to share the experience with my readers. I am not being paid or otherwise compensated for mentioning or giving a favorable review. This is my honest opinion of the products.
Related articles