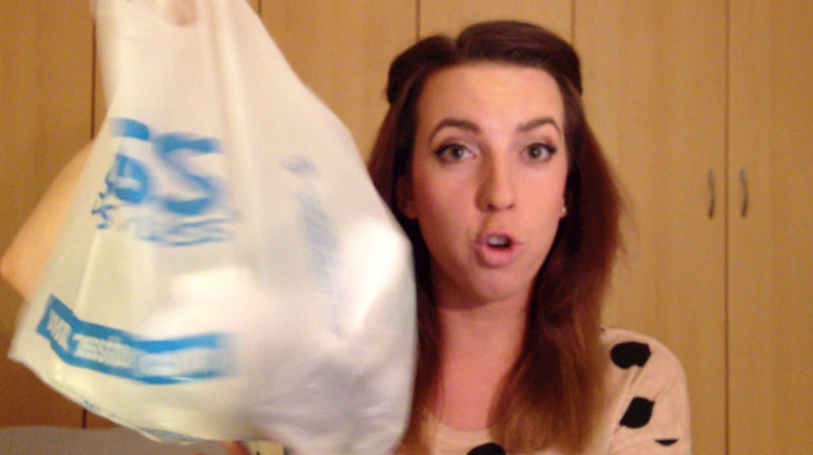 Another month has passed and my resolution to buy less products and use up more is well underway. I didn't write an accompanying blog post for my February Empties but I thought I'd share what I finished up during March. Last month I used up a heap of products sitting in my bathroom cabinet that I'd like to share my opinion on. There were a lot of loves, a few "mehs", and a few flops. Watch the video below or skip ahead to the product summary below.
Here's a quick recap of all the products mentioned in the video:
Vaseline Cocoa Butter Lip Therapy
This is a fabulous night time moisturizer for your lips that's pretty much just cocoa butter-scented Vaseline. Extremely thick and moisturizing. Not good for day time use and it's hard to layer any lip color on top. I'm looking for a natural alternative to this product, so if you can recommend a natural petroleum jelly-like balm, please leave it in a blog comment.
Laura Mercier Creme De Pistache
This is a wonderful hand cream that smells absolutely heavenly. The formula is thick and creamy but easily blendable. It absorbs quickly so you can go on with your day, which is really important for me. I keep one in my purse and one on my desk at work.
L'Oreal Voluminous Carbon Black Mascara
This mascara is the absolute best I've tried from the drugstore. The brush is thick and makes your lashes thick, voluminous, and flirty. Just be sure to swap it out every three months or so because the formula can dry out and turn flaky. But also after three months mascara can turn into a petri dish of bacteria, so try to cycle a tube in and out every three months for safety reasons.
MAC Eyeshadow in Vex
Vex is a highly underrated MAC eyeshadow that not a lot of people know about. It's a great unconventional color to have in your collection for both subtle and dramatic smoky eye looks. It's a cool silver shade with a pearly pink and green shimmer that runs through it. It reminds me a lot of fish scales; it's really a special shade.
Chanel Perfection Lumiere Longwear Flawless Fluid Makeup SPF 10
I was on the hunt for a high-end, long-wearing foundation and I got a sample of this at Nordstrom. I liked it, but still prefer my Diorskin Forever foundation a bit better. Smells lovely, blends nicely, and has a great baseline SPF. I just felt Dior's lasted a little bit longer.
Smashbox 'Camera Ready' BB Cream SPF 35 Light
This is one of the few face products I've ever bought on a whim, and it totally backfired. I did not like this product at all. This provided poor coverage, felt greasy on the skin, and never really set so it felt slippery all day even if I set it with a powder. On the other hand, I liked the SPF 35. If you have drier skin and have less skin imperfections, this product might work better for you. As someone with combination to oily skin, with moderate acne and redness, this product did not work for me.
Revlon Colorstay Whipped Creme Foundation
I love this foundation for an everyday face, applied with a damp Beauty Blender sponge. The coverage is medium to full and it truly lasts all day. It contains no SPF, photographs beautifully, and has a nice satin to matte finish on the skin. I wear shade 200 Sand Beige and I'm around a MAC NW20 for reference.
Beauty Treats Makeup Remover Wipes
I used up a container of both the Green Tea and Aloe scents last month – one pack at my place and the other pack at my boyfriend's place. The wipes were pretty saturated and took off my makeup pretty well. I don't wear waterproof makeup so I'm not sure how well these would work with waterproof mascaras, eyeliners, and so forth.
Trader Joe's 100% Pure Jojoba Oil
This is what I use to get off the last little bit of stubborn eye makeup that won't come off with a wipe. I never want to tug a makeup wipe around my eyes so I like having pure jojoba oil on hand to melt off that last remnant of eyeliner and mascara. You can't buy the Trader Joe's brand online but I'm pretty sure Desert Essence manufactures them because the products and packaging are identical, and I've used both for years.
Lubriderm Daily Moisture Lotion for Normal to Dry Skin
This is a decent light lotion that absorbs quickly, I just dislike that it's not fragrance free. It smells slightly chemically, which I don't like. I like thin lotions for daytime use so I don't have to wait to put on jeans in the morning. Ain't nobody got time for that!
Boots Botanics Organic Rosewater Toner
I use up one of these toners just about every month. It's gentle and helps to rebalance the skin after cleansing and before moisturizing. It smells like rosewater and is very soothing. I love this stuff!
The Body Shop Strawberry Hand Wash
This soap smells lovely, but I think there are better formulas out there. I prefer the Conditioning Hand Wash by The Body Shop which doesn't make my hands feel stripped of moisture. Sometimes you can find these for about 50% off at Marshall's, TJ Maxx, or Ross, so I recommend shopping there.
LUSH Dirty Springwash Shower Gel
This is a nice invigorating shower gel that smells of eucalyptus, peppermint, and menthol. Like all the LUSH products, this is vegan friendly and cruelty free. I still prefer Dr. Bronner's Peppermint Pure Castile Soap because it's more concentrated, less expensive, and still gives off that strong, minty awakening scent.
White Barn Sandalwood Vanilla Candle
If you're looking for a sophisticated sweet scent, I highly recommend Vanilla Sandalwood by White Barn. It has primary notes of vanilla with undertones of amber, caramel, and juniper. The overall scent is mild, and it's not as nauseating as the cupcake, warm vanilla sugar, or vanilla frosting scented candles can be after a few hours of burning.
Yes To Tomatoes Daily Pore Scrub
I recently reviewed this on my other blog as a great natural scrub geared for acne prone skin. It's a mild exfoliant with fine, circular granules, that's gentle enough to use everyday. This product is also paraben-free, which I love.
Beauty Treats Creamy Face Masks
Last month I tried a few different masks by Beauty Treats that I picked up at IMATS LA. The Cucumber Peel-Off mask was fine but peeled off a little patchy. The Papaya Deep Sea Mud Mask was nothing special. Lastly, the Hydrating Coconut Mask definitely helped sooth some of the flaky dry patches on my face, but did nothing for the rest of my skin. None of these masks individually gave me overnight results, but cumulatively they did help rebalance my combination skin.
Beauty Treats Sheet Face Mask
I don't use sheet masks all that often, but I really liked this Green Tea Vitamin C mask by Beauty Treats. It was extremely relaxing and soothing right before bed. My skin definitely felt more balanced and moisturized after, but please note I had been using masks every few nights for the previous two weeks.
Yes To Cucumbers Single Serve Face Mask
This was a traditional clay style mask that dries and is washed off at the end. I like that it's natural, but this mask wasn't anything real special.
Fekkai Ageless Shampoo & Conditioner
I tried a sample of this shampoo and conditioner last month and it was OK. Worked decently, but they contained sulfates so this is not something I'd purchase with my own money.
ENJOY Sulfate-Free Luxury Shampoo
If there's one salon shampoo I absolutely adore, it's this one. It's thick, creamy, and lathers fabulously. It smells like tropical fruit and coconuts and is absolutely lovely. It's expensive, but worth the money for a quality shampoo. Try to get it at Ulta with a coupon.
Macadamia Natural Oil Travel Size Healing Oil Treatment
This is a nice hair oil that you can use on both wet and dry hair. This travel size is great for the girl on the go. I like this product, but I still prefer my Moroccanoil Light as I have fine textured hair and that product has less of a chance of weighing my hair down.
It's a 10 Miracle Leave-In Treatment
My damaged, color treated hair cannot be brushed without this stuff. It does so many things besides detangling, too, but detangling is my primary hair care concern when I get out of the shower. But, I recently tried It's a 10 Miracle Leave-In Treatment Plus Keratin and it's totally worth the few extra bucks if you have damaged hair that needs extra protein.
Have you been trying to finish stuff up in an effort for spring cleaning?