TwitchCon San Diego was a blast earlier this October, let me recap everything I wore! If you didn't already know, I started streaming retro games on Twitch last fall and as a Twitch streamer with a growing channel I wanted to attend TwitchCon to learn from established content creators from all over the world. Also, I hadn't been to San Diego in over 15 years so it was about time for another trip. I got to meet so many other Twitch streamers and even a few members of the Twitch staff. The networking with all the brands in the expo hall was great. And Megan Thee Stallion headlining the sold out convention after party made the ticket well worth the price.
It was my first year attending this event and I am so glad I packed the following outfits. Each day I did around 15k steps around the San Diego Convention Center, so being comfortable was key. I packed a mix of dresses, two piece sets, and comfortable tops and bottoms I could mix and match for each day and coordinating activities. TwitchCon also had a no-backpack policy, so I just brought a wallet on chain and my clear stadium bag to carry my essentials around.
What I Wore to TwitchCon San Diego
TwitchCon San Diego Day 0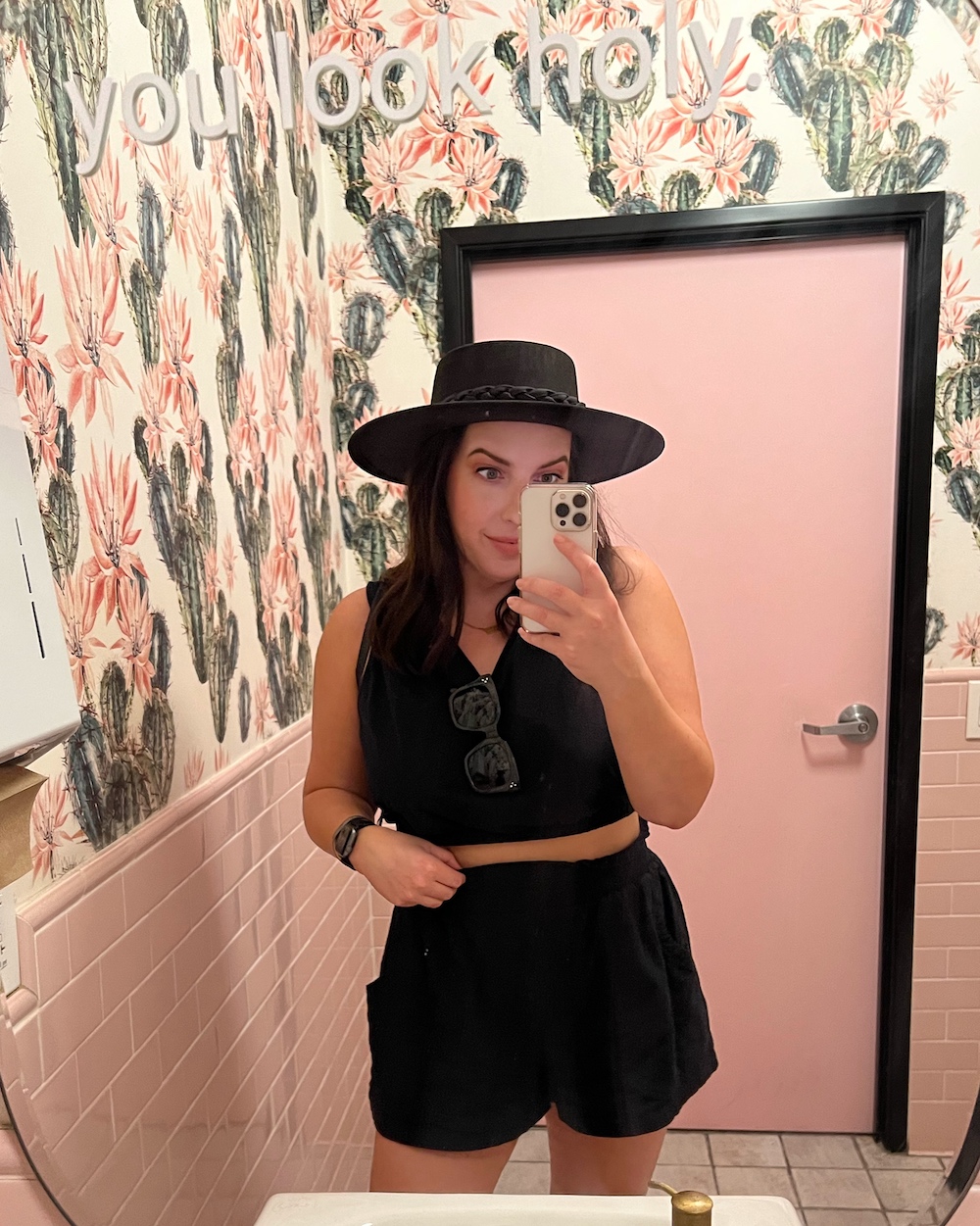 Day 0 was badge pickup day, hence the choice of sandals! I picked up my badge at the convention center, then went to get tacos and afternoon matcha.
Matching Set: Amazon | Hat: Walmart | Sunglasses: Amazon | Sandals: Rothys
TwitchCon San Diego Day 1
Shirt: Uniqlo x Final Fantasy Collection | Joggers: Zella | Sunglasses: Amazon | Sneakers: Adidas | Bag: Packed Party
Day 1 was crazy! While I loved my outfit this day, I was really hot in it. I started this day early with playing DDR on the expo floor hall, because why not. But if you want to wear a video game themed t-shirt like I did, this is the place to do it at.
TwitchCon San Diego Day 2
Romper: Amazon | Sunglasses: Amazon | Sneakers: Adidas | Bag: Packed Party
Since I got kinda hot in my long pants on day 1, I decided to go with this short flowy romper on day 2. The fabric is really swishy and light, perfect for a hot and sweaty crowded convention center.
TwitchCon San Diego Day 2 After Party
Dress: Adore Me | Faux Leather Jacket: Zara | Sneakers: Adidas | Bag: Louis Vuitton
For the TwitchCon After Party at PetCo Park, I went classy, boujee, ratchet in honor of our queen Megan Thee Stallion performing. I didn't have much time between the convention and the concert to do anything super festive, like glitter, wigs, or festival wear. I did however put on some false eyelashes to glam my look up. Bringing the faux leather jacket was absolutely necessary since it was a little cold at times.
TwitchCon San Diego Day 3
Dress: Amazon | Sneakers: Adidas | Bag: Packed Party
For the final day, I went with a midi length bodycon dress with the same white sneakers. Sunday was the hottest day by far, so I'm glad I skipped brining a jacket.
Packing for the next upcoming TwitchCon? This is what I would pack for that trip, assuming it's in a city similar in climate and season to San Diego, California.
TwitchCon Packing List
Clothing
Accessories

T-Shirt
Joggers
Jeans
Shorts
Romper
Midi Dress
Leather Jacket
Jean Jacket

Sneakers
Socks
Sunglasses
Hat
Jewelry
Clear Stadium Bag
Wallet On Chain
Face Mask
Are you a Twitch community member, affiliate, or partner? I'd love to hear your thoughts on TwitchCon in a comment below. Did you attend TwitchCon 2022 in San Diego? If so, what did you think? I had so much fun going and I look forward to seeing what North American city will host TwitchCon next.
Don't forget to follow my Twitch channel because I stream retro video games three nights per week! Think classic games like Sonic The Hedgehog and other games from the SEGA Genesis, Playstation, and even Playstation 2 era. I am just weeks away from my one year anniversary on Twitch and I'm excited to see where my channel will go from here!