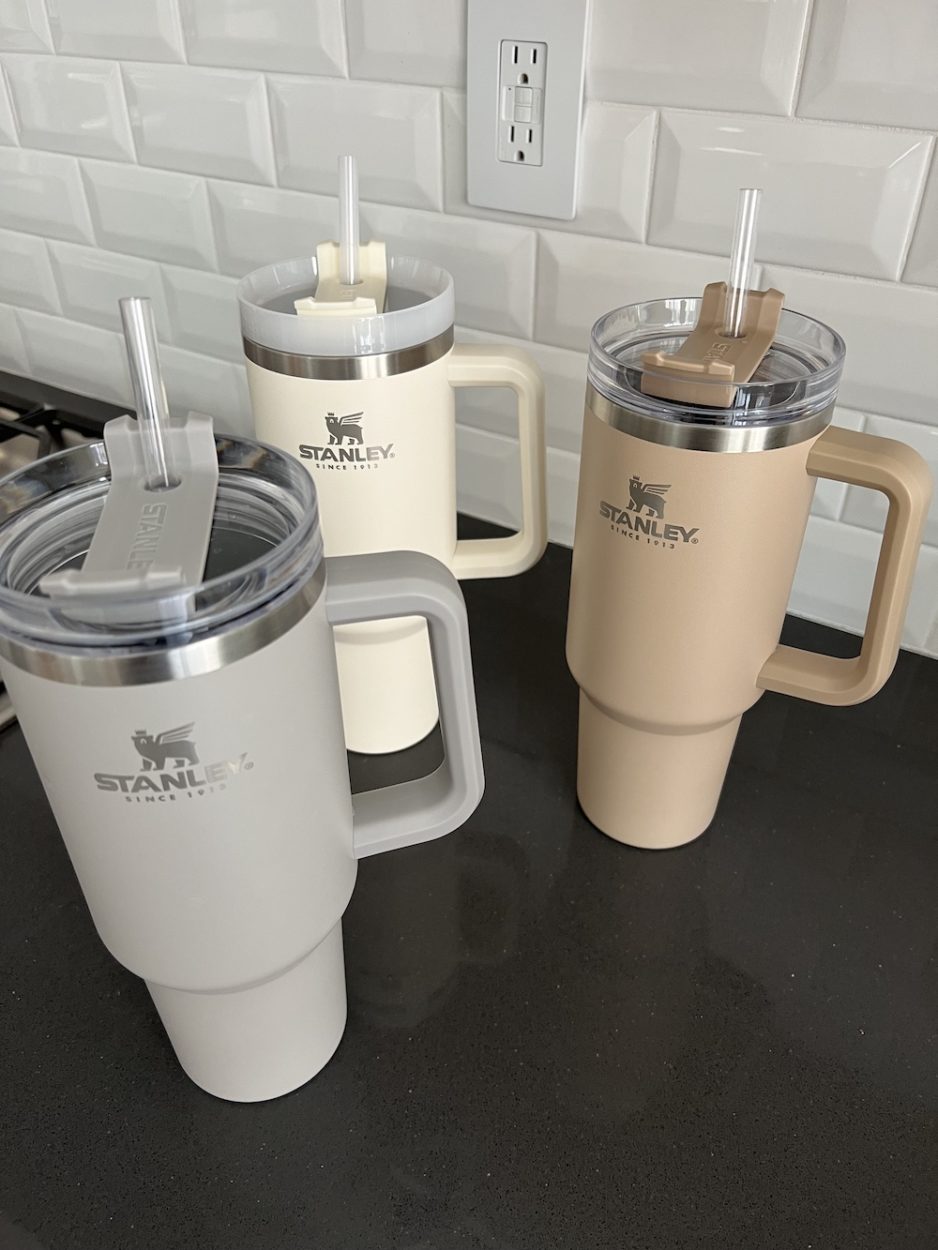 The Stanley Adventure Quencher has taken social media by storm the last year and you might be wondering if the travel tumbler is worth the hype. The New York Times even covered the Stanley Quencher's viral phenomenon. I'm a commuter now, and I love a good travel cup. But they are not all created equal. The large capacity, the colors, and easy care instructions are what make the Quencher really stand out to me. But do you need it? Read this post to figure that part out!
Stanley Adventure Quencher Honest Review
My Stanley Adventure Quencher Collection
During the last restock on June 1st, my boyfriend and I went in hard. We picked up a few colors for each of us to enjoy. We now have quite a few neutral colors of the Stanley Adventure Quencher including Cream, Driftwood, Ash, Silt, and Shrub. We also got the orange shade called Grapefruit.
It *should* fit your car cup holder
Perhaps the biggest functional feature of the Stanley Adventure Quencher is the staggered shape. It holds 40oz of fluid, but the design is what makes it easy to tote around. The base of the cup is smaller than the top and it fits in your car cupholder. Probably not all car cupholders, but I've tested it in 4 different cars and it fits great! While driving, I find it's so much easier to sip from a tumbler than with a water bottle. I drive stick so I don't always have a hand available to untwist a water bottle cap. For that reason, I always go for tumblers.
It keeps your water cold a very long time
This stainless steel double wall vacuum insulated travel tumbler does what it promises, it keeps your beverages ice cold for up to 2 days. It's my preferred drinking vessel for both at home and on the go. The twist off lid and straw make it easy to fill and drink from.
The huge handle makes it really easy to carry
I thought it was going to be too bulky, but I actually really like it. The handle is like a mug handle. I like to carry the 40 oz tumbler with my four fingers through the handle and cradling the sides, while my thumb supports the opposite side. This method also is really useful while driving and I never feel like I don't have a good grip on the tumbler.
The lid has 3 convenient positions
If you aren't a fan of the straw, you can adjust the Stanley Adventure Quencher lid to a closed or sip opening position.
It's dishwasher safe
Though I love my 24 oz Simple Modern Classic Insulated Tumbler and it was my preferred water vessel before, you just can't beat the Stanley when it comes to true convenience. Unlike the Simple Modern tumbler which is hand wash only, the Stanley Adventure Quencher 40 oz tumbler is dishwasher safe.
Do I recommend it?
Absolutely yes! But I wouldn't suggest paying over retail on the secondhand market. I see people selling the Stanley Quencher tumblers on Poshmark, eBay, and Mercari for over $100, nearly triple the retail price. Plan for the next Stanley restock and shop that. Or shop your favorite retailer carrying Stanley products like Target, Dick's Sporting Goods, or REI and take advantage of free shipping.
Do you own the Stanley Adventure Quencher too? If so, what do you think about it? Which color is your favorite? Please share your thoughts in the comments section below.