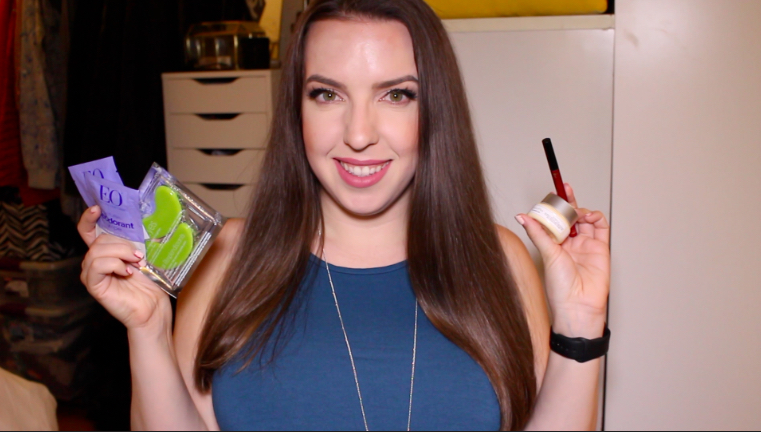 April was another crazy month for me, spent mostly on the road, so I only have a small selection of favorites to share. It's a good mix of skincare and makeup, so watch the video below and scroll ahead to read more of my thoughts on the faves.
Botox with Dr. Kimberly Henry MD
I had my second trip to Dr. Henry in April and I've been so happy with the results! Read more about the treatment in my Botox FAQ, and see the before and after photos.
EO Deodorant Wipes (c/o)
For a quick refresher on a long haul flight or roadtrip, these EO wipes are key. They probably aren't strong enough to keep you smell-free for an entire day worn alone, however they are the perfect way to top off when you need a bit of extra freshness. These will definitely be a carry-on staple for me moving forward.
100% Pure Bright Eyes Mask
These eye gels are amazing. They seriously depuff, brighten, and soothe my undereye area, so they're another trick I have up my sleeve for travel. They're also vegan, cruelty-free, and biodegradable, so what's not to love?
IT Cosmetics Confidence in an Eye Cream (c/o)
If you enjoy a richer eye cream texture, this one is fabulous. It's definitely on the thicker side though, so I only use it at night for an extra shot of moisture underneath my eyes.
Dollywink Super Waterproof Liquid Eyeliner Super Black
Hello new favorite liquid liner! This one has a super fine felt tip and the product is a true inky black. Dollywink is actually carried at a few different boutiques in SF Japantown, so I may have to go on a hunt for a replacement soon.
What have you been loving recently? I'd love to know some of your monthly favorites in a comment below.
Catch up on my monthly favorites playlist and stay tuned for another edition of empties coming up soon. Thanks for reading!
Note: I received the items noted with (c/o) for consideration.