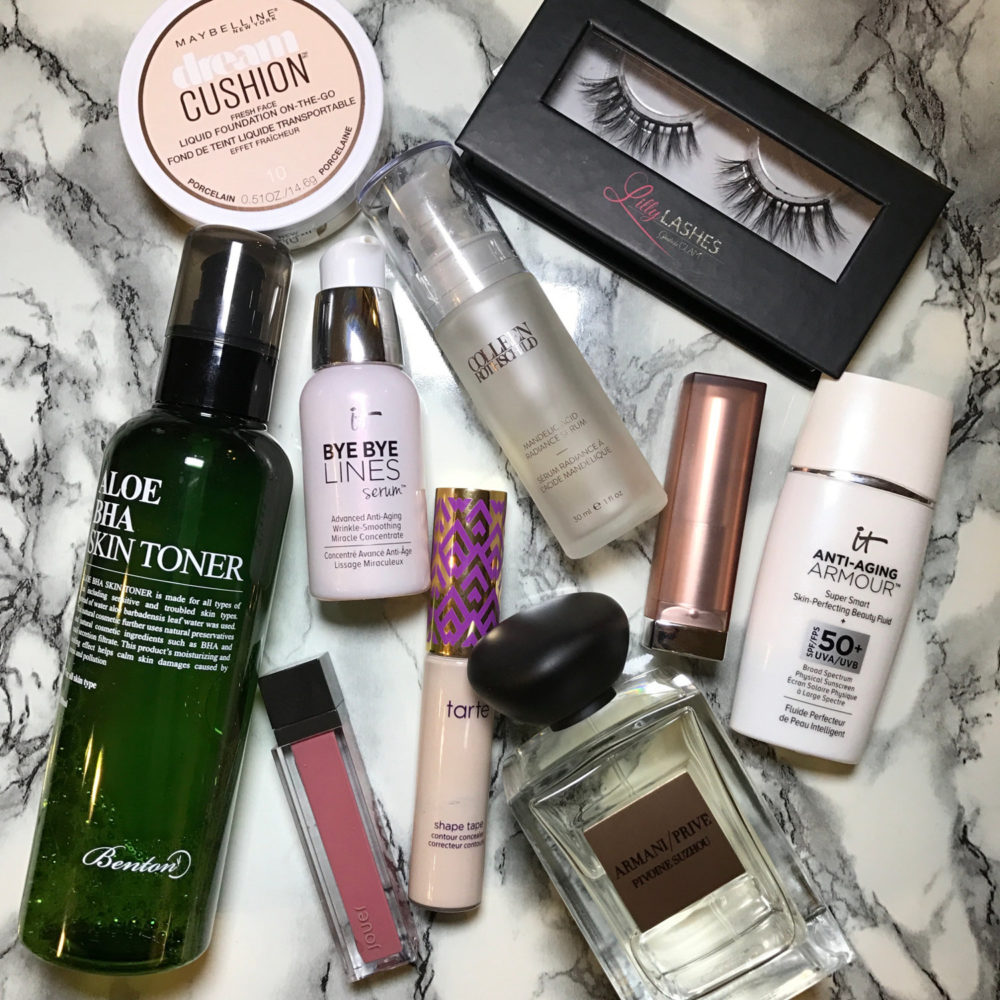 Welcome to the first edition of monthly favorites for 2017. I've taken a few months off from monthly favorites but I'm glad to be back. Last month I apparently focused on flawless skin and pinky nude lips from the look of it.
Watch the video below and scroll ahead to read more of my thoughts on the products mentioned.
Benton Aloe BHA Toner
This product is an amazing hydrating toner that will replenish your skin after any stripping cleanser. It's packed with snail secretion(!), aloe, and beta hydroxy acid, so it feels like a watery gel gliding across your face. I picked this up on a whim at the Memebox SF Pop-Up, and it may have sparked a small obsession with Korean skincare. If you're into K-beauty, I would love to hear your product recos! I'm going to Seoul this spring so I'm building my shopping list.
Colleen Rothschild Mandelic Acid Radiance Serum (c/o)
For upping the brightness and radiance of my skin, this is my go-to nightly serum. It's very tingly and tightening, and it's also chock-full of awesome ingredients. This is just one of the many amazing products Colleen Rothschild has to offer!
IT Cosmetics Bye Bye Lines Serum Advanced Anti-Aging Wrinkle-Smoothing Miracle Concentrate (c/o)
I use this serum like a makeup primer, and I love it. It's so plush and smoothing on the skin, it really fills in all those itty ibtty lines that my foundation can settle into. This product lives at my vanity where I do my makeup, and it's the first step in my makeup routine.
IT Cosmetics Anti-Aging Armour Super Smart Skin-Perfecting Beauty Fluid SPF 50+ (c/o)
If you've never tried a sunscreen fluid, go get a sample of this one at Sephora immediately! It's slightly tinted and spreads very thinly across the face. For a SPF 50 physical sunscreen, it doesn't get any better than this. Most physical sunscreens are chalky and hard to blend, but that isn't the case at all with this product. Sunscreen is super important, even in winter!
Tarte Shape Tape Concealer in Fair
The hype is real with this one. This concealer packs a serious pigment and dries down to a light finish which doesn't require a setting powder. I love it for undereye concealing as well as brightening up the bridge of my nose and center of my chin. This is an Ulta exclusive!
Maybelline Dream Cushion in 10 Porecelain (c/o)
For a quick and light foundation application, I've been reaching for this. The finish is quite natural and it has a medium coverage. It doesn't last all day on my combination-oily skin, so it's only something I reach for when I'm going to be out for a few hours at a time.
Maybelline Color Sensational Inti-Matte Nudes Lipstick in Almond Rose (c/o)
One of the most comfortable matte lipstick options I've tried thus far! The pinky brown nude shade is so versatile as well. These lipsticks launched in January, so keep an eye out for them at the drugstore.
Jouer Cosmetics Lip Creme in Lychee
I've been wearing this liquid lipstick almost every other day since I bought it. It's not overly drying, but it still lasts all day. I can also touch up the inner rim midway through the day without the color bunching up or flaking off.
Lilly Lashes in Cannes
This is my new favorite glam lash. These are high quality mink lashes with an overall wispy voluminous look. The hairs are bunched so they're not too heavy and drag-like. The shape is also cat eyed, meaning they're shorter at the inner corners and longer at the outer corners. I don't know why I'm so surprised by how much I love these, seeing how Lilly Ghalichi is the queen of glam.
Armani Privé Pivoine Suzhou (c/o)
When it comes to fragrance, I generally prefer warm, sweet, oriental, and woodsy scents. One of my new favorite fragrances is actually on the opposite side of the spectrum. This is a soft but fresh peony fragrance, with bright pink peppercorn notes. It's a well balanced floral fragrance that I've been reaching for a ton lately. It's going to be so perfect for spring, too!
What have you been loving recently? I'd love to know some of your monthly favorites in a comment below.
Catch up on my monthly favorites playlist and stay tuned for another edition of empties coming up soon. Thanks for reading!
Note: I received the items noted with (c/o) for consideration.