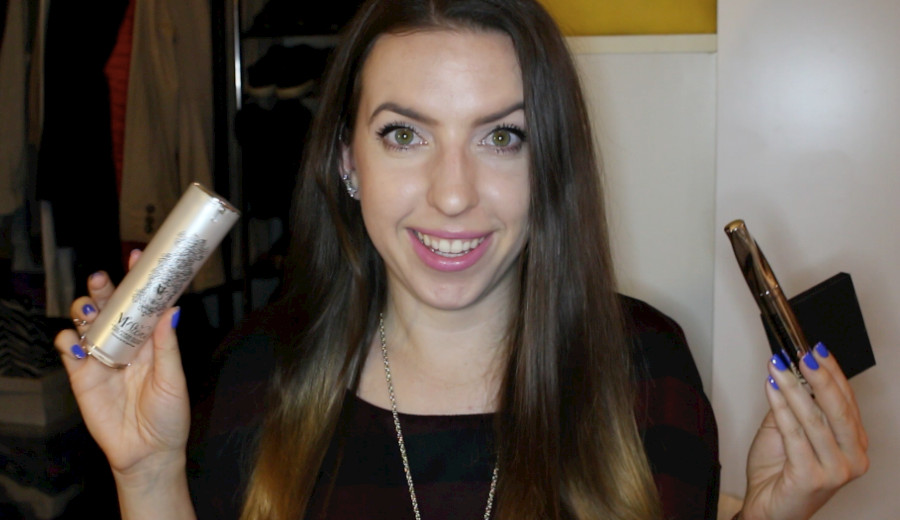 April was a great month for new favorites. I recently hauled many of these items on YouTube, so most of these are first time features on my blog. Since I took a trip across the country last month, there wasn't a whole lot of time to fuss over skin care or makeup; I've just been reaching for what's at the top of my stash. So what does that mean? A streamlined moisturizer for day and night, one mascara to rule them all, and an accessory subscription that keeps me stylish with zero brainwork. Watch the video below to see exactly what I mean.
bareMinerals Lash Domination Mascara
While I didn't love this mascara at first, it grew better with age. At first a wet, separating formula, it developed into a volumizing and thickening formula over time. I love the spiral brush too, since it helps prevent excessive clumping. Gone are the days when I have to layer this mascara – it's good on its own!
Borghese Blush in Thrill (c/o)
Every girl needs a peachy blush for this time of year. I love this one because the color is naturally flattering and the finish isn't as shimmery as some of the others in my collection. While this blush is pigmented, it's soft in tone so it's easy to wear. I find that it blends great, too!
Laura Mercier Tinted Moisturizer SPF 20
Prefer sleeping in to doing your makeup? Reach for this for a quick radiant face. This is a gorgeous tinted moisturizer with medium coverage and a dewy finish. If you like the look of flawless skin, without looking like you have a ton of foundation on, this is a product for you. Get a sample and see what you think!
Sibu Balancing Facial Cleanser
If you enjoy the 3Lab Perfect Cleansing Scrub, Sibu's cleanser is a very close affordable dupe. It's packed with gentle exfoliating beads that don't agitate your skin. Seriously, it's gentle enough to use twice daily! Plus, it's paraben and cruelty free.
AmorePacific Moisture Bound Refreshing Hydra-Gel Oil-Free
Although it isn't paraben-free, I've been really digging this moisturizer for day and night. It's a rich gel that's cooling on the skin. Part of what makes this brand so impressive, is that they don't use water to thin their products out. All AmorePacific products are based on native Asian botanicals, and this product smells incredibly soothing.
M. Steves Anti-Aging Serum & Face Primer (c/o)
This one is for my dry to combination skin peeps. This is an amazing serum-primer that can be applied directly before makeup application. It will help your foundation blend more smoothly and not cling as badly to dry patches. Just be weary of the foundation and technique you mix it with; if you pair it with something too dewy and runny, it could pill up if you blend the foundation too vigorously. I love pairing this product with Face Atelier foundation, in a soft, stippling motion.
Ganache For Lips Lip Balm (c/o)
Three words: chocolate lip balm. That's right, these lip balms are made from Scharfen Berger Chocolate. But there's also shea butter, coconut oil, and other natural ingredients in these for extra hydration. My favorite flavors have been Chocolate Marzipan, which smells like German chcooclate cake, and Chocolate Hazelnut, which smells like Nutella. Chocoholics, you need this lip balm!
Rocksbox (c/o)
I've especially been loving this Kendra Scott necklace this month, but Rocksbox in general has been amazing. The subscription is $19 per month for unlimited jewelry rentals, and they offer a ton of great brands. Be sure to use my Rocksbox promo code omgbuymethisxoxo for your first month FREE!
What have you been obsessing over lately? I'd love to know!
Stay tuned for my April empties coming up soon. Thanks for reading!