How do I cleanse off my makeup, sunscreen, and sweat off most days? It's probably with a cleansing oil! When I'm not using cleansing balms, a cleansing oil delivers a faster makeup removal that still feels luxuriously hydrating. I always use a cleansing oil as the first part of a double cleanse method, always following it with another facial cleanser, often times something foamy and sudsy. Cleansing oils melt away dirt, oil, sweat, sunscreen, and makeup with ease and minimal scrubbing. They can be a little messy but cleansing oils are so effective. Just gently massage over a dry face, slowly add water and rinse away. Use a damp warm wash cloth to remove any excess that might cling behind.
How To Use Cleansing Oils
Pour a small amount of cleansing oil into palms
Gently massage cleansing oil onto dry skin
Add warm water gradually to emulsify cleansing oil into a milky oily texture
Use warm water to rinse away mixture
Use warm damp wash cloth to wipe away excess product
Complete double cleanse process by following cleansing oil with a cleanser of your choice
Cleansing oil pro tip: avoid excessively tugging your skin. After rinsing, use a damp cleansing cloud to gently lift up any residual oil or makeup leftover.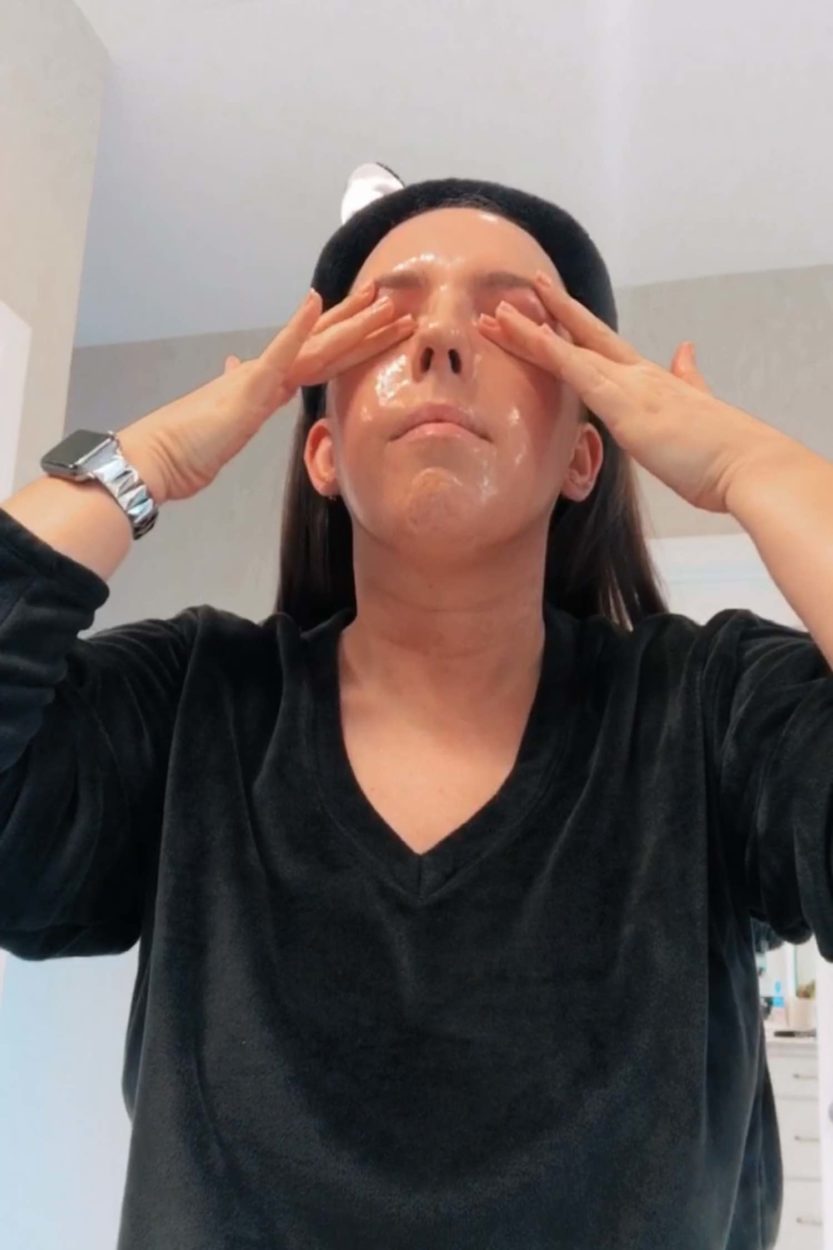 Here are the top best cleansing oils I've tried over the years. I've included cleansing oils at all price points, including vegan and cruelty free options. And none of these burn my eyes!
The Best Cleansing Oils
100% Pure Jojoba Oil
Jojoba oil is the first thing I recommend to everyone. It can be used for so many different beauty things which I will eventually do an entire blog post on. I love both the Trader Joe's and Desert Essence brand 100% pure jojoba oils for fast and easy makeup removal. It's a medium texture oil, neither totally dry and nor super heavy. Very budget friendly and perfect for sensitive skin. If cleansing oils tend to burn your eyes, this is the most gentle option I recommend.
$18.49, buy 2-pack on Amazon
Biossance Squalane + Antioxidant Cleansing Oil
Squalane oil is another superstar cleansing oil ingredient, and Biossance makes a fantastic one! It's one of Sephora's top rated cleansing oils and I've loved it for years. It's lightweight and noncomedogenic. It melts makeup, sunscreen, and grime quickly and with minimal product.
$30, buy on Sephora
One Love Organics Botanical B Enzyme Cleansing Oil
This cleanisng oil has a really unique feel if you're looking for something a little different. It has a delightful tropical pineapple scent that feels so nice on the skin. Gentle enzymes melt and lift away impurities. Rinses clean, too!
$42, buy on ULTA & Credo Beauty
MAC Cleanse Off Oil
One of the OG cleansing oils on the market and something I loved so much back in the day! This is a little bit of a heavier cleansing oil because it contains olive oil in addition to squalane and jojoba oil. This is a more powerful cleansing oil if you need help removing stubborn waterproof mascara, lash glue, liquid lipsticks, and other longwear makeup. Can leave your eyes slightly cloudy immediately following use but does not burn.
In terms of cleansing oils I haven't tried yet, Juice Beauty, DHC, PCA, and Caudalie are on my wish list. It's been a long time since I tried Dermalogica and AmorePacific's cleansing oils too, so I'd love to revisit those.
What's your favorite cleansing oil? Do you like them on the heavier side, or do you prefer something more simple and unscented?
Like this post? Be sure to read my guide to the best eczema skin care, broad spectrum sunscreens, and daytime moisturizers for all skin types before you go.