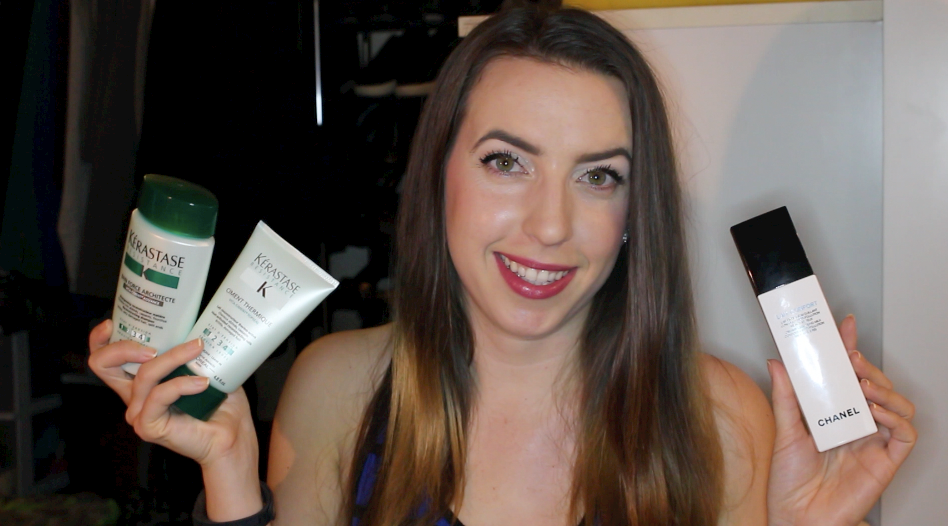 I don't know about you, but for me September flew by in the blink of an eye. Between back-to-back business trips and more blogger events than I could count, I took a much needed two week break from blogging. I'm back today with my September faves which is chock-full of new goodies I haven't yet featured.
Hear all about the products in the video below and scroll ahead for shoppable links.
MAC Lipstick in 'Craving'
If you want to go dark but are just a beginner in bold lip colors, this lipstick is for you. MAC 'Amplified' formula lipsticks are some of the best finishes they make, and Craving is super comfortable to wear. Paired with a lipliner or lip stain, this color can last for hours! This is not a new favorite though, but I seem to fall in love with it all over again every autumn.
theBalm Stainiac
As I mentioned in the video, I really like wearing this stain underneath lipsticks since the Stainiac can apply a bit patchy when worn alone. This stain is like a jelly that dries matte on your lips, giving you a soft, just-eaten-a-popsicle lip look.
3Lab Aqua BB SPF 40 (c/o)
While I was not a fan of the 3Lab Perfect BB which pilled off my skin, this cushion BB is absolutely incredible. It's light as air and gives a beautiful radiant finish.
theBalm Eyeshadows (c/o)
The rumors are true… theBalm eyeshadows have fantastic color pigmentation. While they can get a little bit powdery, I love the color scheme in my custom palette and if you can get to the SF flagship boutique, I recommend going so you can make your own custom palette!
CHANEL Lait Confort Creamy Cleanser
For a gentle face cleanser that will help rinse off your cleansing oil, this product is a fantastic choice. First, it's CHANEL. Second, it doesn't burn your eyes! This cleasner is super gentle and I've been loving it in my PM skin care routine.
Caudalie Grape Water
If you're a face mist addict like I am, you will love this product. It feels like Evian, but has a little something extra with the scent. Caudalie's facial mist is right up there with my other holy grails.
Kerastase Resistance Bain Force Architecte Reconstructing Shampoo
I blame my hair stylist for this pricey acquisition since they use all Kerastase and Oribe products at their salon. Blame them because I never was a 'hair person' and this is causing another hole in my pocket, but at least my hair is looking better as a result of it. This is a lovely, moisturizing shampoo that feels very plush and luxurious. The scent is incredible, too!
Kerastase Resistance Ciment Thermique Heat-Activated Reconstructor Milk
My hair is quite unruly, so I rely on a handful of products from detangling, shine, and smoothing everything out. The key is just not overdoing it since my fine hair is so easily weighed down. This product not only protects your hair from heat, it smooths out your hair like no other! And a little bit goes a long way.
Batiste Dry Shampoo in 'Sassy & Daring WILD'
I was in a bit of a dry shampoo rut so I thought I'd branch out and try this scent. 'Wild' smells musky and grown-up, which I love. I now have this permanently in my bathroom cabinet with an assortment of Batiste's other scents so I will never get bored.
Like this post? Don't forget to check out more of my favorites from previous months, and a whole YouTube playlist dedicated to the subject. Thanks for reading!
Disclosure: I received the products marked with (c/o) for consideration. I am not compensated for mentioning these products. As always, this is my honest opinion.