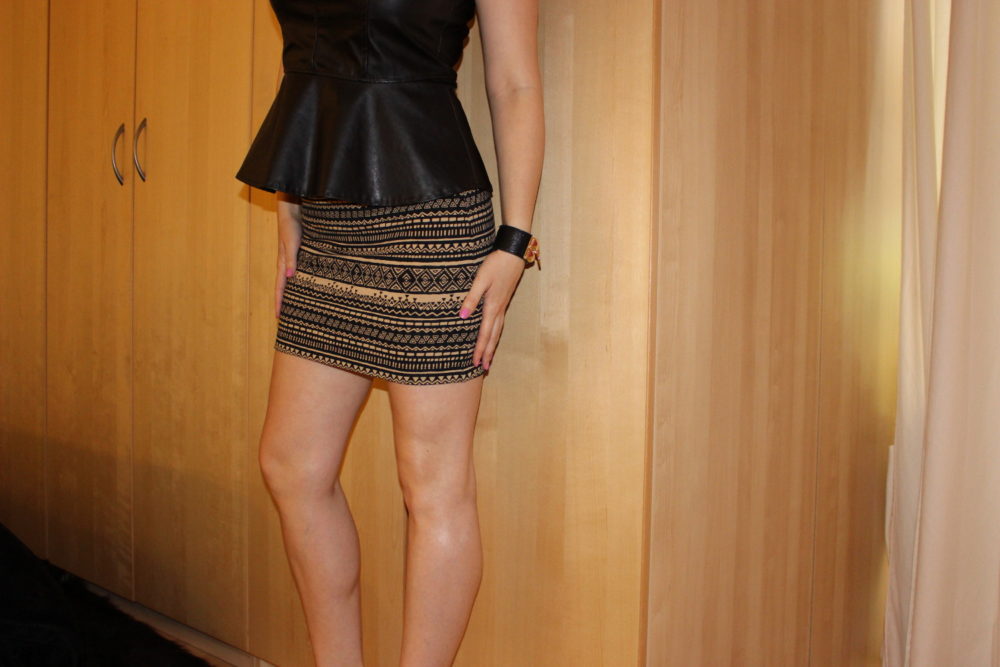 Top: Charlotte Russe (similar & another) | Skirt: Forever 21 (similar)| Shoes: Guess | Bracelet: Charlotte Russe | Nails: Essie 'Cascade Cool'

Every so often you find clothing separates that were just made for one another. I recently got this stretchy Aztec-inspired skirt for $8 at Forever 21 and I could hardly wait to style it. Originally I had in mind pairing solid color v-neck tees or racerback tanks, but I wondered what piece could edge it up some, because after all it's a figure fitting mini skirt. The pleather peplum top I pulled out was an item I bagged on clearance at Charlotte Russe for $15. Since the peplum flares out way from the waist, it's a perfect match for any bottom that's more fitted. While both this skirt and this top can be easily worn with solid color staples, together they make an even better summer nighttime look. The hardest part? Picking out some matching shoes.
Enjoy the pictures, and stay tuned for more outfit posts coming soon now that I've got my new Canon DSLR to play with. Without a camera tripod or remote, taking outfit selfies is HARD. I'm not embarrassed to say I captured these shots on my own using autofocus, burst mode, and the timer. Next time I should have an enthusiastic recruit.